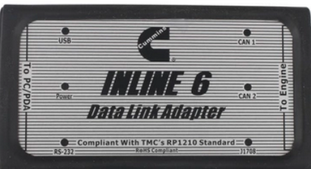 So many friend asked why they bought the Cummins 7,But when it runs why is it a inline 6 ?
The Cummins 7 data link Adapter with two software for your choose: Cummins 8.5 and Cummins 8.7. And the software update by CD. The cummis 7 can work Win7 32 bit system. and can connect with wifi/ bluetooth/ USB.
The cummins 7 date link adapter is new design, has a faster processor, more robust algorIthms, larger menory buffers and more sophisticated filtering then previous models while simultaneously accessing multiple vehicle data channels. INLINE 7 communicates with your PC and is designed for future capability with mobile products.
Although the Cummins 7 is latest model of Cummins, but please note:
Cummins Inline 7 runs the same driver as Inline 6.
Cummins Inline 7 Data Link Adatper VS. Cummins Inline 6:
Cummins Inline 6 vs. Inline 7 in software and hardware
Cummins INLINE 6
CUMMINS INLINE7
Software
1.Comes with Insite 7.6 software (2013)
2. Pay to use Insite 8.2 8.3
3. Only works with Win7
4. When install insite, you need to change the computer time which is not easy to do.
1. Comes with Insite 8.7 software (2013)
2. The software is authorized for free, what the user to do is enter the serial number.
3. Works with WIN10.
4. No need change the computer time, easy to install.
Hardware
 
 
1. Inline 6 warranty: 1 year
2. The iron shell is heavier and not easy to take.
1. Inline 7 warranty: 3 years.
2. Comes with double-layer plastic which is anti-stress and stable, it can protect the circuit board well. The outer layer is soft and comfortable to the touch..
 
 
For a long-time use, the two rows of hollow pins are easily poor to contact, broke or bent.
The three rows of solid pins are durable, its warranty is 3 years.
 
 
Circuit Board.
The circuit board design is more tidy, the PCB line impedance is adjusted and optimized, the product life is improved, and the stability of the equipment is ensured. The maximum warranty is three years.
More information about Heavy Duty Scanner please refer to https://www.obd2tool.com