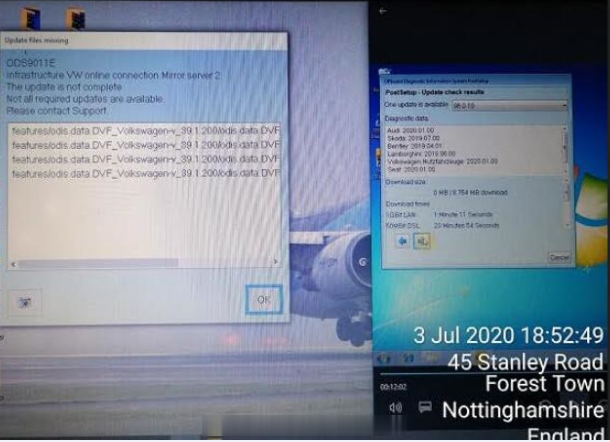 Download ODIS 5.2.6 software on my VAS 6154 on Windows 7 but had problems as below:
Update file missing
ODS9011E
Infrastructure VW online connection. MirrorServer2:
The update is not complete.
All required updates are not available.
Please contact support.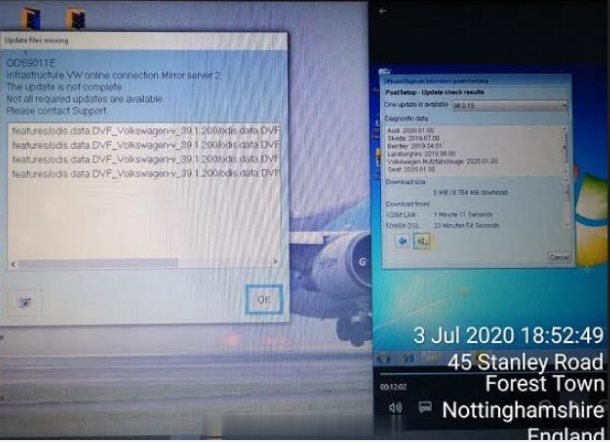 WinRAR: diagnostic messages
Checksum error in ODIS-Service_update_5_2_6-EU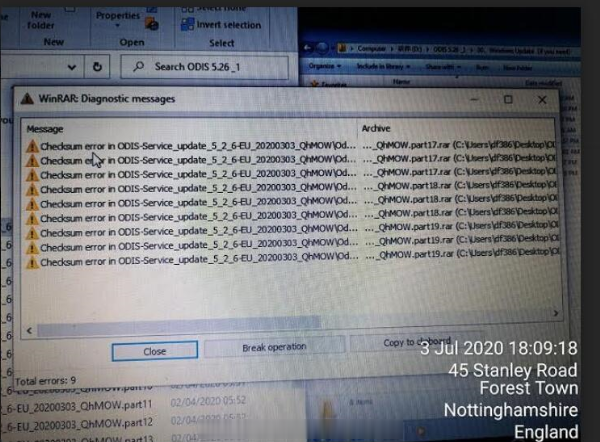 Solution offered by obd2tool.com:
Please uninstall the software and download by the following link.
Part 1: Free download ODIS 5.26 Postsetup 98.0.160
Torrent 1:
https://mega.nz/file/MQRHWCxa#KgHLLAOCi23WqW_6PhO21Xuuu9db7ztnI_dl3i8HMEM
0.MS_Visual_C++2010 for WIN10
0.Prerequirements x64 WIN7
0.Prerequirements x86 WIN7
1.OffboardDiagSetup-Service_VWMCD_5_2_6-B52_6_0_2
2.ODIS-S 5.2.6 Patch+License-Full After Unrar this the password for the 7zip archive is as always fantomel
3.PDU-API_fix_x86+x64 for WIN10
5.Bad VAS5054A Patch
5a.Softing_PDU-API_1.20.42 for clones
EN SFD-Manual for UMB.pdf
EN Windows 7 Announcement UMB.pdf
supportnews-en.pdf
Torrent 2
4.ODIS-Service_update_5_2_6-EU_20200317_98.0.140
https://mega.nz/file/UYYjzaQZ#kZZVPDkYkcsHLncU5LA_kkJ0BeqyFsSh5OADqayJNOw
Torrent 3
ODIS-Service_update_5_2_6-EU_20200330_98.0.160
https://mega.nz/file/cNIFkCpZ#pQIJ9IjNZDW4ssa3KFl1s2HhjreAv1SqFJ7ROtgaSuA
Torrent 4
4a.ODIS-Service_update_5.1.6_v89.5.520 to 5.2.6-EU_20200303_96.0.10
https://mega.nz/file/8AQXjA5Z#uoieG-AwhhMxEerjeMGoWcN01dfl-h4drls38FV0U_c
Torrent 5
4b.ODIS-Service_update_5.1.6_v89.5.520 to 5.2.6-EU_20200317_98.0.140
https://mega.nz/file/UMJnTC5R#tTMDCHP6zpFrJ6CaMmAIFMPgFqGcmW38nGKYA4c9Jkw
Win10-VAS5054-ODIS-S-526:
https://mega.nz/file/7YFSnK6a#hEWrlS6QKStccFJ_pokawY9TIVgekvjUcv9g4JfxCWY
OS System: Win7, Win10 32bit/ 64bit
Multi-Languages: English, German, French, Spanish, Korean