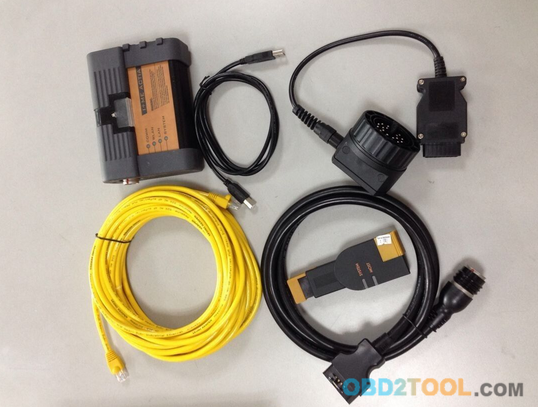 New For BMW ICOM A2 B C R2 Programming Diagnostic Tool
Not connected 9000 days remaining
BMW ETK: 2018.03
BMW KSD: 03.2018   Multilanguage
BMW FSC Navigation Code Generator
BMWAiCoder for BMW Coding
With free BMW Engineer Software (INPA5.00, NCS3.5.1, WinKFP5.2.3, E-Sys 3.27.1, Psdzdata 63.2), BMW FSC code generator and BMW AiCoder
1. Support Multi-language: American English, British English, German, Spanish, French, Italian, Polish, Portuguese, Turkish, Czech, Swedish, Dutch, Indian, Greek, Russian, Japanese, Korean, Thai, Simplified Chinese and Traditional Chinese
2. Software Version: Newest V2018.03
3. Support Vehicles: For BMW Cars,  For  BMW Motorcycle,  For  Rolls-Royce, For  Mini Cooper
4. Support for BMW All Series Diagnose and Programming
SPECIFICATIONS:
1. Rubber shell
2. Heatsink for full heat radiation
For BMW ICOM A2 with good quality
It is the latest tool for bmw, and will replace bmw icom. The advantages compared with bmw icom are that:
1. It is with aluminum shell, better in heat radiation, and shatterproof
2. It is with OBD interface – a little like benz compact 4 cable
3. Bmw icom make heat radiation by a little fan, while bmw icom A2 are with heatsink, to keep the whole tool in normal temperature.
Because of bad heat radiation, bmw icom always crash when programming. Now bmw icom II deal with it.
4. Its transmission rate is more quicker with better craft.
Interface A2 – OBD diagnostic supporting MOST, D-CAN and K-CAN protocols
Interface B – diagnostic via MOST bus, and have connection to A-interface via USB connection.
Interface C  – 20-pin cable for old models.
The modified ICOM A2 for vehicles with OBD access receives a significantly more powerful processor and more storage capacity.Robust aluminium case will help to avoid damage when using in harsh environments.
To protect the MOST connector, the ICOM B for vehicles with optical MOST access will be equipped with a soft cover made of rubber instead of the former plastic cap.
The ICOM C for old series with a diagnostics socket will be additionally equipped with an approx. 20 cm long cable, which facilitates the connection of the ICOM A2 and makes storage in the engine compartment easier
BMW ICOM A2+B+C Packing List:
1pc x BMW ICOM A2 Interface
1pc x BMW ICOM B Most
1pc x BMW 20pin Cable
1pc x USB Cable
1pc x OBD2 Cable
1pc x LAN Cable
1pc x NEW EVG7 DL46/HDD500GB/DDR4GB Diagnostic Controller Tablet PC