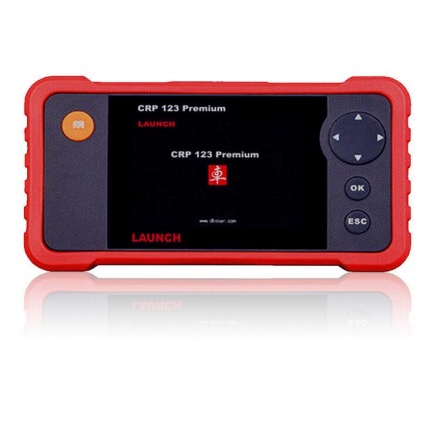 LAUNCH Creader CRP123 Premium Diagnostic Code Reader OBDII Scan Tool for Engine/ABS/SRS/Transmission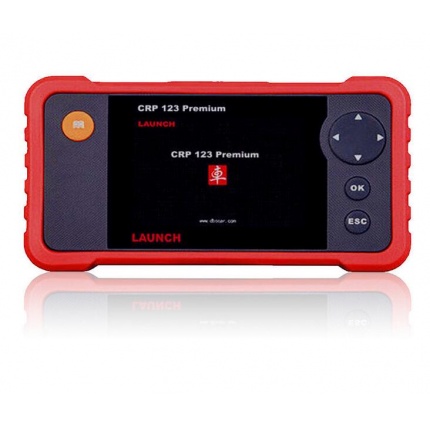 Comparation with previous version CRP123
1.Bigger screen, better views of graphs and more, upgraded from 3.5″ to 4″
2.Bigger memory, faster, better, upgraded from 1GB to 8GB
3.Upgraded hardware, add handle, bigger buttons, improved irreconcilability, much easier to operation.
4.Add more vehicle models as followings: Mahindra,Maruti,Suzuki,Tata,Fiat(Brazil),Porsche,SAAB,HOLDEN
Languages: English, Spanish, French, German, Italian, Russian and Polski.
The Launch Code Reader Professional CRP123 Premium Edition is a handheld diagnostic tool used to detect and report the cause of vehicle faults. It boasts state-of-the-art hardware and software making it one of the most accurate diagnostic tool in today's market.  All this along with its compact design and full colour screen, the CRP123 Premium is easy to use and understand while not being in the least bit cumbersome.
Works with all vehicles compliant with EOBD/OBDII (petrol vehicles from 2001 and diesels from 2004).
The CRP123 Premium amalgamates the best features of code scanners and professional mid-line scan tools. It opens up a whole world of diagnostics, which is further improved by its enhanced data streams for ABS, SRS, Transmission and Engine; which is available across a wide range of makes and models.
With all the operational ability of a traditional ARS/SRS Code Reader the CRP123 Premium boasts a great deal more functionality such as live data streams, coverage for Asian, European and American vehicles and the ability to scan transmissions.
FEATURES & BENEFITS
1.Reads & Clears codes on Engine,Transmission(A/T),ABS,Airbag(SRS) system
2.Support for all 10 test modes of OBDII
3.Auto module search
4.Enhanced OBDII Mode 6
5.Supports vehicles1996 & newer ( OBDII & CAN)
6.Retrieves generic P0,P2,P3 & U0 codes ,along with manufacturer specific P1,P3 & U1 codes- both permanent & pending
7.Read & Clear Check Engine Lights
8.Turn off MIL & reset monitors
9.Displays DTC definitions right on the screen
10.View freeze frame data & I/M Readiness monitor status
11.Display live PCM data stream & O2 Sensor test Data
12.Graph ,record ,& replay data in full color
13.3.5″ TFT color display
14.Code cause / solutions tips guide users to the root cause of trouble codes faster ,saving diagnosis and repair time
15.Rerieves vehicle information ( VIN,CIN and CVN)
16.Multilingual menua wiht DTC definitions in English,Spanish & French
17.Internet updateable & upgradeable
18 Print data via PC
Vehicle Coverage:
Asia Car Models:Suzuki, Honda, Mitsubishi, Nissan, Toyota, Mazda, Hyundai, Kia, Subaru, Infiniti, Lexus, Accura, Isuzu. JPISUZU, Mahindra, Maruti,Suzuki,Tata
AUSTFORD:HOLDEN
USA Car Models:USA Ford, GM, Chrysler,Fiat(Brazil)
European Car Models:Mercedes Benz, BMW, VW, Opel, Volvo, Fiat, Landrover, Seat, Skoda, Audi, Porsche, Saab, Jaguar.SMART(SMART) SPRINTER,Porsche,SAAB
The CRP123 Premium is a convenient and handy tool that makes collecting and reading diagnostic information easy and most importantly, accessible.
This product comes access to valuable software updates which are released by Launch over the internet.
If the CRP123 Premium does not meet your requirements take a look at the CReader CRP129 Premium, which has all the abilities of the CRP123 Premium and adds, EPB reset, Oil Reset and Steering Angle Reset.
Package List:
1pc x Launch X431 Crp123 premium code reader
1pc x OBDII cable
1pc x USB Cable
1pc x USB Sticker
1pc x Carrying box