Free download Ksuite 3.40 2.47 for ECU programming:
Part 1: Ksuite 3.40 2.47 download
Part 2: Ksuite 3.xx update info
Part 3: Ksuite 2.47 test report
in detail…
Part 1: Ksuite 3.40 2.47 download
Ksuite 3.40 download
https://mega.nz/#!E19l1arK!LGaSzd60MHfOuAlsX4HhHihhLa88pEAw-gugO_QITqI
Free version: unknown risk
Ksuite 2.47 download
Free version: unknown risk
https://mega.nz/#!UsFX0SzJ!wk4Z3H1FEED2WzgMeQbgWhszRagRC7g2L5yEHcykMq4
Tested version: 100% security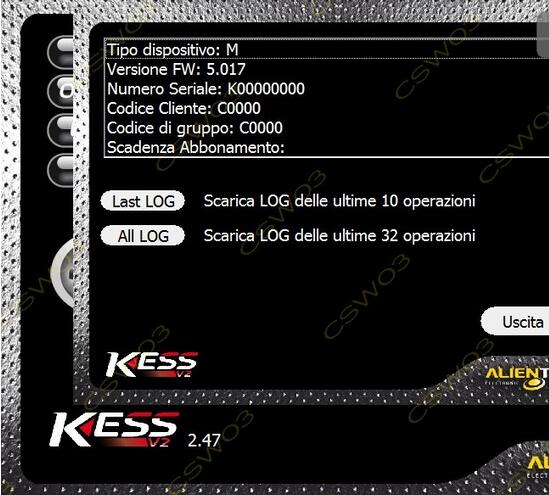 Part 2: Ksuite 3.xx update info
Ksuite 3.10 – Auto ECU Programmer Ksuite 3.43 Released Note:
Changelog:
K-SUITE 3.43 – KTAG TSM TC1724,TC1762,TC1767
K-SUITE 3.43 – KTAG TSM TC1796
K-SUITE 3.42 – KESS MERCEDES MED17 via OBD
K-SUITE 3.41 – K-TAG DELPHI DCM6.2AP, MARELLI 9GC, SIM2K, DENSO
K-SUITE 3.40 – K-TAG TRICORE SERVICE MODE TC1762 TC 1766 TC1767 TC1793 TC1797
K-SUITE 3.39 – KESS BMW MD1CS003 via OBD
K-SUITE 3.38 – K-TAG TRICORE SERVICE MODE TC1762 TC 1766 TC1782
K-SUITE 3.37 – K-TAG TRICORE SERVICE MODE TC1793
K-SUITE 3.36 – K-TAG TRICORE SERVICE MODE TC1767
K-SUITE 3.35 – KESS JEEP EDC17CP27 via OBD
K-SUITE 3.34 – KESS BMW G-SERIES MD1CP002 and MD1CS001 via OBD
K-SUITE 3.33 – K-TAG TRICORE SERVICE MODE TC1724
K-SUITE 3.32 – K-TAG MITSUBISHI , DENSO , KEIHIN, DELPHI, SID94
K-SUITE 3.31 – K-TAG TRICORE SERVICE MODE TC1797
K-SUITE 3.30 – MERCEDES EDC17CP46 via OBD
K-SUITE 3.29 – BMW MEVD17.2 , MEVD17.2.4, MEVD17.2.9 via OBD
K-SUITE 3.28 – MERCEDES edc17cp57 edc17c66 via OBD
K-SUITE 3.27 – NISSAN SH7055 and SH7058 via OBD
K-SUITE 3.26 – FIAT – JEEP  – MASERATI – LANCIA edc17c49 – edc17c79 via OBD
K-SUITE 3.25 – HONDA ACURA Keihin sh7058 and Continental mpc5554 via OBD
K-SUITE 3.24 – NISSAN INFINITI MEC100, MEC7x e DEA030 Hitachi ecu via OBD
K-SUITE 3.23 – BMW edc17 E series via OBD
K-SUITE 3.22 – CVN on VAG
K-SUITE 3.12 – DCM6.1
K-SUITE 3.20 – Bosch MG7.9.8  MEVD17.4.4 Motorola CM876
K-SUITE 3.19 – Toyota and Lexux OBD
K-SUITE 3.18 – Honda Civic Med17.9.3
K-SUITE 3.17 – Toyota Hilux Denso
K-SUITE 3.16 – SIM2K-240 Delphi DCM3.7
K-SUITE 3.15 – VAG BOSCH EDC17CP74 VIA OBD!
K-SUITE 3.14 – DSG MQB VAG TCU REMAPPING WITH KESSV2!
K-SUITE 3.13– DODGE RAM 1500 5.7 FROM TODAY IN OBD!
K-SUITE 3.12: BMW MOTORRAD BOSCH ME17.2 BMS-X IN OBD
K-SUITE 3.11: NISSAN LEAF!
K-SUITE 3.10: VOLVO DENSO VIA OBD!
Part 3: Ksuite 2.47 test report
polo tdi 1.6 2011
pcr 2.1
full by obd2 ok
my kess is real eu clone
porsche 958 turbo 2011 SIEMENS SDI8
read is by Virtual read ,for ME impossible
write i have message CHANGE STAT IMPOSSIBLE
NO SUCCES
new beetle tdi 105cv 1.9tdi 2004 edc15p
read ok
Opel Astra H 1,7cdti 2008 81kw denso ecu
Read/write ok no problem
bosch me 7.1 golf 4 2,8 24v AUE engine
read/write ok!
But on bosch me7.1 older software only ecu id read non read file , i have error "change speed read" something like that but i got that message also on 2,23ksuite i try all speed read but same error all time …
with older kess pcr2.1 when is unlocked no problem for kess read write min 10times no problem
Bmw Edc16c31 read/write ok!
vag Edc16u34/31 read/write ok!
So for now works like 2,23
Just to mention bosch me7.1 on 2,23 need to read trought protocol 64 i think , but on 2,47 read regular , choose on list model year hp engine code hit read work perfect no protocol need
Delphi (mercedes sprinter om651) read / write by obd
Ford fiesta 2008 1.6 tdi edc1634 read write by odb
VW passat 1.9tdi PDI read/write by obd
Mercedes w211 om646 read/write by obd
Edc17C46 writing on obd TESTED !
First I read with KTAG and after write with Ksuite 2.47.
Renault scenic 1,5dci 2007 delphi ecu ddcr read/wirte ok!
Vag edc15 read/write ok!
Bmw ms42 read/wirte ok!
Bmw ms43 read/write ok!
c220 w204.. delphi CRD3…read write ok..
VW Crafter Bosch EDC17CP20 Tricore External read-write OK!
w212 220cdi CRD 2.16 read write obd ok..
Golf 5 EDC16U1 OK
Sharan EDC16U31 OK
Passat PCR2.1 Write OK (ECU was already unlocked)
Alfa 147 ME7.3.1 OK
Audi A6 4G 2012 EDC17cp44 Obd Write ok!
Mercedes-Benz CLS 350 CDI BlueEFFICIENCY 4Matic 7AT with Bosch EDC17CP46 was read with Kess 2.34 Tricore and written with Kess 2.47 Tricore
BMW 320 E46 EDC16C31 OK
Ford Focus TDCI 1.6 EDC16C36 OK
Peugeot 307CC 1.6/PETROL ME 7.4.5 OK
BMW E92 M3 2008 Continental MSS60 read and write over OBD work without a problem
Vag dq250 read / write no problem
Audi A4 Engine: CABB 118 kW (160 HP) 1.8 l Bosch MED17.5 read over OBD OK!
Car: Audi A5
Year: 2008
Body type: Coupe
Engine: CAPA 176 kW (240 HP) 3 l
ECU: EDC17CP04
Read over OBD OK, write I don't want to try my luck
Problem when reading and writing with Kess Tricore, checksum error!
Audi RS6 4F 5.0 TFSI V10 MED9.1 BUH
Read Master ECU OK -OBD
Write Master ECU OK – OBD
Write Slave ECU OK – OBD
When you write master ECU, fan are running, you need a good battery charger
Audi S8 V10 MED9.1 BSM protocol 196
Read Master OK
Read Slave OK
but incorrect File Size! 2.5 MB instead of 2MB
Write fail at 84%, car stuck in programming mode.
Don't use on this type of car!
Audi A4 EDC17C46 03L906018HE
Write OK with a frf to bin file made with winols
VW TOURAN (EDC17c46)
can't read on OBD, only in boot mode.
My tool is Kess 5.017 EU clone with red PCB. Did already so many cars successfully.
Also MED 9.1 but on VW GTI, Read/Write OK. But the S8 no chance, tried 7 times flashing and recovery by OBD with different files, also choose smaller File type with 2.048 KB for the Flash, KESS didn't even start programing.
My experience with the tool:
EDC15V, P+ all R/W OK
EDC16U, U31, U34, C35, CP35, CP34, all R/W OK
EDC17CP14, CP20, CP44, C64, C46 Read via KTAG-Boot or virtual Read file, Write OK
MED 7.5.11 R/W OK
SIMOS 3.3, PCR 2.1 R/W OK (PCR first unlock with KTAG)
Denso R2AB R/W OK
and a few others i can't remeber now
1-VW Golf 6 GTD edc17c46 Tprot tricore
Read and write without error CRC OK
2-VW Tigoun EDC17C64 GPT Tricore
Read and write without error CRC OK
3-SEAT LION EDC17C64 GPT TICORE
Read and write without error CRC OK
vag med17.5.21
GENERIC ERROR when i try to open file read by ktag
Golf 4 2.0 TDI 2017 year. EDC17c74 KESS V2 5.017 v2.47 with Obd write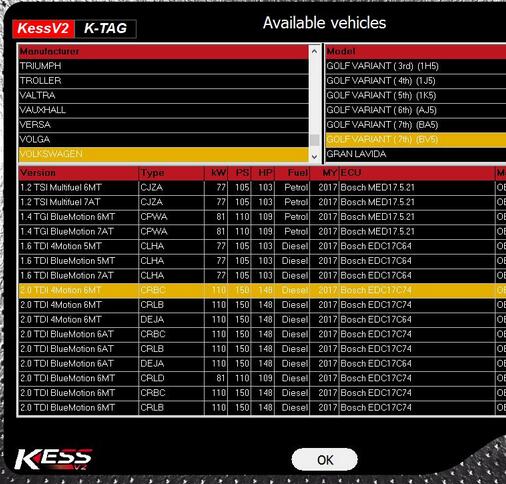 Volvo EDC16C31 read-write on K-line…TESTED !
Volvo S40 continental SID803A read/write ok
MED17.1 2.0 TFSI Audi A5 tested without problems (VR)
EDC16CP34 3.0 TDI without problem
EDC17C64 Skoda Octavia without problem (VR)
only problem is on getting ID -> have to switch many times the ingnition on off. Then I get an error, that ID can't be read. And after pressing OK it is showing the whole ID and I can save it.
Porsche 997 3.8S Year 2006
Bosch ME7.8.x CARTRONIC
HW: 0261207987
SW: 1037369642
Spare: 99761860101
SW upg.: 0041900007103A08
Installation: ME7.8.1
WRITE PERFECT OK
by k-line
tested in bench
Porsche Cayenne 4.5s Year 2004
Bosch ME7.1.1 Cartronic
HW: 0261207696
SW: 1037371766
N°.VIN: WP1ZZZ9PZ4LA43312
Moteur: 0041800144FI8SE4
SW màj.: 8SE4AKN0000 0133
Read ok
write NOT OK
message change speed impossible
i test in speed min and maximun
SAME PROBLEM
Mercedes Sprinter 906 2008 edc16c31 Read write obd OK!
Mercedes B180 CDI 2010 EDC16C32 R/W OBD….OK !
MB A180 CDI and B180 CDI, both EDC16c32 R/W OK! Write time very short, but fans running!
Ford Galaxy Delphi DCM3.5 R/W OK!
BMW Bosch EDC16+C35 via CAN Read/Write OBD ok
BMW Z4 35i E89 Siemens MSD81 Read/Write OK! Reading time about 50 min.
BMW E70 X5 Bosch EDC17CP09
Bootloader Tricore Protocol 226
Read OK
Write Not OK, problem with checksum correction
After writing with K-Suite 2.34 no problem with starting engine
Opel Combo 1.3cdti Obd2 Read/write ok!
Fiat Linea 1.3cdti MJ8DF Obd2 Minimum Speed Read/Write Ok! Note:Kline reading time 2 hours…
Today I try to read with kess VW Golf 1.6 tdi pcr 2.1 via OBD and I read it.
ON id it says it locket, but I read it without problem.
But when I select to read eeprom, it cant.
I didn't try option to unlock ecu.
Here is the picture where I am read with kess.
Later i read file with winOls to see structure, and I think that is all ok.
VW Golf 6 2012
1.6 tdi 66 kW
kess-v2-ksuite-2.47-Golf-6-test-1
kess-v2-ksuite-2.47-Golf-6-test-2
Hyundai IX35 EDC17CP14
Read: Bootmode
Write: OBD
WORKING PERFECT !
It doesn't read on OBD, and this was the safety, but before I read with Kess, I make a full backup (Micro+EEprom) with Ktag. I have important the safety.