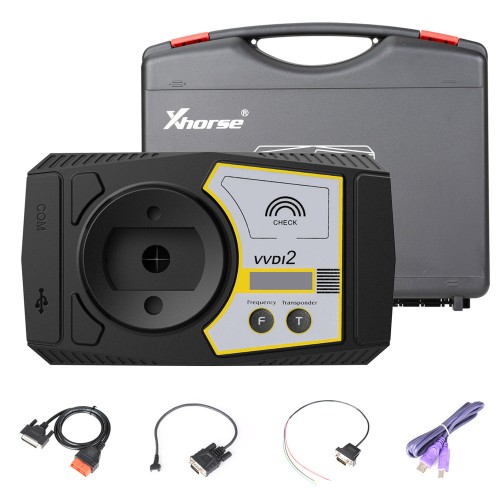 The VVDI2 comes with Basic Function + VW + AUDI Generation 5 function+ BMW + BMW OBD Fucntion + BMW CAS4 + Porsche + Most Tango Functions + Part of J2534 Functions + MQB + Copy 48by OBDII + COPY 48 96BIT+ BMW FEM + Free pin, cs, mac authorization + English remote database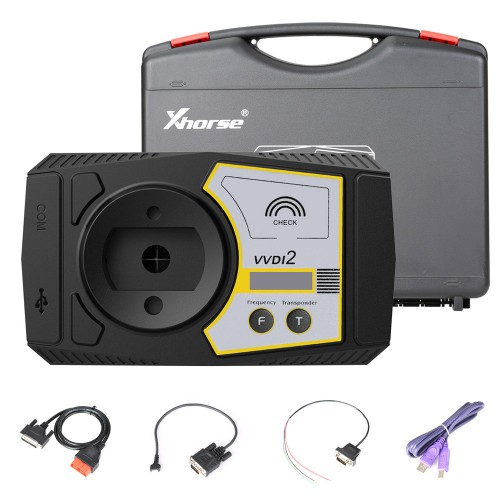 No need to buy any other authorizations
Update firmware steps are listed below:
1) Close other VVDI2 programs, connect VVDI2 to PC with USB cable
2) Choose VVDI2 firmware version from Firmware List
3) Press button Update Online, wait the progress end
4) If failed to get firmware list or get something like "communicate with server error!" while update your device, close antivirus and firewall programs, try again. Change your internet provider once failed again
5) DON'T shutdown your PC or disconnect USB cable while update device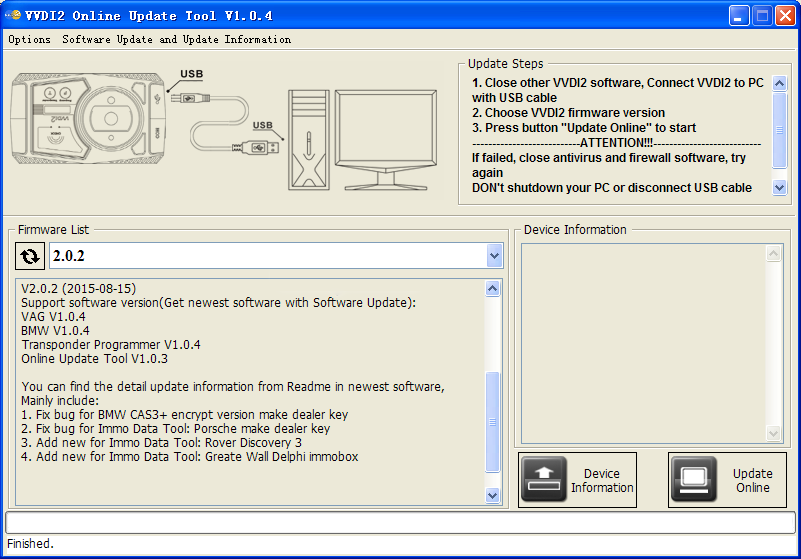 A.You need to Refresh Firmware List
Update Online Tool will connect to server automatically and download the newest firmware information. You can press flash picture button if there's no display.
After you get information success, will display current support firmware list, the software
support by specify firmware and the mainly include update information
B.You need to confirm Device Information
After connect VVDI2 to PC and install USB drivers, Press button Device Information, will show you VVDI2 Serial Number, current firmware version in VVDI2, authorize information etc.
C. You need to Update Online
After connect VVDI2 to PC and install USB drivers, choose you expect firmware version from firmware list, Press button Update Online, wait progress finish (about 2 minutes) (This requires internet.)
VVDI2 Commander Key Programmer FAQs:
Q:I try to copy id48, but it says no authorization, please open it for me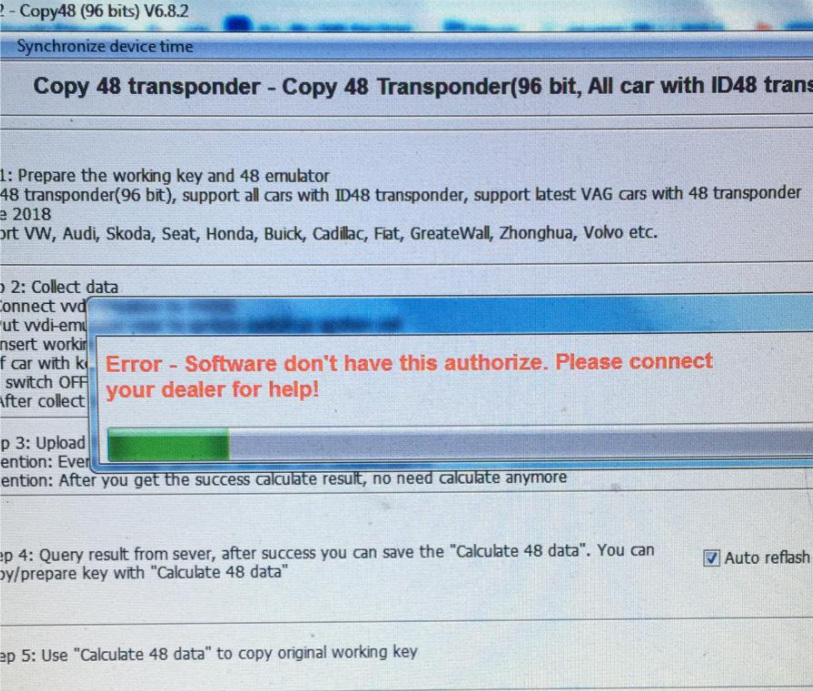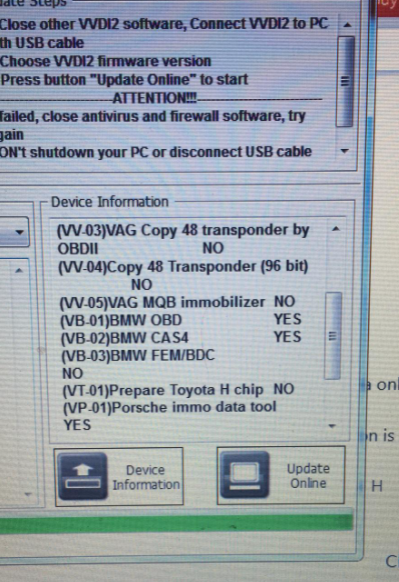 A:The vvdi2 full has the id48 copy authorization, please update the software and firmware to the latest version, then try again.
Q:Is there only with 5th BDM without 5th coil ?
A:Since 5th coil had been connected with VVDI unit, and difficult to connect BDM.So it is single one.
Q:What's CAS Plus on VVDI2 ?
A:It can be used to read EWS CAS1.2.3. The used CAS4,5th and 4th coil had been connected on VVDI2 unit
Q:Does VVDI2 support BMW CAS4+ keys ?
A:Yes, it can
Q:Which kind of keys is programmed via OBD2 and which is via CAS ?
A:Pls refer to BMW Multi Tool instructions ,since VVDI2 is with same function with BMW Multi Tool
Q:What's the difference between VVDI2 and TM100 about key programming ?
A:The key programming function and method of VVDI2 is similar with TM100.
On the other words,VVDI2 include all TM100 function, and BMW,VAG series.
Q:Do we need to solder chips when using VVDI to do EWS , How about TM100?
A:VVDI2 can not support EWS, but VVDI2,VVDIProg are related with EWS.
If use VVDI2 with CAS Plus adapter and then can not tear some kind of chips
Q:Customer gave us feedback that can not understand the page,it is not English,not Russian.What is it?
A:Currently about VVDI2 prepare remote function cannot support english database,only Chinese database.still developing this function.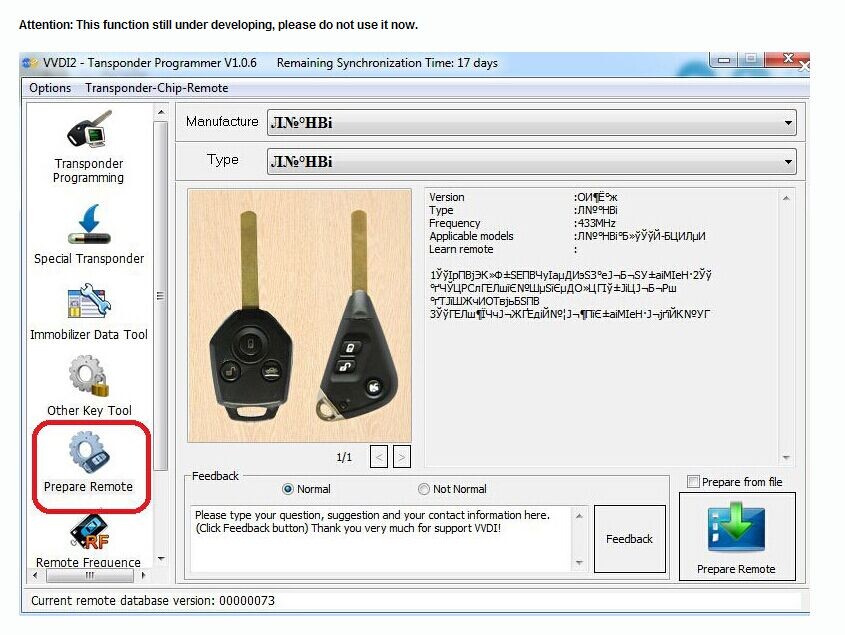 Q:VVDI 2 shows "remaining synchronization time: 17 days",what is it?
A:It means after you activate it to use,it already use for 13 days.And when it comes to 0 days,you can connect with internet,it will automatically change to 30 days again.
It connects to the server and synchronizes once every 31 days. This process is done automatically by itself for 1 day, internet connection is required for this process.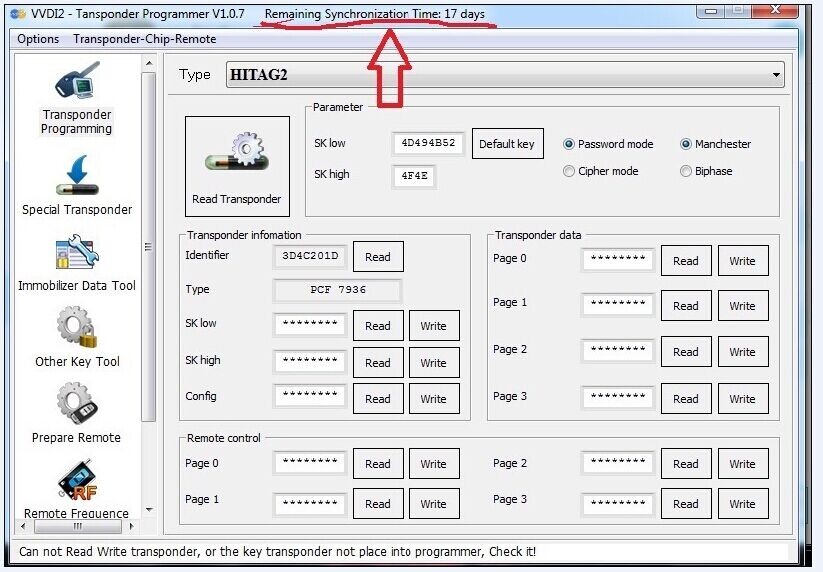 Q:When i do MED17 function,it shows need authorization for condor,what can i do?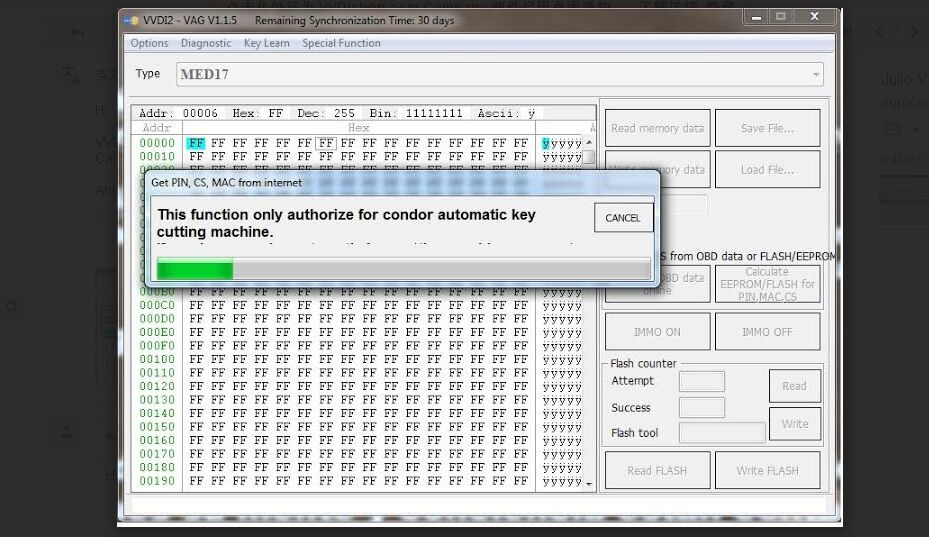 A:It needs to bind with condor key cutting machine.
The following function listed in Xhorse VVDI2 need internet support and require authorize for Condor Automatic key cutting machine: OBD read MED17/EDC17 PIN / CS / MAC, calculate OBD data online, calculate EEPROM / FLASH for PIN/MAC/CS.