Are you looking forward to having the Best Heavy Duty Truck Scan Tool?
Finding the best scanner for your heavy-duty truck could be hectic, especially if you are a beginner.
If all you need is an effective truck diagnostic tool, then you need to spend a good amount of time digging deep. This is because there are a lot of truck scanners available. If you are not keen enough, you might end up buying one only to your disappointment.
Trucks & Heavy Duty Scanners
1.Launch X431 V plus HD 3 Diesel Heavy Duty Truck Scan Tool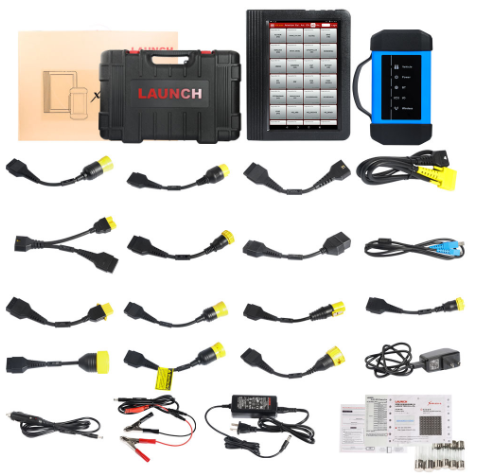 Why Taking Launch X431 V plus HD 3?
If all you are looking for in a heavy-duty truck scan tool is a great degree of convenience, then having Launch X431 V plus HD might just be the beginning of happy days with your car.
Why do I say so?
The truck diagnostic scanner is not only powerful, but it also performs quick autoscanning, has a touchscreen interface and performs various vehicle diagnosis.
Using it is also quite simple, which is largely due to its user-friendly android interface.
The heavy duty truck scanner is also built with one key update. As a result, you only need to click one key update to download the latest software version.
This scan tool comes with a Bluetooth OBD2 connector module, which enables it to communicate through a wireless connection with your vehicle.
Features and Functions
Smart design: It comes with a shockproof case which makes it suitable for use in any industrial environment.
A great degree of convenience: The fact that this diesel scan tool uses Bluetooth for connections means that handling it is quite easy.
Advanced technology: Launch X431 V+ HD is designed with the latest technology with Android
Who Is It Built For?
Launch X431 V+ HD is also the perfect pick for professional mechanics. This is because this Heavy Duty Truck Diagnostic Tool has a wide vehicle coverage and it is packed with lots of features. Beginners might find it hard using even half of its features.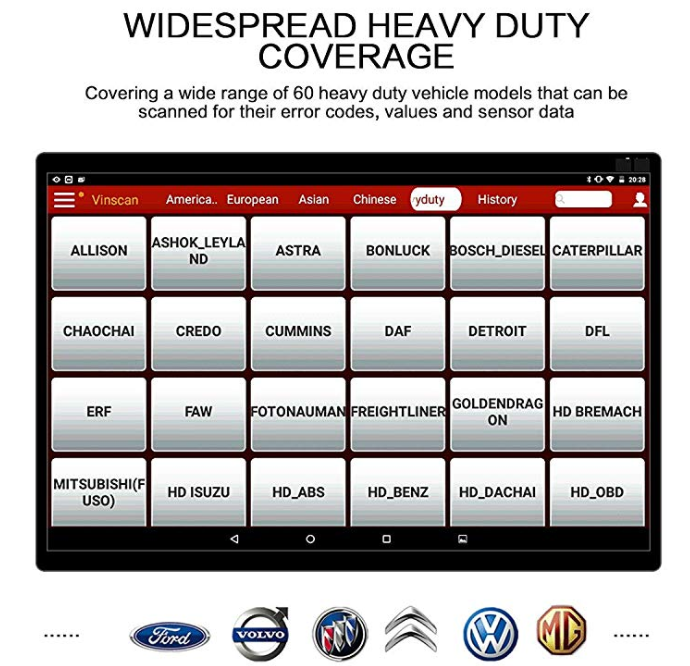 Launch X431 V plus HD 3 offers widespread heavy duty coverage:
Software Package list:
1  X431, USA FORD Diagnostic Software diesel
2  After the X431, heavy card processing system diagnostics software
3  ASTRA diagnostic software
4  Benz heavyduty diagnostic software
5  Bosch diesel diagnostic software
6  BREMACH diagnostic software
7  China heavyduty diagnostic Software
8  Cummins heavyduty diagnostic software
9  DAF diagnostic software
10  ERF diagnostic software
11  FAW Liberation diagnostic software
12  Foton Auman diagnostic software
13  FUSO diagnostic software
14  Hino diagnostic software
15  Hyundai heavyduty diagnostic software
16  Isuzu heavyduty diagnostic software
17  Iveco heavyduty diagnostic software
18  JAC heavyduty diagnostic software
19  Mack heavyduty diagnostic software
20  MAN diagnostic software
21  OBD heavyduty diagnostic software
22  SCANIA diagnostic software
23  Shangchai diagnostic software
24  Volvo heavyduty diagnostic software
25  WP diesel diagnostic software
26  X431, Airbus diagnostic software
27  X431, ALLISON transmission box diagnosis software
28  X431, Ashok Rejlander the diagnostic software
29  X431, Caterpillar heavy vehicles Diagnostic Software
30  X431, Chai heavy vehicle diagnostic software
31  X431, Chaoyang Diesel diagnostic software
32  X431, construction machinery diagnostic software
33  X431, CREDO heavy vehicle diagnostic software
34  X431, DETROIT engine diagnostic software
35  X431, Dongfeng commercial vehicle diagnostic software
36  X-431, Dongfeng Yufeng diagnostic software
37  X431, Freightliner heavy-duty truck diagnostic software
38  X431, full diesel diagnosis software
39  X431, HD ABS system diagnostic software
40  X431, hd_goldendragon diagnostic software
41  X431, hd_international vehicle diagnostic software
42  X431, HD_TATA diagnostic software
43  X431, hd_western_star vehicle diagnostic software
44  X431, heavy truck presentation software
45  X431, heavy vehicles Jiangling diagnostic software
46  X431, IRISBUS heavy vehicle diagnostic software
47  X431, IRIZAR heavy vehicle diagnostic software
48  X431, NEOPLAN heavy vehicle diagnostic software
49  X431, Renault diagnostic software for heavy vehicles
50  X431, SETRA heavy vehicle diagnostic software
51  X431, SITCAR heavy vehicle diagnostic software
52  X431, Stannic bavin diagnostic software
53  X431, Sterling heavy vehicle diagnostic software
54  X431, Sunlong bus ( SUNLONG ) diagnostic software
55  X431, sunwin bus ( SUNWIN ) diagnostic software
56  X431, UD Trucks 2F Nissan Diesel Diagnostic Software
57  X431, Yang Chai engine diagnostic software
58  X431, Zhongtong bus ( ZHONGTONG BUS ) diagnostic software
59  X431,BONLUCK diagnostic software
60  X431,HD_KENWORTH deagnostic software
61  Yuchai diagnostic software
2. Autel Maxisys MS908CV Professional Diesel Truck Diagnostic Scanner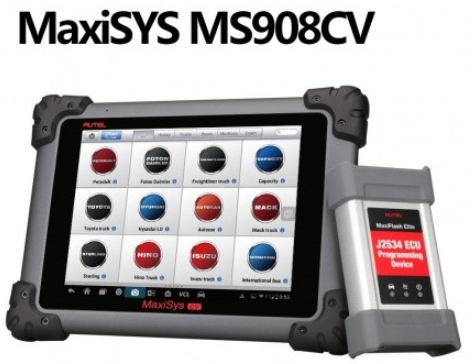 Why Taking Autel Maxisys MS908CV?
This heavy-duty truck diagnostic scanner is a reliable device that works efficiently in diagnosing exceeding 60 light duty, medium duty and also heavy-duty trucks.
Its performance is enhanced by its high-end features which makes it among the best truck diagnostic tools to have.
Autel MS908CV comes with a one year warranty plus a year of free software updates. The updates are constant and they provide you with the additions to their vehicle coverage.
Some Functional Features of MS908CV
Powerful diagnosis and analysis: It is able to work on large diesel vehicles since it contains a pack of heavy-duty vehicle connectors.
Advanced programming system: This enables good performance and provision of outstanding services such as Bluetooth communication between the maxiSYS MS908CV tablet and the vehicle.
Special functionality: Autel MS908CV offers complete repairs including adaptations, maintenance resets, and injector quality adjustment among others.
Wide compatibility: This professional automotive diagnostic tool works well with a good number of diesel vehicles ranging from Asian, European to more than 80 made in US vehicles.
Who Is It Built For?
Autel Maxisys MS908CV is definitely built for professional mechanics who want to do everything on heavy-duty trucks including Key coding, Key Programming, and even J-2534 ECU programming.
If you have never used a heavy-duty truck scan tool before, then the chances of experiencing difficulties while using Autel MS908CV are high.
Autel Maxisys MS 908 CV might require some prior knowledge of how scanners work hence suitable for professionals ONLY.
Coverage for Light Duty / Medium Duty / Heavy Duty (1996-present)
The MaxiSys CV performs enhanced system diagnostics on more than 60 light, medium, and heavy duty commercial vehicle brands. Read and clear codes, view and graph live data, perform tool-guided maintenance services, complete an array of special functions and diagnose manufacture-specific systems including Allison transmissions, Bendix ABS Brake systems, Detroit Diesel Engines and Eaton and Wabash ABS trailer brakes.
Expert
Allison,Bendix,Caterpillar,Cummins,International,Detroit,PACCAR,VOLVO,Freightliner,Wabco,ZF Meritor,MERCEDESBENZ,Boschauto,PowerStroke, AISIN,IVECO,Mack,Eaton,MTU, MWM
Buses
OBD,VOLVO,AGRALE,HINO,ISUZU,MERCEDES BENZ,MITSUBISHI FUSO,VOLKSWAGEN,TOYOTA,RENAULT
Trucks
VOLVO,AGRALE,AUTOCAR,CAPACITY,Dodge,FIAT,FORD,FOTON,Freightliner,GMC,GREAT WALL,HINO,HYUNDAI,ISUZU,KIA,MERCEDES BENZ,MITSUBISHI,MITSUBISHI,FUSO,NISSAN,Sterling,International,IVECO,VOLKSWAGEN,Kenworth,Mack,Peterbilt,WORKHORSE,WESTERN STAR,SETRA,UD,Renault
3.NEXIQ 2 USB Link + Software Diesel Truck Interface And Software With All Installers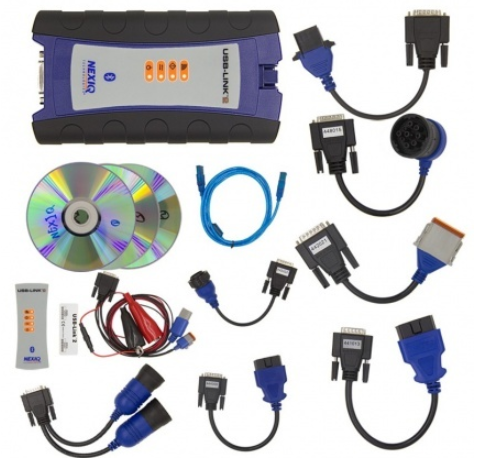 Who Is It Built For?
JPRO Professional is the best heavy duty truck diagnostic software for professional truck mechanics.
Top 6 Reasons to Get NEXIQ-2 USB Link :
1. Compatible with applications that diagnose engines, transmissions, ABS, instrument panels and more.
2. Reduce reprogramming times with direct USB connection.
3. Mixed fleet capabilities with broad protocol support.
4. Quick access to vehicle data for maintenance or management reports.
5. Quickly attaches to vehicle's diagnostic connector.
6. Easy portability increases flexibility, May be used with desktop PC or laptop.
NEXIQ-2 USB Link Packed Software and Application:
– Allison (Included!)
– Bendix 6.3.8.0 (Included!)
– Detroit Diesel DDDL 7.05 ((Included!)
– Detroit Diesel DDCT (Included!)
– Detroit Diesel Calibration Tool (Included!)
– Eaton Service Ranger 3.2 (Included!)
– International DLB (Included!)
– International ICAP, IPTS, NETS, IPC (Included!)
– International Master Diagnostic (Incluided!)
– Meritor and Wabco Diagnostics (Included!)
– Cummins Insite 7.5 (Included!)
– Hino 2.0.2. (Included!)
– Caterpillar 2.0.1.0 (Included!)
– Perkins EST 2010B (Included!)
– V Macks 2.6.12 (Included!)
– V Macks Dealer Pro (Included!)
– Volvo VCADS 2.35.10 (Included!)
– Toyota Techstream for car (Included!)
NEXIQ  Protocol Coverage:
CAN – J1939/CAN125/CAN250/CAN500/CAN1000
2nd CAN – J1939/CAN125/CAN250/CAN500/CAN1000
J1587/J1708 J1850 J2534
ISO 15765 (Diagnostic CAN)
ISO 14230 (KWP2000 over ISO9141) ALDL ATEC 160 (160 baud)
NEXIQ 2 Support Heavy-Duty, Light-and Medium-Duty Trucks, CONSTRUCTION EQUIPMENT like (Wheel loader, Articulated Hauler and Excavator), Genset.
FREE Heavy-Duty Truck Diagnostic Applications:
1.VOLVO TRUCK
2.VOLVO BUS
3.MACK TRUCKS
4.VOLVO CONSTRUCTION EQUIPMENT (CE)
5.Navistar
6.International: ALL Intune, MD32,
7.Freightliner:
8.HINO:ENGINE
9.ISUZU_GMC
10.SCANIA VEHICLE, KOMATSU excavator, and MAN vehicle will be updated.
NEXIQ 2 USB-Link works with all popular Engines including: Detroit Diesel, Caterpillar, Cummins, Perkins Engines:
1.Detroit Diesel Diagnostic Link?(DDDL)
2.Caterpillar (On High Way Engine for J1939)
3.Cummins INSITE
4.Perkins Engines
Transmissions and Brakes
1.Meritor WABCO toolbox
2.Bendix?ACom?Diagnostics
3.Meritor ZF
4.Eaton Service Ranger
5.Allison DOC
4. JPRO Professional Heavy Truck Diagnostic Scanner Tool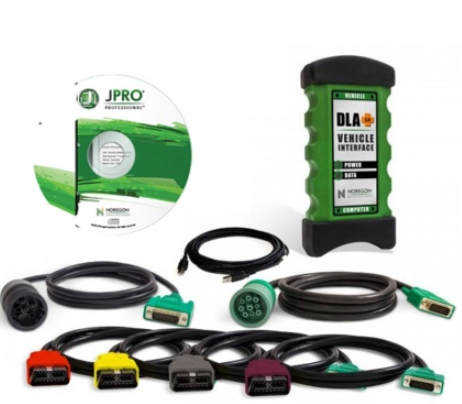 Why Taking JPRO Professional Heavy Duty Truck Diagnostic Software?
If you are looking for a cutting-edge heavy-duty truck diagnostic tool that works perfectly across all makes and models, then you definitely need to have the JPRO professional Diagnostic device.
This bidirectional scan tool comes with a set of useful accessories which include USB cable, HB OBD 2 cable, 6-pin heavy duty cable and 9-pin heavy duty cable which allows you to connect with most ports on various devices.
Additionally, this diesel scanner shows over 44,000 error codes for both medium duty and heavy duty with detailed description which makes handling them quite easy.
Some Features and Functions of JPRO Professional are:
Works with all models and all makes – This means that regardless of your type of vehicle, it will always work.
Shows fault codes exceeding 44, 000 together with detailed descriptions which makes tackling the problem simply.
Quick diagnosis – It is designed to scan the whole vehicle in a single pass and display on one screen.
Built with bi-directional functionality – This enables it to scan, repair and reset codes
Who Is It Built For?
JPRO Professional is the best heavy duty truck diagnostic software for professional truck mechanics.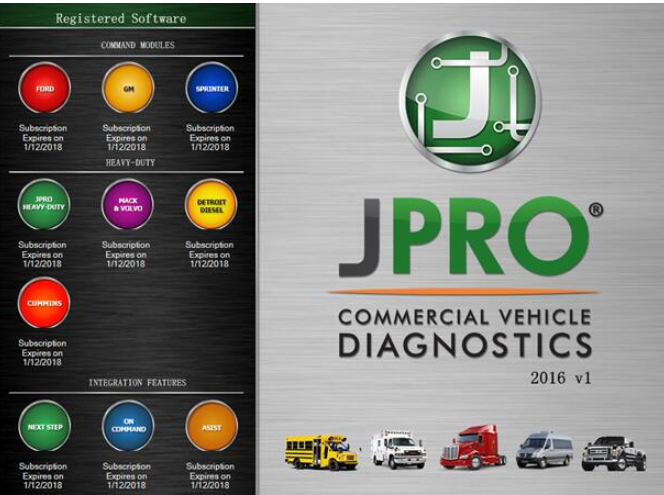 Everything you need to diagnose and repair heavy & medium-duty vehicles.
JPRO® Professional is the most comprehensive and powerful all makes, all models diagnostic tool available in the industry today. In one, easy annual subscription, JPRO provides a complete & unparalleled diagnostic service & repair solution with bi-directional functionality.
Next Step Service Information module helps speed up repair times by providing users with detailed engine repair information and troubleshooting guides for ABS and Transmissions – with the click of a button.
Noergon's DLA+ 2.0 adapter is a diagnostic communication device designed to interface between a vehicle and PC via USB cable for diagnostic and vehicle information, re-programming or parameter adjustments.
FEATURES:
1.Includes Heavy-Duty Modules: Mack, Volvo, Cummins, Detroit Diesel, International & PACCAR
2.Includes Medium-Duty Modules: Ford, GM, Isuzu & Sprinter
3.Bi-Directional Controls – Perform parameter changes (Mack & Volvo), DPF Regens (Mack, Volvo, Cummins, Detroit Diesel, International & PACCAR) & bi-directional tests with proprietary data & faults
4.OE Level Fault Code Information – Display over 99% of Heavy-Duty & Medium-Duty fault codes with detailed OEM level component and trailer descriptions
5.Fault Management – Clears faults and diagnoses all vehicle components in a single, easy to use application
6.Vehicle Reporting – View and print log files, including: Vehicle Health, Trip Reports & LOV Reports
7.Store & Save Data – Record data log files for playback at a later time, even away from the truck
8.Total Vehicle Health Status – See the entire vehicle in one pass on one screen + Up-to-Date – Provides 99% coverage of all heavy-duty truck DTCs through 2016
5. XTOOL PS2 HD Heavy Duty Truck Auto diagnostic tool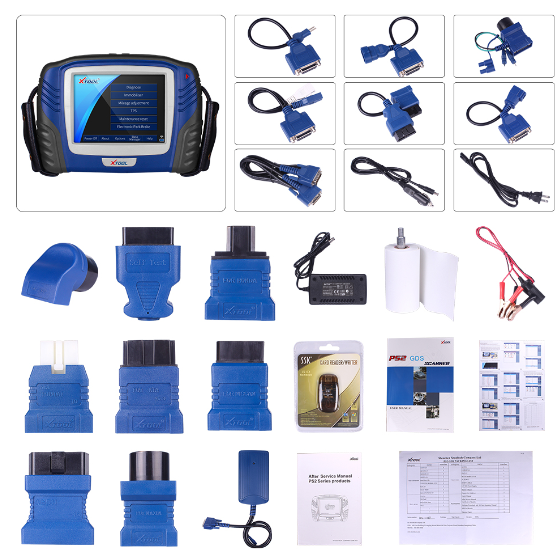 PS2 Heavy-Duty is a heavy-duty vehicle fault diagnosis product developed by Langren. Large size, true color, full touch display, simple and elegant body, easy to operate, intuitive, diagnostic functions covering domestic, European, American, Japanese, Korean and other heavy trucks, construction machinery and various electronic control systems. With powerful fault diagnosis and stable test performance.
1. Support safe and fast diagnosis of 12 and 24 volts.
2. The structure is light and durable, and the hardware is designed according to international standards and is more professional.
3.8-inch touch screen display, vivid color, more comfortable vision and operation.
4. Built-in high-performance over-voltage protection circuit to improve product reliability.
5. Can store and play back test data and pictures.
6. The host and the VCI box operate independently, with built-in Bluetooth module and wireless communication. At the same time, it supports wired communication, which is flexible and convenient to use.
7. Software network upgrade to meet test needs anytime, anywhere.
8. The printer and the host are integrated.
PS2 Test Trucks  
for Cummins, Isuzu, Mack, Volvo, Man, Sania,
Mercedes Benz, Hino, Iveco and DAF
1)MAN – the program, a wire, how many 16 Pin
2) Volvo – the program, wires 8pin,16pin,6+9 pin,14pin
3) Iveco – the program, wires 30pin,38pin,16pin
4) DAF – the program, wires 16 pin
test sensors, injectors cut off, pressure test, turn on and off sensors
and has trouble shooting and tech tips and reset max speed of v-olvo, man, cat
Softtware:
European:for VOLVO, for SCANIA, MAN, MERCEDES BENZ, MACK, DAF, IVECO, ERF,Astra, Bremach , for Renault
Asian:ISUZU,HINO,FUSO,HYUNDAI.KIA.UD
Usa:CAT,CUMMINS,DEROIT
Chinese:YUTONG,SHAANXI.SANY,KINGLONG,SINOTRUCK,JAC,FAW,DONGFENG,BEIBEN,WEICHAI
Who Is It Built For?
PS2 Heavy-Duty Professional is the best heavy duty truck diagnostic software for professional truck mechanics.
6. Allscanner VXDIAG VCX HD Heavy Duty Truck Diagnostic TOOL for CAT, VOLVO, HINO, Cummins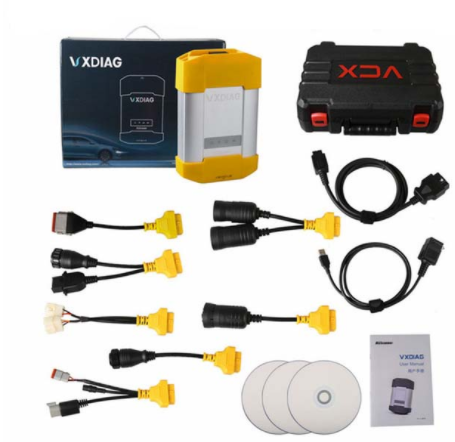 VXDIAG VCX HD allows you to diagnose most of heavy trucks, such as CAT, VOLVO, HINO, Cummins, Nissan. Also it can diagnose Buses, Grabs, Cranes and Engineering machine.
Main Function: Fault code diagnosis, maintenance guide, data stream reading, data resetting, PCM (ECU) reflashing
VXDIAG VCX HD Software: CAT, HINO, VOLVO, CUMMINS
1.Caterpillar Electronic Technician 2014A
2.Hino Diagnostic eXplorer   3.1.2
3.Volvo/Mack Premium Tech Tool (PTT) 1.12
4.Cummins Insite 7.6.0.272
Who Is It Built For?
VXDIAG VCX HD is the best heavy duty truck diagnostic software for professional CAT, HINO, VOLVO, CUMMINS truck mechanics.
7. CAT Caterpillar ET Diagnostic Adapter III Cat Communication Adapter 3
CAT Caterpillar ET Diagnostic Tool from Caterpillar provide the capability to access Electronic Control Modules (ECMs) from a personal computer. Many job-critical tasks can be performed with an electronic service tool. The user can display the status of a group of parameters (temperatures, pressures, etc.) simultaneously, view active and clear logged diagnostics, display the current configuration of an ECM and much more. The service tool works with a communication adapter to allow connection to an ECM. A graphical interface makes this software quick to learn and easy to use. A separate pull-down menu for each function enhances the "ease of use." The version and identification of the ECM is automatically retrieved and is displayed on a summary screen when the program is started. Diagnostic tests and calibrations can also be performed.
CAT Caterpillar ET Diagnostic Tool enable service technicians to reprogram ECMs, reconfigure control system parameters, fine tune performance or diagnose the root cause of a failure the first time. These powerful tools allow service personnel to display and analyze vital performance and health information from any system quickly and accurately. The service tool communicates with any system using ATA (J1708), J1939 or the Caterpillar proprietary data link networks. The service tools provide information and features needed to help a technician diagnose problems and perform repairs and to customize and personalize the operation of a product. By allowing customers to design flexibility and configurability into a product, Caterpillar service tools stretch beyond the capabilities of preprogrammed ECMs or onboard display systems.
Customised Service Tool Options
Customized service tool name
Customized graphics for the splash screen and icons
Customized installation
Aftermarket differentiation, i.e., the tool for one customer does not work on the product of another customer.
Licensing options for customer management
Flash programming of the ECM(s)
Training demonstration allows familiarity with the tool's primary functions without connecting to ECM(s)
Perform customized diagnostic tests to identify harness problems, cylinder or component failures (Automatic Cylinder Cutout with cylinder to cylinder fueling comparison)
Caterpillar ET Software Function:
This diagnostic app allows you to:
View active and logged diagnostics.
View events where irregularities occurred and were logged by the ECM.
View the status of a group of parameters (temperatures, pressures, etc.) simultaneously.
Record and log performance data.
Graph a group of status parameters.
View the current configuration of an ECM.
Change ECM configurations.
Perform diagnostic tests.
Perform calibrations.
Print reports and diagnostic results.
Please keep in mind that some ecm settings for example, speed limit requires factory password. The factory password generator is not included in this application
Who Is It Built For?
CAT Caterpillar ET CAT 3 is the best heavy duty truck diagnostic software for professional CAT truck mechanics.
8. John Deere Service Advisor EDL V2 Electronic Data Link Truck Diagnostic Kit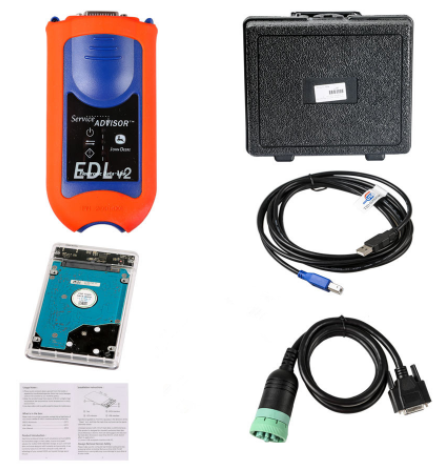 John Deere Service Advisor EDL (Electronic Data Link) heavy duty diagnostic adapter for construction equipment, agriculture, engines John Deere.
John Deere Diagnostic kit includes software John Deere Service Advisor Agriculture or Construction and Forestry version.
John Deere Service Advisor Agriculture workshop service manual, repair manual, electrical wiring diagram, hydraulic diagram, diagnostic, assembly and disassembly engine, transmission.
John Deere AG Management Solutions, Attachments, Backhoes, Combines and Headers, Cotton Harvestings, Excavators, ForkLifts, Hay and Forages, MAte Hand Cut and Shredderses, Plantings and Seedings, Skid Steers, Sprayers, Sugar Cane Harvesters, Tillages, Tractors, Worksite Pro Attachments.
John Deere Service Advisor (Construction and Forestry), workshop service manual, repair manual, diagnostic, electrical wiring diagram, hydraulic diagram John Deere.
John Deere Service Advisor (Commercial and Consumer Equipment)dealer technical assistance, diagnostics, connection readings, calibrations, interactive tests, specification, tools, assemble and disassemble presented all models John Deere Construction Equipment and some models Hitachi, Euclid, Bell and Timberjack.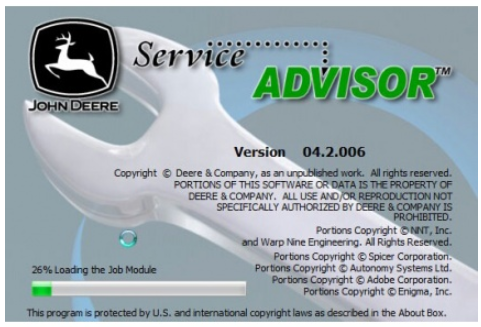 John Deere Service Advisor contains:
Tractors
Tractor Attachments
Transmission
Combines and Headers
Cotton Harvesting
Cutting and Mowing
Harvester
Harvester Head
Hay and Forage
Landscaping
Mate. Hand Cut. and Shredders
Planetary Drive
Planting and Seeding
Scraper
Skid Steer
Loader
Compact Loader
4WD Loader
Snow Products
Sprayers
Sugar Cane Harvesters
Sugar Cane Planter
Tillage
Vertical Tillage
Utility Vehicles
Field and Crop Solutions
Golf and Turf Products
GPS Receiver
Guidance
Hydraulic Power Pack
Information Management
LG Attachments
Motor Inverter
OEM Engines
Commercial
Display
Excavator
Worksite Pro Attachment
Axles
AG
Apollo Series
Engine
Readings
Riding Lawn Equipment
Other
Boom
PTO
Telematics
Who Is It Built For?
John Deere Service Advisor AG is a workshop repair manual that contains detailed technical service information, operation and maintenance manuals, installation instructions, designed to serve agricultural equipment John Deere, such as: Tractors, Tractor Attachments, Cotton Harvesting, Cutting and Mowing Equipment, Harvester, Hay and Forage, Landscaping, Planting and Seeding, Scraper, Skid Steer Loaders, Snow Products, Sprayers, Sugar Cane Harvesters, Sugar Cane Planter, Tillage, Utility Vehicles, Golf and Turf Products, Motor Inverter, OEM Engines, Commercial Equipment, Excavator, Engine, Riding Lawn Equipment, and others.
9. New Holland Electronic Service Tools(CNH EST engineering Level)+Diagnostic Procedures+White CNH DPA5 kit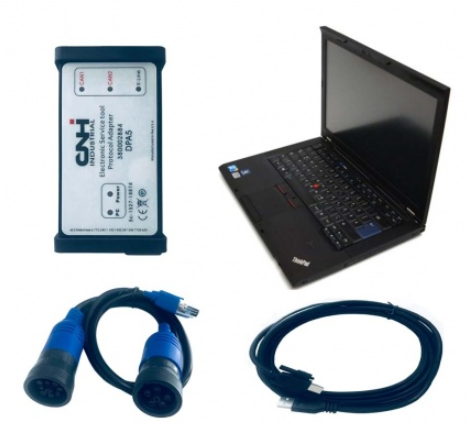 Electronic Service Tool (EST) – used by dealership technicians to connect with machines that have a Controller Area Network (CAN) BUS as part of the electronic system architecture
With this service tool you can:
• Check status of parameters;
• Retrieve faults;
• Run diagnostic tests;
• Make ECU and parameter programming;
• Monitor active and logged diagnostics;
• View and change ECU configuration;
• View diagnostic procedures and schematics.
• Troubleshoot problems;
• Use asist database;
• Run scope diagnostics;
E.A.S.y – additional engine diagnostic and download tool for connection directly to ECU to perform diagnostic, programming and ECU reload by K-Line protocol.
New Holland Electronic Service Tools (CNH EST9.0) 2019 – full diagnostic for New Holland, Kobelco, CASE, Steyr, Flexicoil, FK, O&K. New Holland Construction and New Holland Agriculture equipments. Case Construction and Case Agriculture equipments.
CNH DPA5 Interfaces OEM 380002884. This interface is Working 2 CAN and K line ( for diagnostic CASE and New Holland with IVECO Engine with EASY under EST
CNH Engine Download Tool operates from within the EST program to perform the following engine download operations:
• Provide Engine Control Unit (ECU) programing update capability;
• Provide blank ECU initialization and programming capability;
• Provide ECU programming reassignment for blank and other ECUs;
• Provide ECU download crash recovery.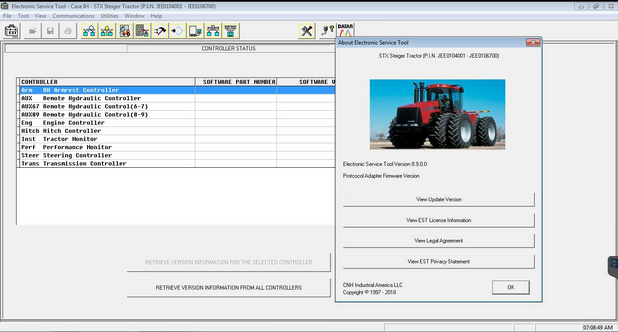 The Bottom Line
Despite how hard it could be choosing the best Heavy Duty Truck Scan Tool, you are in a better position equipped with this information.
If you take into consideration every detail when buying a diesel scan tool, you would probably have the best scanner to help you solve issues with your vehicle.