VCM II VCM 2 For Ford IDS 106.01 MAZDA 106.00 VMWare NEW Updated.And this blog will share Ford IDS 106.01 MAZDA 106.00 free Software download as well as some FAQs users maybe will  meet when installing or using new software ,so let's start it now.
New VCM II IDS Software Free Download Center
MegaDownloader
https://mega.nz/#!BgdiST7B!vHiZo-nj-6TMAb7I7gAMzP-zNC7SalsL4tYQk33BjlY
VMWare 12.5.0
https://mega.nz/#!s8lXyC5J!QUf2fV8yyxuKZ_oeniO18d1_7WMxADigUcUqOAhKuuA
FORD IDS 106.01 WITH FORD VCMII MANAGER 2.3.85.7
https://mega.nz/#!GwpgBBIS!OGGmCprpvife1jZJ5yOsGfjI4dPYVxGRZX0caCF6sIg
MAZDA IDS 106.00 WITH FORD VCMII MANAGER 2.3.85.7
https://mega.nz/#!e4YmURZK!LP3lw-teY8mMaa2kT-08enoLQCyEBNCLvC5pZQEwe-I
password
n8K684gE
Ford IDS 106.01 MAZDA 106.00 FAQs Help
Q1 : How to fix "no active license… " problem ?
A1 : When U open VM at first time, choose "I move it" ,Delete the VM.. unzip/ unrar again.
Start over,Click " i moved it"and all will be OK.
Q2 : Is the internet not suppose to work?
A2 : If you met the problem like license is working  but cant flash online,then you can follow this set to fix this problem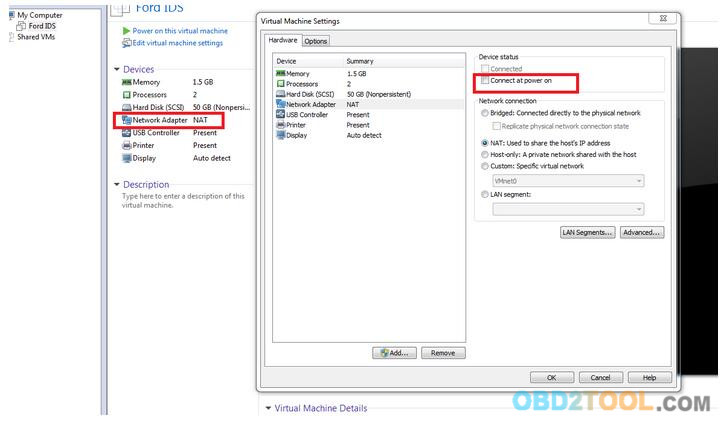 Q3 :  Will this software supports VCM II FORD clone ?
A3 : Yeah,as long as you bought one with great quality,then it works without any problems.
Q4 : How to fix Ford IDS-WMware Workstation erro like following pix show ?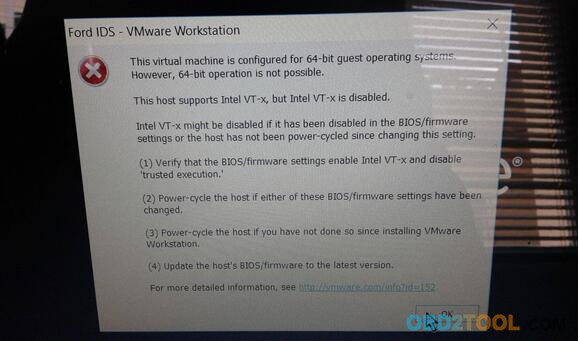 A4 : That means you cpu isn't configured / isn't capable of 64bit virtualization. Check your bios setting
Q5 : How to install and use this software ?
A5 : you can follow this guide
    Downloaded & extracted all need software
> Opened in VMWARE 10. (In one of the first couple of lines in config file change the "12" to "10")
> Clicked "I MOVED IT"
> Turned of internet (dunno if it matters).
> Turned off nonpersistent.
> Started Up IDS 105.1 VMWARE
> Plugged in OEM VCM and installed drivers.
> Made cosmetic changes, performance changes to WIN7.
> Opened IDS and made settings changes
> Ran Shut down command in Guest System.
> Turned nonpersistent back on.