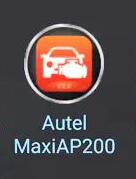 It is simple to use Autel MaxiAP AP200 Bluetooth OBD2 Scanner to perform 2019 GMC Sierra remote programming.
Here we go for the step-by-step procedure:
1.  Install "Autel MaxiAP200" APP on your mobile phone (Both IOS and Android are okay). Here is a 1 minute video on how to install the APP:
2.  Open "Autel MaxiAP200" APP.
3.  Select "Service".
4.  Select "Immo keys".
5.  Select "GM" and it pops up "Please connect the VCI".
6.  Select "Manual selection", then "Model Year (s)" 2019, then "Vehicle type" Passenger car, then make "GMC", then series "Sierra".
7.  Select "Hot Function", then "Body control module", then "Add /replace key fobs", then "Erase / program all key fobs".
The procedure of "Erase / program all key fobs" is only applicable to vehicles without RPO ATH. Vehicles with ATH need to be programmed by means of Service Programming System (SPS).
This procedure will clear all key fob (s) from the module memory. Prior to starting this procedure, please ensure that all key fobs to be programmed are present.
1) Set in Learn mode by selecting Learn.
2) Select the key fob to be added. Press and hold the Lock and Unlock buttons at the same time, when the fob(s) is added successfully, the parameter will show learnt.
3). Repeat step 2 until each required fob is learnt.
4) Exit the procedure after complete.
Notice: each fob may take 5-8s to program.
Job is done!