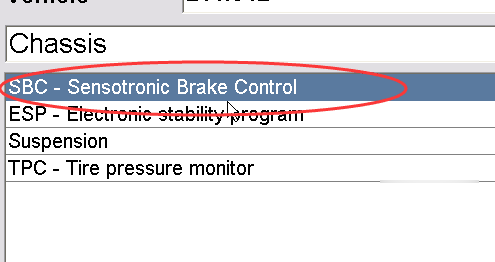 I have Benz SL-Class (R230) with brake warning came on, then went off, and took to Dealer for repair), and wanted to share.
I was pulling out of the garage and brake warning came on and pedal was very soft and felt like I only had 20% or less braking power (if that makes any sense). I pulled back in the garage and drove different car to work. That night, same brake warning light still on… Then next day I started, and brake warning was gone, and brakes were working fine. Someone told me that if the system senses any irregularities (i.e. low pressure, not enough voltage, etc) then the SBC pump goes into some type of limp mode to prevent further damage to the pump etc. (someone with more knowledge could probably explain or correct me). I have MB Star SDS sd connect c4 and confirmed that there were stored SBC (Sensotronic Brake Control) codes, but not current. I did NOT clear any codes.
Anyway, I called Music City Mercedes in Nashville, and they told me they would check the codes (I can't remember if they told me they would charge $150 diagnostic fee or not), and if there were any stored SBC codes they would replace the SBC under warranty. Since I already knew there were SBC codes, DTC C249F is a common problem with Mercedes Benz vehicles in the W211 (R230) series. I was happy to take the car to them. They confirmed SBC stored codes, and replaced SBC free of charge.
Hope yours is sorted.
Steps with MB Star diagnostic system:
Start engine. (Note: If you only are checking the total actuation count and not resetting the count, the engine does not need to be running.)
Start xentry, go through multiple menus to your car's data then select:
Control units
Chassis
SBC sensotronic brake control
Development data (should be at the bottom of the page)
Actuations
Complete index of Actuations
Break: To only get the count, select "Bremsenzaehler (DF_GetBrLiveTime)". This gives the total actuations to date. To reset the count, go to the next step. If only monitoring for maintenance purposes, back out of the program now using F1 key.
Bremsenzahler aktualisieren und Lebensdauerzahler F neu berechenen
set ulNBR to 0, click F3
Bremsenzahler auf beliebigen Wert setzen
set ulNBR to 0, click F3
Lebensdauerzahler F neu berechenen
set ulNBR to 0, click F3
Lebensdauerzahler F neu berechenen und schreiben
set ulNBR to 0, click F3
log out of xentry
Do not turn off car.
drive for at least 10 minutes. (or let idle)
FYI, when I google search "Mercedes R230 SBC reset", a W211/R230 ABS/SBC Tool caught my eyes.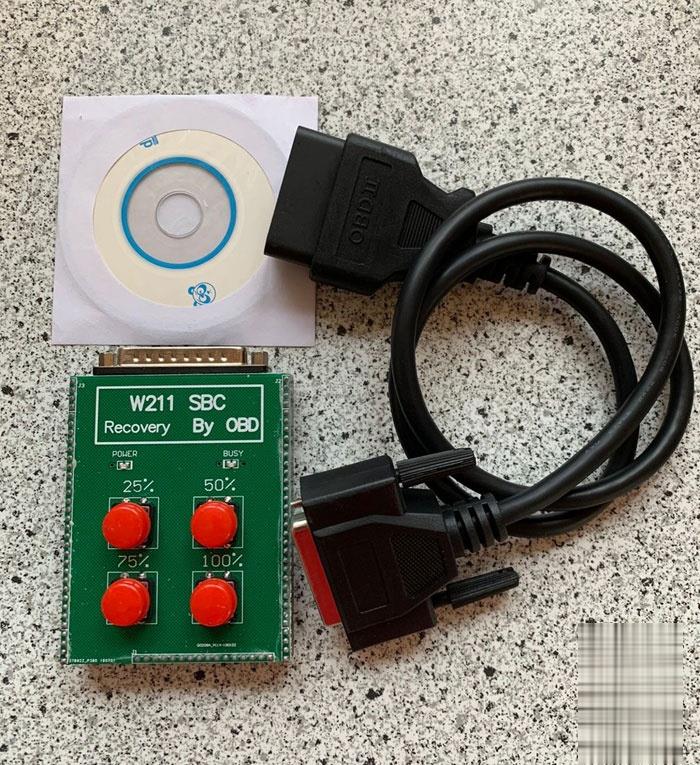 And I would like to share some operation procedure with several images:
Insert the key into the ignition, wait several minutes and you will have brake warning come on.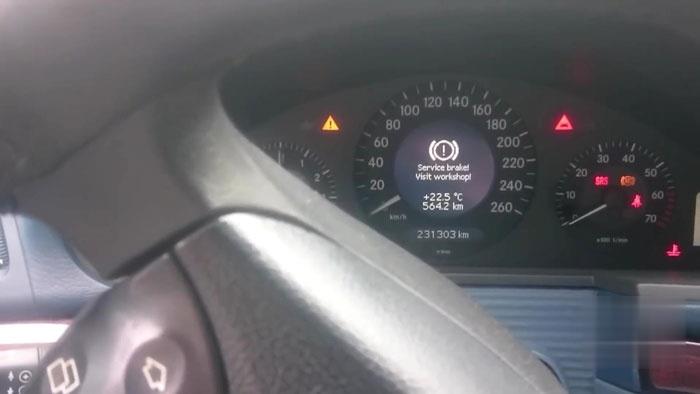 Plug the ABS/SBC Tool into the OBD2 port of W211, press the "50%" button.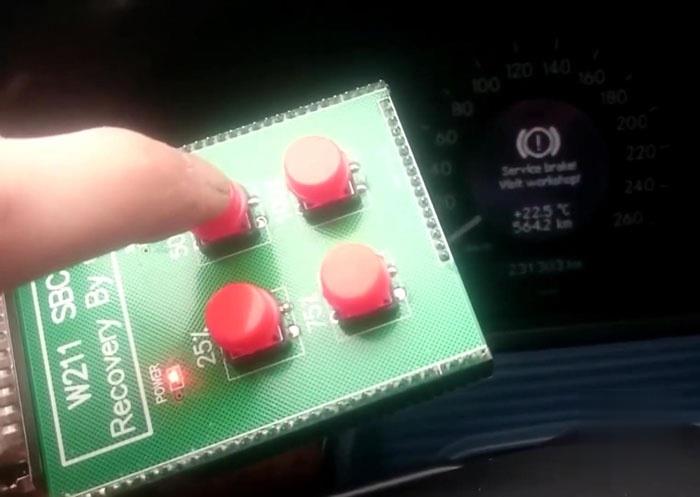 And notice the change on the dashboard: ESP detective! visit workshop! -> Stop brake defective! stop vehicle!
Then unplug the ABS/SBC Tool from the car, turn on ignition, and you will see "No malfunction" on the dashboard.
I go on searching, and think obdii365.com would be reliable to have one W211/R230 ABS/SBC Tool.
You may want to go on reading what they describe on their site:
TIPS: CODE C249F, OPERATION TIME OF COMPONENT A7/3 IS EXCEEDED (SBC HYDRAULIC UNIT)
The above tips that show internal fault of control unit, you have to replace the SBC control module and using W211/R230 TOOL that can be easily repaired without replace the new control module.
For Mercedes Benz's Safety Precautions had stated that before attempting to repair the brake system on its models W211 (E Class) and R230 (SL Class), the Sensotronic Brake Control (SBC) system must be deactivated first using its STAR-DIAGNOSIS tester.
Deactivation of the SBC system is absolutely necessary before carrying out any maintenance work onthe brakes like changing of pads, discs and fluids because the system is under a pressure of 140 bars. Mechanics who perform brake services on these car models must have the proper tools to avoid the risk of injuries to themselves and damage to the brake system.
Until the introduction of this inexpensive, convenient, light, safe and easy to use SBC tool is another alternative to the STAR-DIAGNOSIS tester when working on SBC system. It can perform the tasks equally well which is efficient and safety.
After the repair had done, the SBC system can be activated and restore back its pressure. The memory is erased automatically.
– Quick, easy operations with LED indications.
– Safe to use
– Power ON when plugged into vehicle?s OBDII diagnostic connector.
– Light, compact and very convenient.
– Stand alone unit.
This SBC tool works on W211 (E-Class) and R230 (SL-Class) with SBC systems.
It is ideally suited for:
– Brake centers
– Independent for Mercedes Benz workshops
– Tire Service centers
– Service garages
– Quick service centers
– For Mercedes Benz Specialist centers
– Automotive Repair Workshops
Warm tips:
Not all code for W211 cars can be cleared! Your cars must  be in good condition, and SBC maintenance time is out,with error " Repair Code C249F"
And Cars' ECU must be following types:
BOSCH NR: 0 265 960 012
BOSCH NR: 0 265 960 013
BOSCH NR: 0 265 960 015
BOSCH NR: 0 265 960 018
BOSCH NR: 0 265 960 019
BOSCH NR: 0 265 960 020
BOSCH NR: 0 265 960 023
BOSCH NR: 0 265 960 025
BOSCH NR: 0 265 960 028
Enjoy!