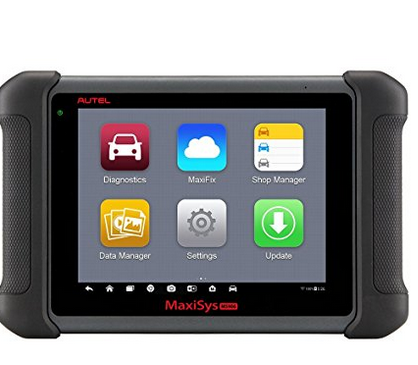 Autel MaxiSYS MS906 is based on the Android operating system and is featured with an extensive coverage of OE-level diagnostics at an affordable price. Built with Exynos 5260 6-core processor (1.3 GHz quad-core ARM Cortex-A7 + 1.7 GHz dual-core ARM Cortex-A15), a 32G SSD hard drive and an 8" capacitive HD touch screen, MaxiSys MS906 efficiently provides comprehensive vehicle diagnostics and analysis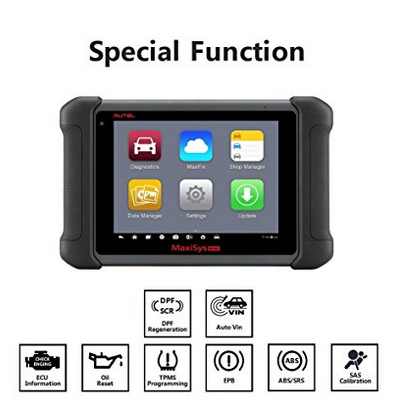 Complete Diagnostic: This Autel Scanner Performs full OBD2 functions, advanced vehicle diagnostics and analysis, such as read codes, erase codes, live data view, actuation tests, adaptations and more dedicated services functions, it also with full OBDI adapters.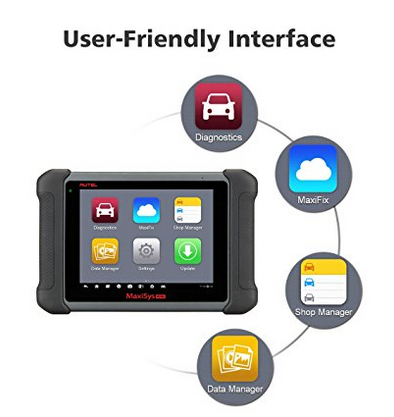 Smart Diagnostic Scanner: The ms906 featuring the latest AutoVIN technology to identify vehicles in one touch to scan ECUs, acquire vehicle info and run diagnostics on selected systems.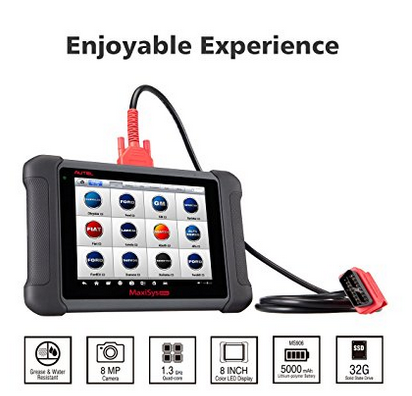 Enjoyable Experience: Samsung Exynos 6-Core Processor make the diagnoses more quicker. Comes with 8.0" LED touch screen which is bigger and sensitive than DS808, and with one touch navigation menu, which make everything smooth, intuitive and simple. 5000mAh lithium-polymer battery provided around 4.5 hours of continuous use.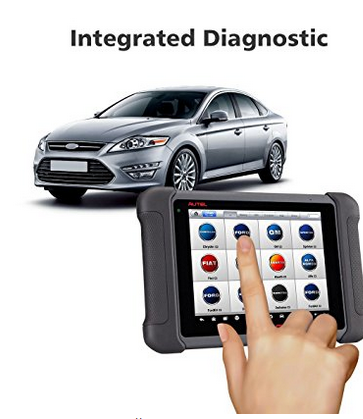 Extensive OE-Level Converge: Scan a broad range of automotive related problems for over 80 car manufactures such as ABARTH, ACURA, ALFA, AUDI, BENTLEY, BENZ, BMW, BUGATTI, CHEVROLET, CHRYSLER, CITROEN, DODGE, DACIA, DAIHATSU, FIAT, FORD, GM, Holden, HONDA, HYUNDAI, INFINITI, ISUZU, JAGUAR, JEEP, KIA, LAND ROVER, LEXUS, LANCIA, MAYBACH, MAZDA, MINI, MITSUBISHI, NISSAN, OPEL, PEUGEOT, PORSCHE, RENAULT, SAAB, SCION, SEAT, SKODA, SMART, SPRINTER, SUBARU, SUZUKI, TOYOTA, VAUXHALL, VOLVO, VW, etc.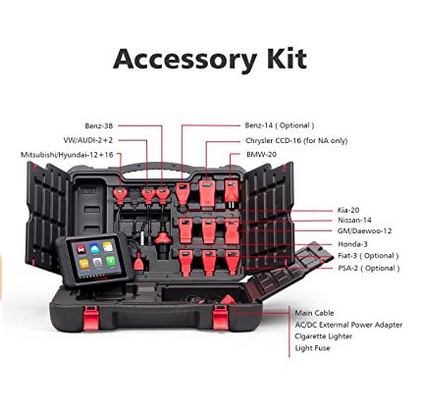 Online Update & Perfect Service: Automatic system and software updates with real-time push message notifications via internet, it also come with 12-month warranty for any quality problems.