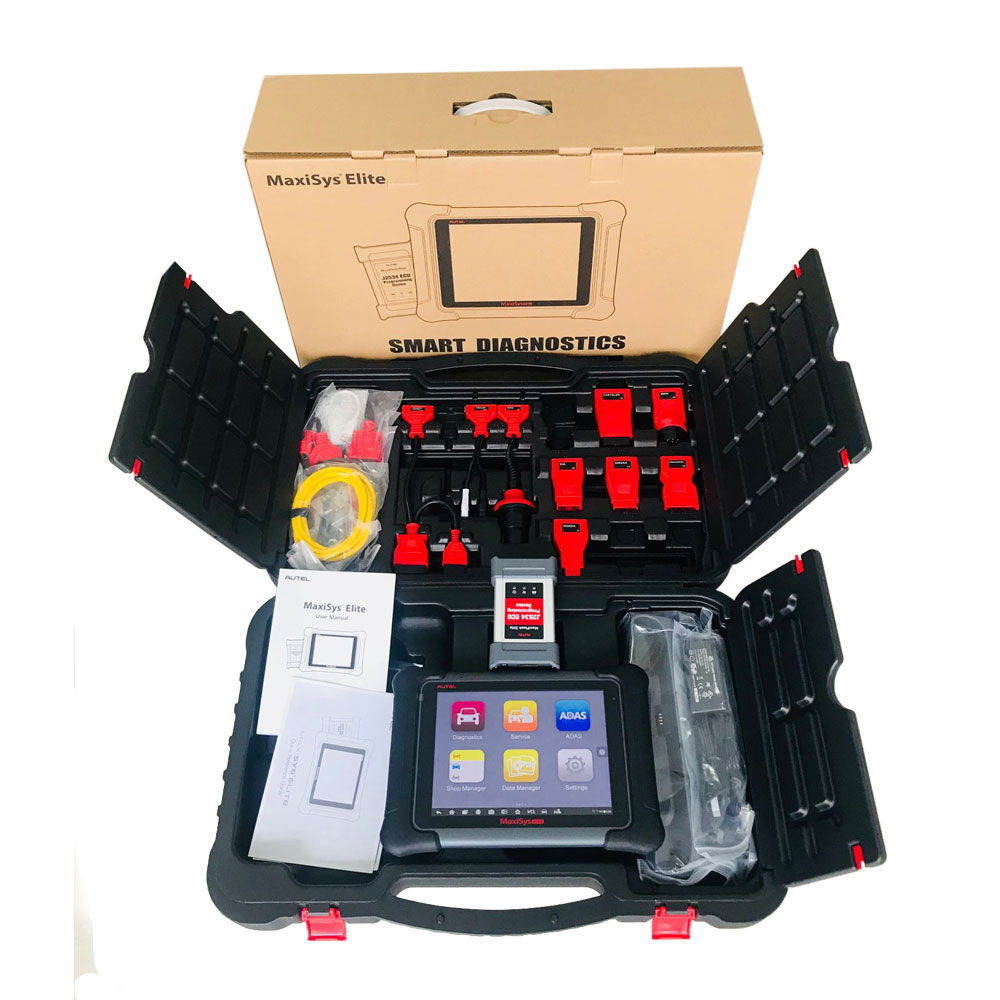 If you're looking for nothing less than the Best obd2 scanner on the market, then look no further than the Autel maxisys elite scan tool. Autel Scanner is well known for their quality scanner. And the Autel maxisys is well-known for its speed, multi-tasking, and simplicity. For the many years that I have repaired and maintained different car models and makes in my car repair shop, this has been one of the most reliable scanners that I have used over the years. Read this Autel Maxisys Elite review to know more about this advanced diagnostic tool.
The Autel Maxisys Elite diagnostic scanner is the perfect scanner for busy and professional mechanics as well technicians. Let the price not deter you from acquiring this fast, efficient, and comprehensive diagnostic scan tool. You can also use it on a variety of car brands and its ergonomic design is fun to have in the hands. The Wi-Fi connection makes updating easy and the large LCD displays make reading and erasing codes to be quick.
Technical Specifications of the Autel Maxisys Elite Scanner
Features  
Autel Maxisys Elite
Works:     All 1996 and newer vehicles
OS:     Android 4.4.4 KitKat
Display:     9.7" Retina display with 2048X1536 resolution & Capacitive touch screen
Processor:     NVIDIA Tegra? 4 (4-PLUS-1 Quad-core Processor) 1.8GHz with ARM Cortex – A15 CPU
Memory:     2GB RAM & 32GB Embedded Memory
Camera:     Rear: 8.0 Megapixel, Autofocus with Flashlight
Front: 2.0 Megapixel
Sensors:     Ambient Light Sensor, G-sensor
Connectivity:     802.11a/b/g/n/ac WIFI
Version 2.1 3Mbs Bluetooth
RJ45 Ethernet Connection
3.0 USB (2.0 Compatible)
HDMI 1.4a
SD Card (Support up to 32GB)
Audio Input/Output:     Microphone
Dual Speakers
3-Band 3.5 mm stereo/standard headset jack
Input Voltage:     DC/12V/3A
Power and Battery:     3.7V/13600mAH Lithium-polymer battery
DC/12V/3A Power Supply
Power Consumption:     Max 20W
Storage Temperature:     -20 to +70°C
Operating Temperature:     -10 to +55°C
Software Update:     2 years of free update
Models:     More than 80 US domestic, Asian and European
Weight:     1.59 kg
Protocols:     Most OBD1/OBD2
Warranty:     One year warranty
Autel Maxisys Elite Review(video):
Features of the Autel Maxisys elite scanner
Broad vehicle coverage
Advanced ECU coding and programming
Grease and water resistant
32GB storage
8 GHZ quad-core
13600mAh lithium polymer battery
Large LCD display
Enhanced wireless connectivity
Unique ergonomic design
Rubberized protection
Rugged internal housing
Interactive data logging
Automatic system and software update
Uniquely integrated vehicle programming
Full OBDII automotive scanner
Maxifix platform
Benefits of the Autel Maxisys elite scan tool
Online programming
This scanner enables you to perform online ECU programming. This is one of the best and most unique features of this device. Online programming helps professional mechanics and technicians to troubleshoot and deal with complex vehicle problems.  All you have to do is to follow instructions carefully when solving the problems.
Smart device
This scanner is not only versatile, but it also features some outstanding functions such as automatically reading VIN and one-click upgrade. In addition, it features the Autel cloud technology like the Maxifix platform, data feedback, and data management provide you support anytime anywhere.
Powerful and extremely efficient
The Autel maxisys elite Car Diagnostic Tool is the most powerful diagnostic scanner. Thanks to its 1.8HGz quad-core processor that offers you with a fast operation speed and a fast diagnosis, the boot up time is within 20 seconds. All of these combined together provide you with an excellent diagnostic experience. As a matter of fact, it is 3 times faster than normal scan tools.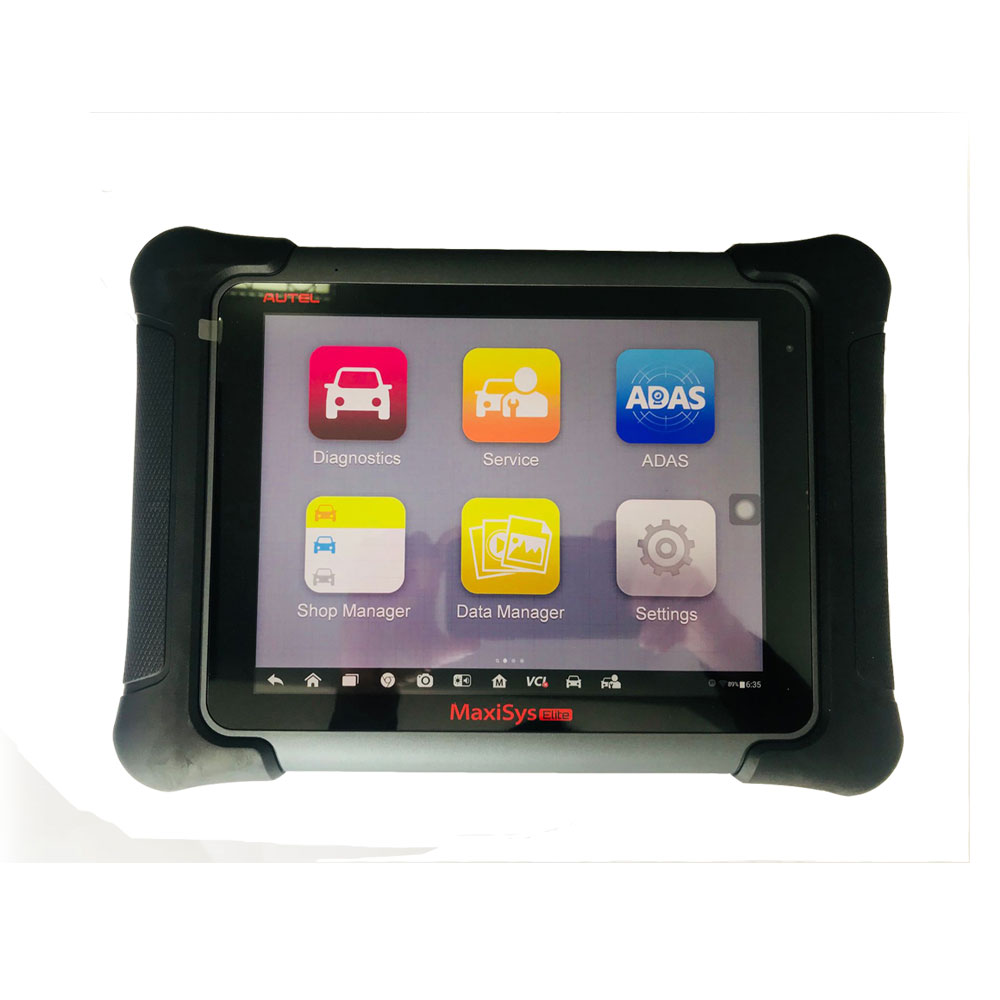 Mobile
This automotive diagnostic scan tool comes with an outstanding functionality that functions on most OBD1/OBD2 protocols, the enhanced wireless connectivity between the tablet and VCI device that allows greater mobility and ease at work. So, you will have a simple time using this car scan tool. Also, it has a Bluetooth feature.
Full OBDII functions
Similar to many Autel scan tools, the Autel maxisys elite can perform all the OBD II test modes. These include the latest powertrain diagnostic data, freeze frame data, emission diagnostic trouble codes, emissions diagnostic data, oxygen sensor monitoring test results, onboard monitoring tests, VIN, and many more.
Advanced functions
Besides offering all the OBD II test modes, the scanner as well provides the user with advanced functions such as coding functions, ECU matching, SAS reset, DPF reset, Tire pressure reset, Anti-theft matching, Throttle matching, and injector programming. All these functions make this device to be an exceptional one.
Extensive vehicle coverage
This is one of the broadest diagnostic scanners that you will come across. This automotive code reader has exceptional coverage of more than 80 US, European, and Asian makes and models. It covers vehicle brands like GM, Ford, Toyota, Nissan, Chrysler, Benz, BMW, Maserati, Honda, Hyundai, Subaru, and many others. That's why it is great for commercial use.
Accurate diagnosis and analysis
It is also one of the most accurate and efficient code readers on the market. The scan tool supports for first-hand troubleshooting of diagnostic bugs and faults, and one-stop multitasking created for the suitable management of workshop tasks to keep all data files, customer information, and vehicle records well organized.
Ergonomic design
The ergonomic design of the scan tool makes using it to be fun and simple. The large display screen shows all the data to be read or cleared. In addition, it has rubberized outer protection for durability and a rugged internal housing.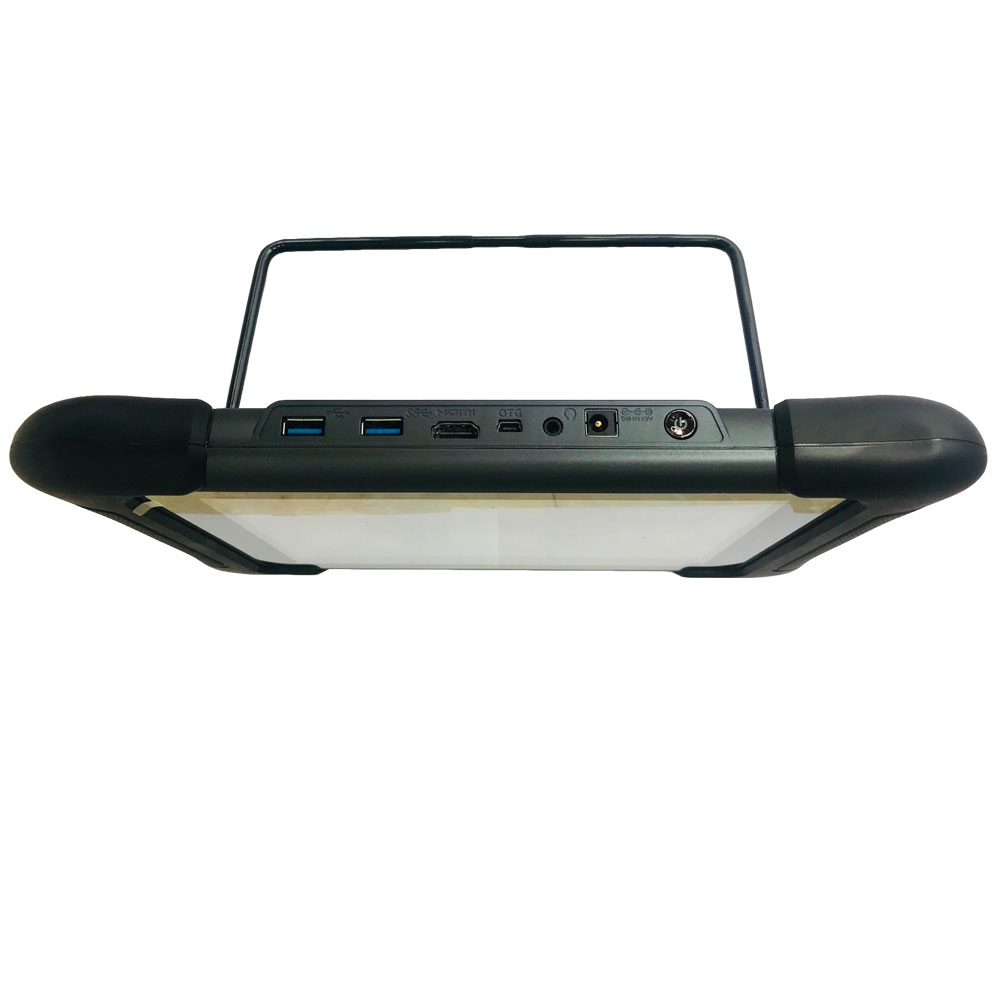 Automatic system and software update
Unlike other sophisticated scan tools, the Autel maxisys elite scanner offers an automatic system and software updates with real-time push message notifications. This is through the internet with instant remote control tech support. Also, it has interactive data logging sessions that allow you to have direct contact with Autel technicians for any help at any time.
Shortcomings of the Autel Maxisys elite scan tool
Quite expensive
If you're looking for a simple and personal code reader, then look away. The Autel maxisys elite scan tool is very costly and not good for individuals. Actually, it is one of the most expensive scanners on the market. If you are looking for a cheaper option, then you can consider to buy Autel Maxisys MS906 scanner.
Not compatible with all vehicles
This is another major challenge with most of the Autel scan tools. Before purchasing this scanner, you should find out what types of cars and models are compatible with it. You don't want to spend a lot of cash only to find out that the scanner cannot work on the type of vehicles that you deal with on a daily basis.
Conclusion
The Autel maxisys elite scan tool is specifically built for commercial use. Individuals can as well own it but it will be too costly for them. It is great for professional mechanics who handle different car makes on a daily basis. The Autel maxisys elite automotive diagnostic scanner is a very interesting tool to have in your shop as it has exceptional features, it is effective, easy to use, provides accurate data, and has an advanced ECU coding and technology. I have explained everything in this Autel Maxisys Elite review that you should know about this tool.