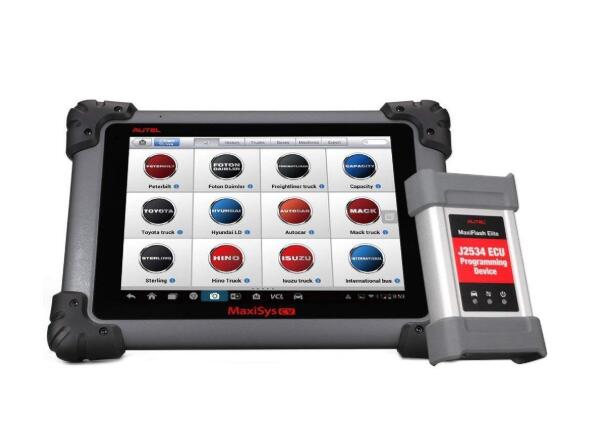 Autel Maxisys MS908CV Commercial Vehicle Diagnostic Scanner Scan Tool Point:
1.POWERFUL DIAGNOSIS & ANALYSIS: The Autel Maxisys MS908CV is especially made for working on Heavy Duty vehicles. It contains a whole set of heavy duty vehicle connectors and provides access to all the commonly performed service functions: Oil Reset, EPB, Brake Bleeding, DPF & SCR, Immo & keys, Injector Throttle and other regular maintenance functions.
2.ADVANCED ECU CODING & PROGRAMMING: The complete MaxiSys MS908CV tool kit includes a compact sized MaxiFlash Elite which performs J2534 and J2534-2 pass-thru programming and provides Bluetooth VCI communication between the vehicle and the MaxiSys CV tablet.
AUTO SCAN & AUTO VIN: The MaxiSys CV Diagnostics system features the latest VIN-based Auto VIN Scan function to identify CAN vehicles in just one touch, which allows the technician to quickly detect vehicle and scan all the diagnosable ECUs.
3.WIDE VEHICLE COVERAGE: Extensive vehicle coverage for more than 80 US, Asian and European commercial vehicles and industrial machine brands.
4.DISTINCTIVE FEATURES: The Customer Manager function allows you to create and edit customer accounts, helping you to save and organize all your customer and company vehicle information. And we provide online tech support, you can find us at anytime you need assistance with your Autel Maxisys.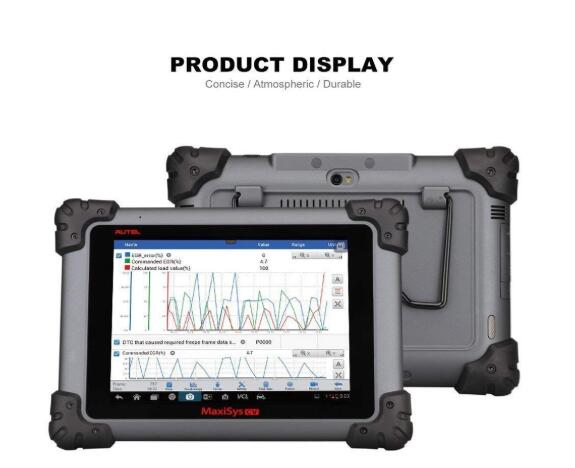 FEATURES
9.7" 1024×768 LED-backlit glossy Multi Touch capacitive display
The VCI connects to the main unit wirelessly with up to 230 meters workingrange
Extensive vehicle coverage for more than 80 US, Asian andEuropean commercial vehicle makes and machines
Complete capabilities for codes, live data, actuation tests, adaptations and ECU coding
Displays live data in text, graph, analog and digital gauge for easy datareview and analysis
Configures display options, sets triggers, records and playbacks results with one touch
Records and playbacks live data to pinpoint troubles of sensors and components
Remote technical support for convenient demonstration,training and increased customer satisfaction
Coverage for Light Duty / Medium Duty /Heavy Duty(1996-present)
Expert
/Allison/Bendix/Caterpillar/Cummins/International/Detroit/PACCAR/VOLVO/Freightliner/Wabco/ZF Meritor/MERCEDESBENZ/Boschauto/PowerStroke/AISIN/IVECO/Mack/Eaton/MTU/MWM
Buses
OBD/VOLVO/AGRALE/HINO/ISUZU/MERCEDES BENZ/MITSUBISHI FUSO/VOLKSWAGEN/TOYOTA/RENAULT
Trucks
VOLVO/AGRALE/AUTOCAR/CAPACITY/Dodge/FIAT/FORD/FOTON/Freightliner/GMC/GREAT WALL/HINO/HYUNDAI/ISUZU/KIA/MERCEDES BENZ/MITSUBISHI/MITSUBISHI FUSO/NISSAN/Sterling/International/IVECO/VOLKSWAGEN/Kenworth/Mack/Peterbilt/WORKHORSE/WESTERN STAR/SETRA/UD/Renault
Supported Protocols
SAE J1939, SAEJ1708, Manufacture-defined Protocol J1939, Manufacture-defined J1708, KWP, VPW, UDS-CAN, CDL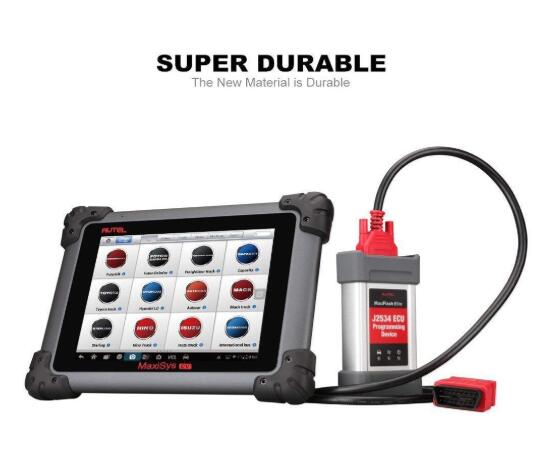 Autel MAXISYS MS908CV Package List:
– MaxiSYS MS908 CV Head Unit
– MaxiFlash Elite J2534 ECU Programming Device / VCI
-Benz -14 adapter
-Iveco -30 adapter
-Iveco -38 adapter-
-Scania / DAF -16 adapter
-MAN -37 adapter
-MAN -12 adapter
-Volvo -8 adapter
-ISUZU -20 adapter
-Commins -8 adapter
-Deutsch -9 adapter
-Cat -9 adapter
-Uni -4 adapter
-Deutshch – 6 adapter
-Renault -12 adapter
– AC/DC Adapter (12V)
– Main Cable
– USB Cable
– Mini USB Cable
– Clipper Cable
– Cigarette Lighter
– Light Fuse 6*30mm (2pcs)
– JW1 x2
– JW2 x2
– JW3 x2
– JW4 x2
– JW5 x2
– JW6 x2
– JW7 x2
– JW8 x2
– JW9 x2
– JW10 x2
– User Manual
– Quick Reference Guide
– Packing List
–  CD
– Soft Cloth Screen Wipe
– Carrying Case
– 1-Year Software Updates
– 1-Year Warranty
MS908CV-4
Connectivity
* Ethernet: RJ45 Ethernet Connection
* WiFi (802.11 a/b/g/n)
* USB 2.0
* Bluetooth V.2.1 + EDR
* SD Card (up to 32GB)
* HDMI – connect to a large monitor