If you own a Mercedes-Benz and are looking to do your own repairs you may have heard about Mercedes Star Diagnostic (SD) scanners C3 and C4. In this article, we discuss the advantages of Mercedes Star Diagnostic scanner including things that you need to keep in mind before you buy a MB Star Diagnostic scanner. A list of top alternative scanners to Star Diagnostic is included as well. Note that this article is not written to approve or sell any of the scanners mentioned here including Star Diagnostic Scanner. We share our experience and research of diagnostic scanners and hope to help you the Mercedes-Benz owner who are looking to perform your own MB repairs and diagnostics.
Mercedes Star Diagnostic Tool and Software
Let's first explain what Star Diagnostic SD (C3 or C4 SD Connect) tool is for those who may be wondering. This is the diagnostic scanner that is used at Mercedes-Benz dealerships and some auto repair shops. It can also be purchased by independent shops. These scanners include the hardware and Xentry which is the software that is used to troubleshoot the problems in any Mercedes-Benz. Original units can be purchased at STAR Tekinfo which is the official Mercedes-Benz site that offers technical documents, special tool and diagnostic software.
Mercedes-Benz Scanner MB-Star Diagnostic allows you to read and erase fault codes from any control unit in your Mercedes-Benz. With Star Diagnostic scanner you can read the actual configurations in each system, stream real time sensor data, activate sensors and perform SCN online, SCN offline coding and programing.
Mercedes Star Diagnostic for Sale
If you search the online resellers you will find Mercedes Star Diagnsotic C3 and C4 listed for sale. You have to be careful when buying online as many of these units may  not be original.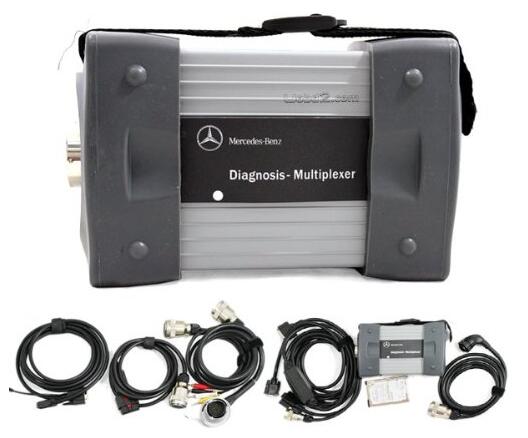 Advantages of Star Diagnostic Scanner
This scanner is used by the dealer and it allow you to access and troubleshoot any system or control system in your Mercedes-Benz. Activate any sensor in the car, perform initiation test, stream live sensor data and also read and clear fault codes. If you own a shop who focuses on Mercedes-Benz cars then this is a must for you. Get it via official channels so that you can perform online SCN coding. All MB SD control units are accessible, like engine ECU, ABS, Airbags, SRS, Aircon, Immobilizer, Keyless Entry and the rest of 40+ control units used in MB cars. You can Read / Delete Faults, Live Data, perform sensor actuation, read current configuration, initialaztion and a lot more.
Things to consider before you buy one!
If you are looking to purchase a Star Diagnostic System with Xentry for Mercedes-Benz there are a few things you need to consider.
Learning Curve: In order to use the diagnostic scanner properly you need to learn how to use the Xentry software. While reading, clearing fault codes is not very difficult anything besides that requires that you have proper training. Yes, you can find a few guides online on how to perform certain programming using Xentry but if you don't perform the programming accurately you may end up causing more problem than you solve.
Consider Genuine Scanner: The only problem is that they are quite expensive and require a yearly license. If you are considering to buy a clone of the scanner made in China keep the following concerns in mind.
SCN Online Coding: Unless you buy the scanner from the official Mercedes-Benz source, you will not be able to perform SCN coding of control units. That's because Mercedes Star Diagnostic scanner will try to connect to Mercedes-Benz database for verification of SCN code in order to program certain control units. That is not possible unless you have purchased a valid license. With that said there may be some basic coding and programming of control units that can be done but this programing can also be performed with other advanced scanners.
Mercedes Star Diagnostic Problems with Software (Xentry) VM Ware Installation: All the setups that you see for sale that state that they use VMware environments are not legitimate hardware and software. Besides the fact that these scanners are not legal copies, they are also prone to crashing and run much slower than direct Windows installations. Yes, you are required to have a Windows XP with a serial port for the MB Star Diag C3 scanner. Many VMWare Mercedes Star Setups experience problems some of which you can see posted on this site: MB SD C4 C3 problems and solutions.
License: In order to get the full features offered by Mercedes Star diagnostic scanner you need to sigh up for a yearly subscription and pay a license fee. This is not financially feasible if you only work on one or two Mercedes-Benz models. If you end up buying a cloned version of the scanner the Xentry software key will expire in a few years and you will not be able to use your scanner at all.
Top Alternatives to Mercedes Star Diagnostic Scanner C3 & C4 Tool
In our opinion, there are better alternatives for those who like to do their own troubleshooting. Whether you are a repair shop a Mercedes-Benz owner consider these scanners as well. Note that we do not endorse any of the following OBD II / CAN scanner brands. Links to Amazon and eBay listing are provided if you need to check current prices.
Carsoft 7.4 multiplexer: This is a much less expensive scanner than Mercedes Star Diagnostic C3 or C4. While it does require a laptop to run, using the carsoft 7.4 is much easier than using the Xentry software. One other advantage of this scanner is that it comes with several cables such as the 38 pin connector for the older models. It has a good coverage of models such including the popular models such as E-Class, C-Class, S-Class, CLK-Class, GL-Class, G-Class and more. The main disadvantage of this scanner that while it can read and erase fault codes it can not perform programming.
iCarsoft MB II:This is a handheld diagnostic scanner dedicated to Mercedes-Benz. It is nice that it doesn't request a laptop. Using the scanner is very straight forward even if you have never used one these scanners before. It is very affordable for Mercedes-Benz owners who want to do their own diagnostic and repair. It covers over 40+ control units and also has coverage for the latest Mercedes-Benz models. It can also be updated. It can read any system on Mercedes-Benz models manufactured after 2000 such as transmission TCU, ESP, ETS, ABS, Air Conditioner, Door Control Unit, SBC brake, Brake Control Unit, Airmatic and more. Disadvantages of this unit is the fact that it will not work on older models past 1993. It will not work on models that require a 38 pin connector such as the E 320 and CLK 430. In these models it can only read the ECU (check engine light). You also want to skip MB i980 which can only do ECU and SRS / Airbag diagnostic. Just go for the iCarsoft MB II it can troubleshoot way more system in your MB.
Autel DS708: This is the perfect solution for auto repair shops. It is more expensive than iCarsoft MB II but it has three main advantages: 1. It can troubleshoot most car models and makes including Honda, Toyota, Audi, BMW, Lexus, Hyundai ect. 2. It can diagnose multiple systems such as engine, transmission, airbag, air condition systems, traction control, anti-lock brakes and all other major system. 3. It can perform sensor live sensor stream, sensor activation and programming. Disadvantages: This is a little pricey for owners but if you own an auto repair shop this is the least expensive professional scanner. Scanners that have similar capabilities such as Snap-on souls cost four to five times more than Autel DS708.
Mercedes Benz Mb Star C3 vs C4
MB Star C3: It requires a laptop so that you can troubleshoot your Mercedes-Benz via Xentry software. While on paper it is slower than MB Star C4, it has proven to be a very reliable and robust scanner that is not plauged with WiFI connectivity issues like the MB SD Connect C4.
MB Star C4 is the latest Mercedes-Benz wireless multiplexers that can connect to your PC via wireless connection. Being the latest Diagnostic Scanner for Mercedes-Benz it works faster, once you resolve any connectivity issues that is.
Frequently Asked Questions
What is DAS? – Diagnostic Assistance System – This is the full diagnostic system for Mercedes-Benz vehicles. All functions for diagnosis including reprogramming, configuration, initialization, fault diagnosis and guided diagnostic tests are contained within DAS.
All control unit software (reprogramming calibrations) is contained within the DAS software which is distributed monthly via DVD media.
All access and functionality required in regard the configuration via SCN Coding and/or CVN Coding is covered.
What is WIS-NET? – Workshop Information System – This is the complete workshop information system as developed by DaimlerChrysler for use in the servicing of Mercedes-Benz vehicles. Contained within are installation instructions, procedures, functional and technical specifications. There is some linkage from certain procedures in DAS to respective documents in WIS.
What can Mercedes Star Diagnostic Tool do? The system offers total diagnostic coverage of all engine, chassis and body systems:
Reading and re-setting of diagnostic trouble codes (DTC)
Real-time reading of dynamic data
Full component activation clearing and re-setting of adaptation values
Coding of all engine, chassis, body and instrumentation modules
Key configuration
Procedure for fitting Mercedes- Benz accessories through the D2B ring and MOST bus
Total ASSYST / ASSYST + control (Active Service System) to update on board service history
What is Workshop Green Key? This is a unique one-time key from the factory which is necessary in certain situations such as:
Disabling a key track
Replacing the ECU
Replacing security related control units
Replacing EIS
Typically the workshop key and EIS must be ordered togheter and the green key is used to perform the final programing of the EIS.
What does it mean MARRYING  a VIRGIN ECU and EIS? The ME (ECU=Engine Control Unit)  and  EIS (Electronic Ignition System) control module are electronically permanently married to each other after 40 engine starts. There is no factory procedure to undo this. This means that a used engine EIS or DAS control unit cannot be used on another vehicle. A new control unit can be installed for testing provided the 40 engine starts are not exceeded. Note that the new control unit must be variant coded before it can be used. If the 40 engine start cycles are not completed successfully resetting the counter to 0 (removing the version coding) is possible if  you disconnect the power from the ECU for at least 45 minutes.
What model years does Star Diagnostic Scanner work with? The Star Scanner should work on cars from 1989 up to 2015 for Mercedes Cars, Buses, Trucks, Sprinter Vans, Smart cars, Etc.
What can I do with Star Diagnostic SD Connect Scanner C3 & C4?
Reading/Erasing Trouble Codes
Read Live Data
Adaption of Modules
Coding/Programming of Modules
Component Testing
Maintenance Information Consultation
What is Xentry? New software released by Benz Company after 04/2009 by diagnosis new cars. WIS.net : Workshop Information System EPC.net: Electronic Parts Catalogue STAR UTILITIES: the movement management system and self-test DAS: the automatically Diagnosis Assistance System ST Finder 2008: Part location finder
What is Smart TAN Code? It openes special function in DAS program with Smart cars 450/451/452/454 Developer model: Mercedes-Benz engineer mode, remove limitations and open more functions.
What is Benz Disassembly system? Video lessons to teach you how to remove each part from Benz cars with details order steps.
Which control units can MB Star Diagnostic Scanner with Xentry troubleshoot?
Engines (All Gasoline & Diesel Systems)
Transmissions and Electronic Selector Modules
Airmatic and Active Body Control Suspension Systems
Traction Systems: ESP / ASR / ETS / ABS / BAS / SBC braking systems
Supplementary Restraint Systems (SRS) / Airbag, All body modules OCP / UCP / LCP / SCM / SKF / KFB / RCM / DCM's
Drive Authorisation System
Sam (Signal Acquisition) Modules
Electronic Ignition System (EIS)
Pneumatic System Equipment and ATA functions
Air Conditioning / climate control Systems
Instrument Cluster
Tyre Pressure Control
Parktronic System
Keyless Go
D2b Command & Audio Gateway (D2B and MOST networks)
TV Tuner
Headlamp Range Adjustment
Seat Electronics
Rvc, RST & Vario Roof modules
Automatic Clutch System ACS
M-Class Body Modules (AAM / EAM / DAS / SEM / VG Transfer Case)
Assyst & ASSYST + systems