Autel MaxiIM IM608 and Maxisys elite are both top line of Autel diagnostic tools. And most of descriptions shows they both can do programming, are they same functions? Can I flash ecms with the IM608 and do programming like with the Maxisys? Which one is better?
Autel MaxiIM IM608 is the most advanced and the unique all in one key programming and diagnostic tool that combines advanced key programming, all systems diagnostics, and advanced services in one Android based 10.1-inch touchscreen tablet. It is equipped with XP400 key programmer and MaxiFlash ECU programmer to provide complete coverage of IMMO and programming functions. Together with the ability to quickly diagnose all modules of the majority of the makes and models on the market, IM608 provides you with all special functions. It is the unprecedented key programming and diagnostic tool that you ever wanted
Autel MaxiSys Elite, the newest addition to the MaxiSys line of highly advanced smart diagnostic tools, is based on the fast and intuitive Android operating system. Powered by NVIDIA's Tegra® 4, the world's fastest mobile processor, its visually stunning 9.7" Retina display offers ultra-high resolutions up to 2048×1536 and an optimized array of sophisticated and powerful applications.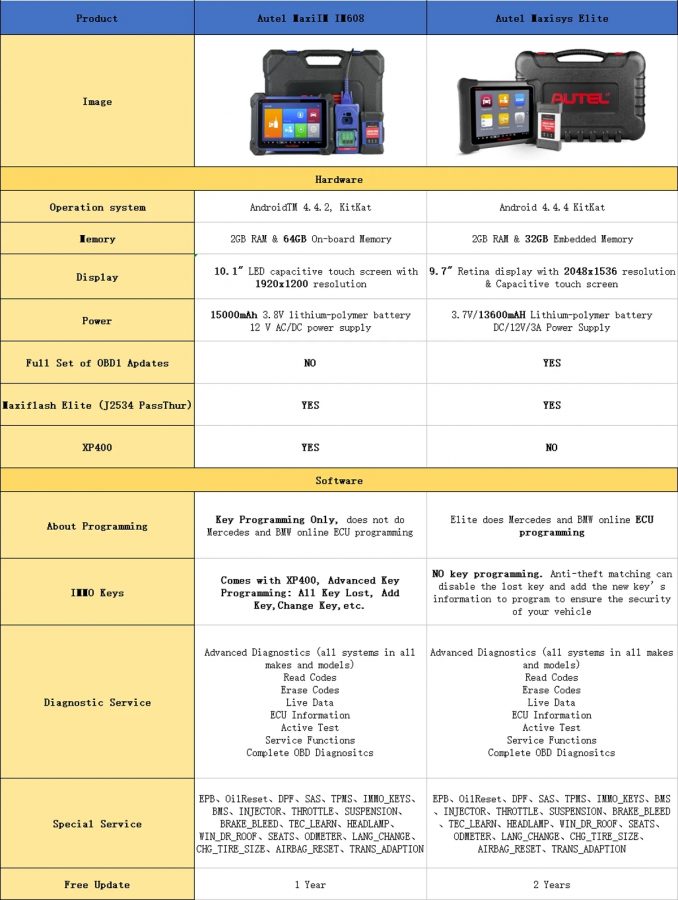 In short, Autel IM608 is focusing on key programming. Maxisys elite's bullet feature is Benz and BMW online ECU programming. Both of their diagnostic level and service functions level is the same.
Here are reviews from our IM608 & Elite senior users:
" Elite does Mercedes and bmw programming, Im608 does keys. Not the programming,  Other than that it's the same diagnostic software. " — Matthew Skundrich
"Im608 is far better than maxisys in ten's of multiple programming but if u are doing online for only BMW and Mercedes maxisys" — Ubak Richard
Secondly, we share IM608 Test Report:
MaxiIM IM608 BMW Test:
a) BMW FEM System : Add key complete;
b) BMW CAS2, CAS3: I have this tool since may. it is getting better and better, support is quick. Error logs they always reply and send beta version to fix the issues. It is very good for bmw as well done few cas2 and 3 keys, I have downgrades 3 cas+ as well without any issues.
MaxiIM IM608 Mercedes Test:
a) ML320 CDI 2007: Add Key Mercedes ML320 CDI 2007
b) E220 2010: W212 Mercedes E220 and 2010 akl can be done by OBD
c) Mercedes E220: All lost keys; New key works
d) Mercedes: Not at vvdi mb level, but not much is!
MaxiIM IM608 VGA Test:
a) Golf MK5 2005: AKL – add key OK – 2min
b) Scirocco 2011: add key OK – 2min 40sec
c) Golf V 2007: AKL without remove dashboard
d) Tiguan 2013, Scirocco: No need internet to work on cars but every day when you power it up it need connection for the first time. Presumably checking for updates, etc. Done Tiguan 2013, Scirocco and few others VAGs. Works fine on them
e) Audi a3 2010: Add key OK
f) Vw t5 2008: Add key OK
g) Skoda yeti 2014: Add key OK
h) Golf MK5 2005: Added keys on Golf MK5 2005 AKL
i) Scirocco 2011: Add key OK… really fast!!!
j) VAG key programming: Pretty good and fast, an alternative to vvdi2, however vvdi2 is a proven product so I would stick with my xhorse tool
MaxiIM IM608 Test on Others:
a) 2014 Seat Ibiza: 2014 Seat Ibiza, 2 keys added
b) Volvo XC60: program key for Volvo XC60
c) Sprinter 2006: Add key OK
d) Honda Civic 2006: Added keys fast, 55s done
f) Toyota: Works Great on adding keys, all keys lost, G key
Experience Sharing:
Asian brands: Good programming and diagnostic functions, certainly a strong point.
US brands: Good all round coverage, and looks like it will continue to develop.
Europe brands: Can do basic diagnostic (nothing special) and has poor key programming.
Eeprom functions: Still lots of development to do.
Thirdly, we share Maxisys Elite Test Report:
Toyota Sienna:
2011 Toyota Sienna had the TPMS check light on for the longest time. Toyota dealer wanted $135 to diagnose it and ball parked $150 to fix it. Of course at $285, I could buy this tool and a sensor. So I did. Turns out one of the sensor was dead. Used the TS501 to read all four sensor IDs from the OBD then found the culprit sensor ID by process of elimination. Cloned the ID into a new Autel MX sensor and swapped it out with the old one. After driving the car for 20 min, the ECM recognized that there was an active sensor with the same ID, check light went OFF. Checked that there was no other DTC with another OBD tool, then cleared the old TPMS error code from the ECM using the TS501.
Toyota 4Runner:
I was having trouble with one of my sensors on my 06′ 4Runner and decided it was time to get it looked AT but wasn't able to just drop it off at my local Firestone. Ordered the TS501K with included sensors after reading the reviews. I ordered this because of the included sensors that came in the package. It's ready to go right out if the box and stores your vehicle in its memory, which came in handy because the first time I tried it kept duplicating 1 of the 5 sensors in the tires. It was a little frustrating at first so I let it go for a few days. Gave it another shot and went through the prompts and bingo. All sensors programmed. Relearning to the CPU was simple and the best part… No more blinking light. Great product! Easy to use.
Mercedes & BMW:
In order to perform the stated coding and programming abilities on BMW and Mercedes-Benz vehicles, you must have a valid and current service subscription through Autel.
Hyundai:
I have hooked this product up to everything from an '05 Subaru STI to a 2013 Hyundai Genesis coupe. Links up great with no issues whatsoever. VERY happy with this purchase and would purchase it again in a heartbeat. I'm a die-hard PC-scanner based supporter. However, I wanted something relatively cheap that has similar capabilities but doesn't require a laptop. This fit the bill perfectly.
A lotttt:
I tested it on a lot of vehicles of my family and neighbors, such as 2008 Ford F-150, 2011 Honda Civic, 2013 Honda Accord, 2015 Nissan Altima,  and etc. Not only I but also my wife uses it on a daily basis for reading DTCs, turning off SEL, and testing the vehicle emissions for a state program.