Have you heard of the XTOOL X100 Pad2 and want to know more? Maybe you spent hours trawling review pages reading up on the great key programming tools options, their features, and functions? We know there are loads of options on the market, and choosing one can seem like a daunting task.
Buying a car key programmer can be confusing. Not only do these tools offer a wide range of functionality, but you will also need to choose a unit compatible with the model of car you wish to work on. You will also need to ensure that the programmer is up-to-date, (and has the capacity to keep that way). Luckily, the Xtool X100 Pad2 is able to program nearly all vehicle models and key types including blade, wireless and fobs.
Xtool X100 Pad 2 Reviews
—The Autonumen shop was officially authorized, and it is the original brand. In saying that, it's always a good idea to buy from a renowned brand. Also, XTool is a household name in the OBD business, and you can trust that their products will deliver quality, durability, and cover a wide range of functions. Their scan tools are great quality, long-lasting scanners.
—–Activation the Xtool X100 Pad2 is made super easy with. Just follow these simple steps to activate the Xtool:
First, connect your Xtool X100 2 to your network/wifi
Power up the and you'll see the main interface appear on the screen
Press login to account and login with your e-mail address
You will also be required to enter an "activation code" which you can find printed on the user manual
Once you've complete all the necessary information just click the "ACTIVATE" button
The activation will bring up the X100 2 pad main menu, and you're ready to go!
—-The activation of your device is a one time process, once you've completed it the XTool Pad 2 will save all your information ready for next time.
—-The Xtool X100 Pad two is capable of being used to perform OBD II scanner operations by reading codes and recognising issues with a vehicle.
—-The simple interface is easy to navigate, Once you've activated your Xpad 100 2 tool using it is a breeze. It comes down to using the device, the simple interface takes all the stress out of key programming and vehicle diagnostics.
—I am looking for tool that can function as a key programming tool and perform an OBDII diagnosis on my vehicle, a multi-functional tool such as the one covered in this review won't let me down.
—Obviously, the XTool X100 Pad2 goes beyond single use functionality and combine a variety of tools into one, easy to use tool. This is a great option is I am willing to spend the money and want a guarantee that t he investment will perform well and last for a long time.
XTOOL X100 PAD 2 Specifications:
| | |
| --- | --- |
| Operating System: | Android 4.4.4 |
| Memory: | 1GB RAM, 16GB Flash |
| CPU | Quad Core, 1.6 GHz |
| Display | 8.0 Inch IPS 5-Point Multi-touch Screen with 1024×600P Resolution |
| Sensors: | Gravity Sensor, Light Sensor |
| Input/Output: | Microphone, Dual Speakers, 3.5 mm headset jack, Mini HDMI Port, 2.0USBPort, TF Card Port |
| Battery: | 4000mAh, 7.4V |
| WIFI | WIFI 2.4Ghz |
| Bluetooth | 100 Meters |
| Power Voltage: | 12V |
| Power Consumption: | 29.6W |
| Operating Temperature: | -20 to 50℃(-4 to 126℉) |
| Humidity: | <90% |
| Dimension: | (L*W*H): 240*177*30mm |
Product Overview:
Personalized Operation Interface
Brand-new interaction design interfaces and detailed operation reminder. Make operation easy and more obvious.
Auto Upgrade Notice
Upgrade notifications can be sent automatically. One-click update via wifi makes machine keep the latest syetem status at all times.
Hign-end Appearance
Simple and hign-end appearance, it is more durable with a protective case
Online Material Inquiry
A large amount of technical material can be inquired online.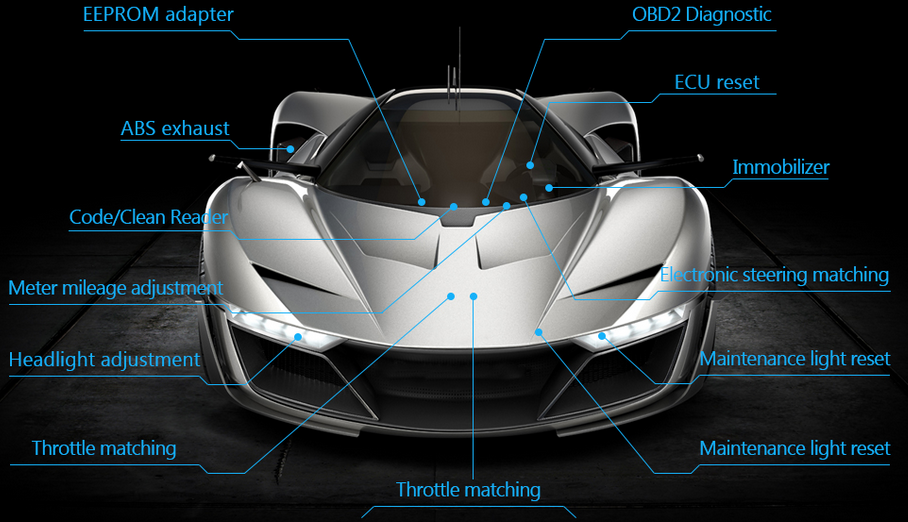 X100 PAD2 is the first tablet key programmer in the world! It not only provides customers with professional key programming, but also the most needed special functions for workshop. Car Diagnostic Tool X-100 PAD2 is a tablet with the latest technologies to perform key programming, mileage adjustment, oil service light reset, timing belt service light reset, tire pressure warning light reset, EPB reset, throttle body reset, DPF reset, battery reset, steering angle calibration and OBD-II engine diagnosis.