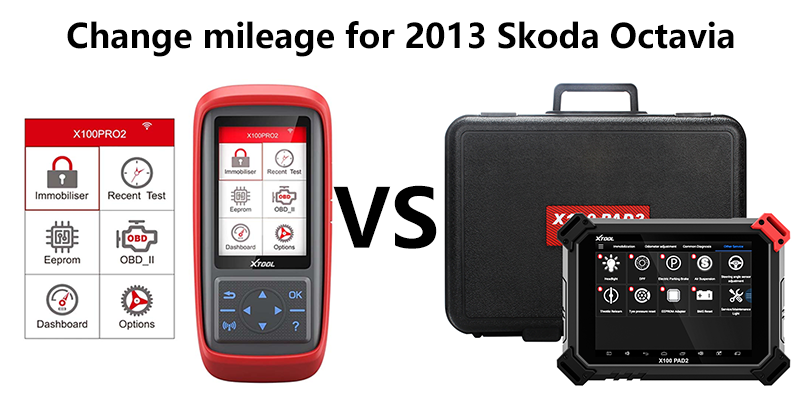 Topic: Which Xtool device can adjust mileage for 2013 Skoda Octavia? Xtool X100 Pro2 or X100 Pad2?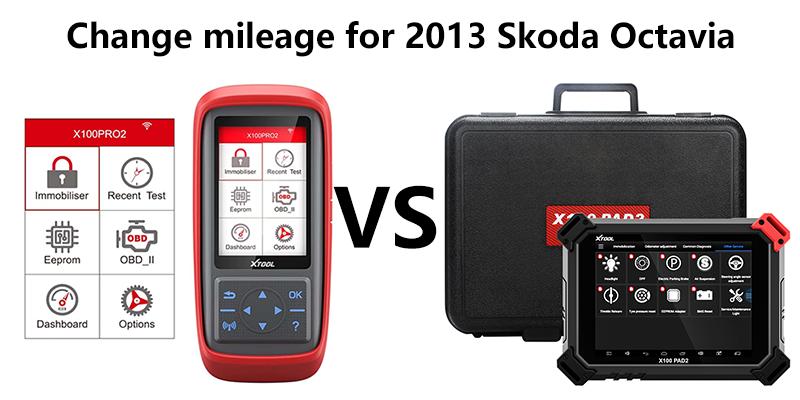 Obd2tool.com engineer gives the answer as below.
In fact, currently there is not Xtool device can do the odometer function for 2013 Skoda Octavia. But A80 Pro (H6 Pro) and A80 H6 (H6 EB) supports some diagnostic functions on this car model, such as read ECU, read/ clear trouble code, read live data/ freeze frame, actuation test, coding, programming and some special functions.
Check the details as below.
Skoda Function List V12.20
Tips and Instructions:

The programming function only supports H6PRO, H6PRO Master Edition products.

*     This feature is new.

√  This feature is supported.

This feature is not supported.

※  This feature is partially supported.

Model
Years
System Name
Read ECU Information
Read Trouble Code
Clear Trouble Code
Live Data
Read Freeze Frame
Actuation Test
Special Functions
Coding
Programmin g
Octavia 2013 >
2013 (D) – 2020 (L)
01-Engine Control Module 1
√
√
√
√
※
※
0001-0018
※
√
Octavia 2013 >
2013 (D) – 2020 (L)
02-Transmission Control Module
√
√
√
√
※
※
0001-0018
※
√
Octavia 2013 >
2013 (D) – 2020 (L)
03-Brakes 1
√
√
√
√
※
※
0001-0018
※
√
Octavia 2013 >
2013 (D) – 2020 (L)
06-Seat Adjustment Passenger Side
√
√
√
√
※
※
0001-0018
※
√
Octavia 2013 >
2013 (D) – 2020 (L)
08-Air Conditioning
√
√
√
√
※
※
0001-0018
※
√
Octavia 2013 >
2013 (D) – 2020 (L)
09-Central Electrics
√
√
√
√
※
※
0001-0018
※
√
Octavia 2013 >
2013 (D) – 2020 (L)
13-Adaptive Cruise Control
√
√
√
√
※
※
0001-0018
※
√
Octavia 2013 >
2013 (D) – 2020 (L)
14-Wheel Dampening Electronics
√
√
√
√
※
※
0001-0018
※
√
Octavia 2013 >
2013 (D) – 2020 (L)
15-Airbag
√
√
√
√
※
※
0001-0018
※
√
Octavia 2013 >
2013 (D) – 2020 (L)
16-Steering Column Electronics
√
√
√
√
※
※
0001-0018
※
√
Octavia 2013 >
2013 (D) – 2020 (L)
17-Dash Board
√
√
√
√
※
※
0001-0018
※
√
Octavia 2013 >
2013 (D) – 2020 (L)
18-Auxiliary Parking Heater
√
√
√
√
※
※
0001-0018
※
√
Octavia 2013 >
2013 (D) – 2020 (L)
19-Gateway
√
√
√
√
※
※
0001-0018
※
√
Octavia 2013 >
2013 (D) – 2020 (L)
20-High Beam Assistance
√
√
√
√
※
※
0001-0018
※
√
Octavia 2013 >
2013 (D) – 2020 (L)
22-All Wheel Control
√
√
√
√
※
※
0001-0018
※
√
Octavia 2013 >
2013 (D) – 2020 (L)
29-Light Control Left
√
√
√
√
※
※
0001-0018
※
√
Octavia 2013 >
2013 (D) – 2020 (L)
2B-Steering Column Locking
√
√
√
√
※
※
0001-0018
※
√
Octavia 2013 >
2013 (D) – 2020 (L)
32-Lock Electronics
√
√
√
√
※
※
0001-0018
※
√
Octavia 2013 >
2013 (D) – 2020 (L)
36-Seat Adjustment Driver Side
√
√
√
√
※
※
0001-0018
※
√
Octavia 2013 >
2013 (D) – 2020 (L)
39-Light Control Right
√
√
√
√
※
※
0001-0018
※
√
Octavia 2013 >
2013 (D) – 2020 (L)
3C-Lane Change Assistant
√
√
√
√
※
※
0001-0018
※
√
Octavia 2013 >
2013 (D) – 2020 (L)
3D-Special Function
√
√
√
√
※
※
0001-0018
※
√
Octavia 2013 >
2013 (D) – 2020 (L)
42-Door Electronics Driver Side
√
√
√
√
※
※
0001-0018
※
√
Octavia 2013 >
2013 (D) – 2020 (L)
44-Steering Assistance
√
√
√
√
※
※
0001-0018
※
√
Octavia 2013 >
2013 (D) – 2020 (L)
47-Sound System
√
√
√
√
※
※
0001-0018
※
√
Octavia 2013 >
2013 (D) – 2020 (L)
4B-Multifunction Module
√
√
√
√
※
※
0001-0018
※
√
Octavia 2013 >
2013 (D) – 2020 (L)
52-Door Electronics Passenger Side
√
√
√
√
※
※
0001-0018
※
√
Octavia 2013 >
2013 (D) – 2020 (L)
55-Headlight Regulation
√
√
√
√
※
※
0001-0018
※
√
Octavia 2013 >
2013 (D) – 2020 (L)
57-TV Tuner
√
√
√
√
※
※
0001-0018
※
√
Octavia 2013 >
2013 (D) – 2020 (L)
5F-Information Control Unit 1
√
√
√
√
※
※
0001-0018
※
√
Octavia 2013 >
2013 (D) – 2020 (L)
65-Tire Pressure Monitoring 1
√
√
√
√
※
※
0001-0018
※
√
Octavia 2013 >
2013 (D) – 2020 (L)
69-Trailer Function
√
√
√
√
※
※
0001-0018
※
√
Octavia 2013 >
2013 (D) – 2020 (L)
6C-Camera System Rear View
√
√
√
√
※
※
0001-0018
※
√
Octavia 2013 >
2013 (D) – 2020 (L)
6D-Deck Lid Control Unit
√
√
√
√
※
※
0001-0018
※
√
Octavia 2013 >
2013 (D) – 2020 (L)
75-Telematics Communication Unit
√
√
√
√
※
※
0001-0018
※
√
Octavia 2013 >
2013 (D) – 2020 (L)
76-Parking Assistance
√
√
√
√
※
※
0001-0018
※
√
Octavia 2013 >
2013 (D) – 2020 (L)
A5-Front Sensors Driver Assistance System
√
√
√
√
※
※
0001-0018
※
√
Octavia 2013 >
2013 (D) – 2020 (L)
A9-Actuator For Structure-Borne Sound
√
√
√
√
※
※
0001-0018
※
√
Octavia 2013 >
2013 (D) – 2020 (L)
B7-Access Start system Interface
√
√
√
√
※
※
0001-0018
※
√
Octavia 2013 >
2013 (D) – 2020 (L)
BB-Door Electronics Rear Driver Side
√
√
√
√
※
※
0001-0018
※
√
Octavia 2013 >
2013 (D) – 2020 (L)
BC-Door Electronics Rear Passenger Side
√
√
√
√
※
※
0001-0018
※
√
Octavia 2013 >
2013 (D) – 2020 (L)
C0-Actuator For Exterior Noise
√
√
√
√
※
※
0001-0018
※
√
Octavia 2013 >
2013 (D) – 2020 (L)
CA-Control Module For Sunroof
√
√
√
√
※
※
0001-0018
※
√
Octavia 2013 >
2013 (D) – 2020 (L)
D6-Light Control Left 2
√
√
√
√
※
※
0001-0018
※
√
Octavia 2013 >
2013 (D) – 2020 (L)
D7-Light Control Right 2
√
√
√
√
※
※
0001-0018
※
√
Octavia 2013 >
2013 (D) – 2020 (L)
DD-Control Module 2 For Sunroof
√
√
√
√
※
※
0001-0018
※
√