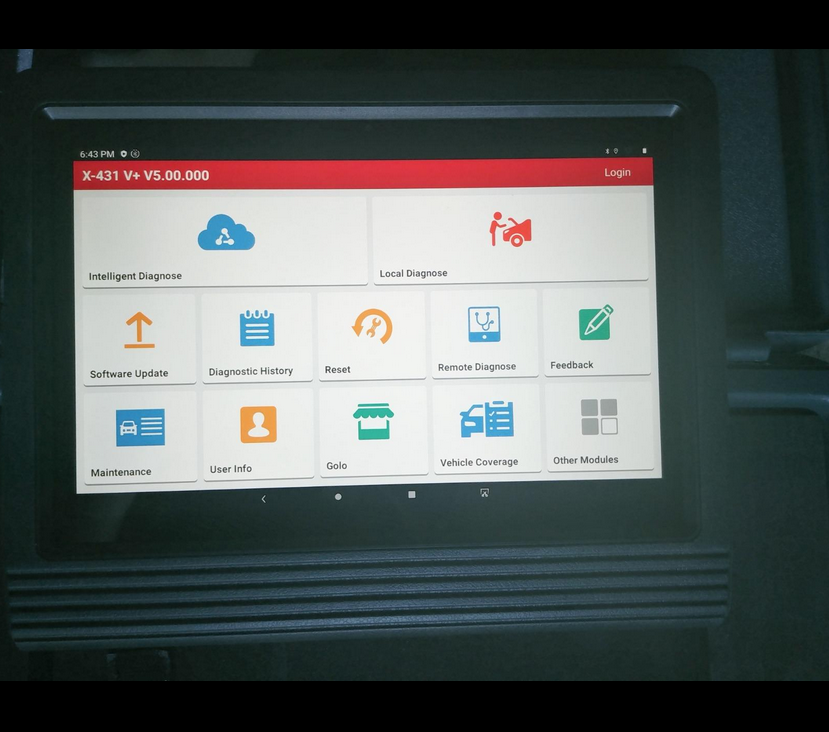 1.  All in all I'm satisfied with the Launch X431 V+
Have had a crp129 for about ten years now, great little tool, but it was time to move on to bigger and better things. I did lots of research on different brands of pro level bi directional scan tools and compared features and pricing along with reviews of them and even spoke with representatives from these companies. My choice was made hands down on the launch X431 V+ due to its functions and it's reliability to get the job done. One of the main selling points was the special functions particularly the immobilizer functions and large list of vehicles it could service along with how well and interactive it is with all the different modules 8n various years makes and models of vehicles. The Launch X431 V+ is definitely the way to go as it is a much better tablet platform and operating system for the launch software. I have already used this thing on various cars and gotten my money's worth. Only complaint is non expandable memory in the tablet its self and some of the things promised to be included with the launch software isn't there or fully functional. Also missing some important car manufacturer coverage. But all in all you get what you pay for and at the price point I paid for the bundle I chose I definitely can't be that mad. I really am bothered by the tablet not having a sd card slot tho. Ow well maybe in the future. Also 2 year free updates I'll take them cause after that it's about another $400 for two more years.
2. Loving it so far.
I've only had it a couple of weeks now and am still learning what all it can do. So far it has been an excellent diagnostic tool. I work in the auto repair field and use it every day. It will do everything a SnapOn Verus will do and more. On certain vehicles it does get a bit confusing on how to access the function you want, but just poke around and you can figure it out eventually. The OBD Bluetooth connector is a bit big to fit in some OBD ports locations, so I just leave the extension pigtail hooked up to it all the time. I had to email support once after I factory reset and lost the diag. program. They emailed me back in a couple of hours with a link and instructions on how to reinstall the app. You will need wifi or a hotspot to log into the app from time to time. For some reason it logs you out randomly. So far battery life has been excellent. I wish it had a kick stand for ease of viewing. Also works well as a tablet. YouTube, Playstore, email, google…Auto rotate of screen. Light weight. Graphing mode. Updates come often. Again I've only had this a couple of weeks and so far I am impressed at what it can do and access including A/C systems and reprogram keys. As I learn all the functions it can do I'm sure this is going to be my go to scanner!
3. X431-V+ Great product for a buck
The X431-V+ is a great buy. Tried to scan my altima with auto scan. I was able to clear my airbag light and old codes. Registering is easy steps and unit is in great quality. Came with accesories and cool case. Looking forward to scan and diagnose more vehicles.
4. Functionality over all… A plus
I did a lot of research on this unit and quite frankly, I am very impressed with the ease of access and functionality of this scanner. Furthermore, I used it for the first time in a customer's vehicle which had a bad transfer case shift motor. After installing new motor, the computer controlled system still would not engage transfer case. I then hooked up this amazing scan tool, read and reset all fault codes, and guess what? Everything began working as it should. Definitely an A+from me.
5. Works Well
This unit seems to work well for autos, and if you buy the Heavy Duty connections separately, it connects well to HD applications. I bought it to mainly regenerate DPF filters on Heavy Trucks and it seems to perform that well. For autos, it has done well. It has OBD 1 connections too. Good value for the money. I'm sure there are better tools for sale, but this one was inexpensive and does more than others at the same price or higher