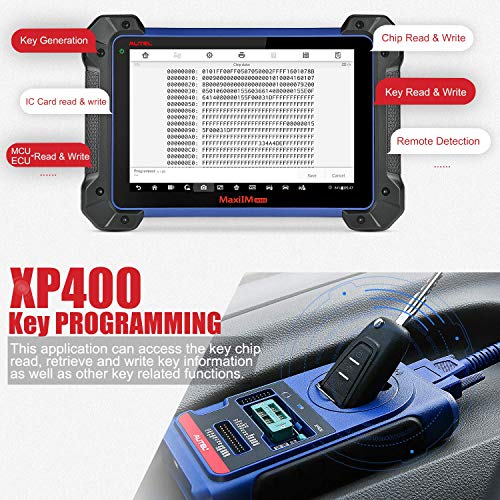 When looking for a top-tier automotive diagnostic computer, consider the Autel IM608. This all-in-one professional car diagnostic tool comes with everything you or an entire automotive shop needs. It can handle everything from key programming or encryption to maintenance and systems testing.
But first, let's see what the Autel MaxiIM IM608 offers in comparison to its competitors in the chart below.
Autel IM608 vs. Autel IM508 vs. Autel Maxisys Elite Comparison Chart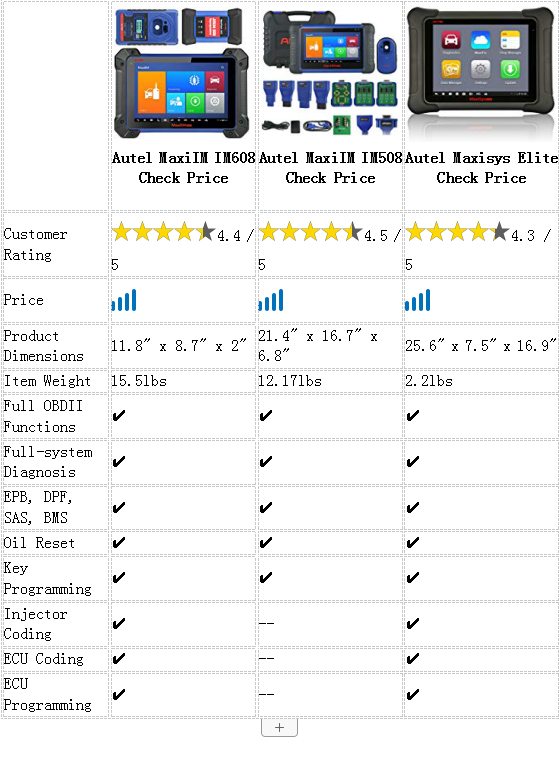 Autel MaxiIM IM608 In-Depth Review
What's Inside the Box?
In the package, you'll get:
*   the main IM608 tablet
*   an XP400 key programmer
*   a MaxiFlash JVCI reprogammer
*   all the necessary cables and cords
*   an AC/DC adapter
*   a convenient carrying case
Functions and Services: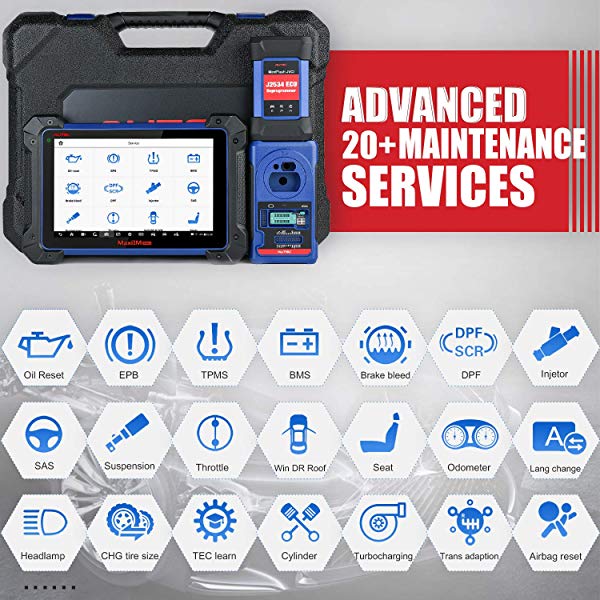 The Autel IM608 allows for both a smart mode and expert mode depending on your experience level or needs. The smart mode takes some of the guidance away from your hands and handles automated key learning. Alternatively, the expert mode is used for advanced key learning. The smart mode is of particular value for automotive shops that need to train new employees in diagnostics.
Either mode allows you to take advantage of the Autel IM608's various functions. In a nutshell, you can:
*    Read PIN or CS
*    Initiate Key Learning
*    Generate Some Keys
*    Activate Remote Learning
*    Reset the IMMO ECU
*    Backup or Restore your IMMO Data
*    Refresh your IMMO ECU
You can also handle key operations for 3rd generation Benz vehicles, BMWs, and many Volkswagen or Audis. The latter two allow for the alteration of certain transponders. The Autel IM608 currently supports vehicles from 1996 and later.
The tablet's various functions are deep and well-suited for a variety of maintenance work. You can access the body electrical systems of plenty of cars. Or you can use the other functions to test or adjust various components or systems. Because connectivity is normally not an issue, testing or maintenance should go smoothly every time.
Programming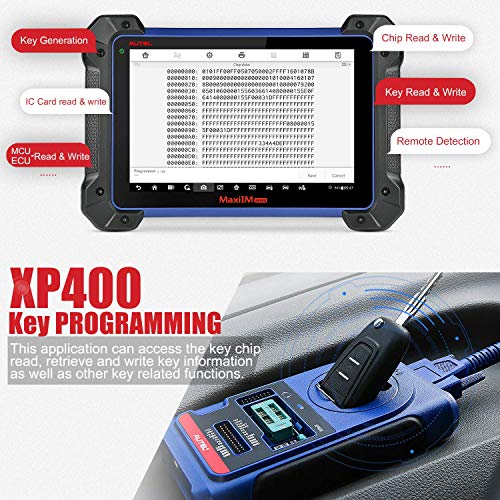 The MaxiFlash reprogrammer is quite robust. This can be used with either Bluetooth connectivity or a USB connection.
While the MaxiFlash can't program new ECU keys, you can program duplicate ECU keys from this device. This is a great tablet for reading or writing keys if you need to perform maintenance or fix registration issues.
That's not all the Autel IM608 can do. It can handle chip encryption for a variety of chip types, plus read or write on them for maintenance. IC cards can be read or written, as well. Remote frequencies are also easy to detect thanks to the myriad capabilities of the Autel IM608.
IM608-Full-System-Vehicle-Diagnostics
Diagnostics are this tool's bread and butter. In fact, the Autel IM608 can perform OE-level, in-depth diagnostics for over 80 makes and models from the US, Europe, and Asia. The scanner can examine the full computer systems of many major vehicles. It'll help you locate and solve an onboard computer problem much more quickly and reliably than a standard OBDII computer.
You can initiate such tasks as automatic scanning or read and erase codes with ease. The scanner is particularly sensitive and thorough. The interface is user-friendly and easy to navigate. Even models of cars that you're not familiar with should be workable.
You can view freeze frame data or monitor data during live or simulated tests. It's got everything you need to make sure your maintenance or repairs are going as smoothly as you imagine.
IM608-Connectivity
The primary tablet is equipped with a VCI, or Vehicle Communication Interface. There's even an LED integrated into the connector port so you can hook it up in darkness. This is linked to the DLC or OBD II connection. Bluetooth functionality is saved for last, which ensures a stable connection to your subject car. The Autel IM608's tablet can also connect to the internet via stable Wi-Fi.
You can connect the OBDII interface via Bluetooth to modern vehicles. So it's easy to use the kit from anywhere in your shop. The Autel IM608's devices have a maximum range of about 70 meters or 210 feet. Pairing the devices to certain vehicles is simple. This is a great choice for busy auto shops with a need to look at multiple cars in quick succession.
The Autel IM608's ability to locate and diagnose issues on a chosen vehicle very quickly is superb. The Autel IM608 is equipped with an excellent data logging function. You'll be able to track your progress and have records that you fixed any issue. This can be helpful during disputes.
Design
The Autel IM608 features a 10-inch touchscreen that is highly responsive to user input. The Android-based operating system allows for smooth functionality. It allows for advanced key programming through an aesthetically simple and pleasing interface. Navigating the various menus is never an issue and easy for even beginners to grasp.
The Autel IM608 comes with 64 GB of memory built-in. You can use this for storing project files or for loading your own music during work. A 15000mAh battery gives the tablet plenty of life for a day's work. But you'll still want to plug it in at the end of the day each time.
There's also an 8.0 mega pixel camera integrated with the main tablet unit. This can help you take photos for documentation purposes or your own testing. Finally, the tablet comes with a multilingual suite. This can be of great use for multilingual automotive shops or for teams with more than one primary language.
Extras
The Autel IM608 comes with a year's warranty that covers manufacturer defects and some cases of wear and tear. That's great for peace of mind, especially given the high asking price. An accompanying money-back guarantee sweetens the deal even further.
Furthermore, the purchase includes a year's worth of free software updates. That'll ensure that your tablet doesn't start to collapse from within or because it missed a critical patch.
Final Thoughts
Overall, the Autel IM608 is a phenomenal diagnostic tool kit that has everything one could need for modern automotive maintenance and alteration. Programming, scanning, and testing are all covered by its accompanying devices and software. It's easy to use and connect and features free software updates. As a result, it's an ideal choice for locksmiths and audio technicians alike.