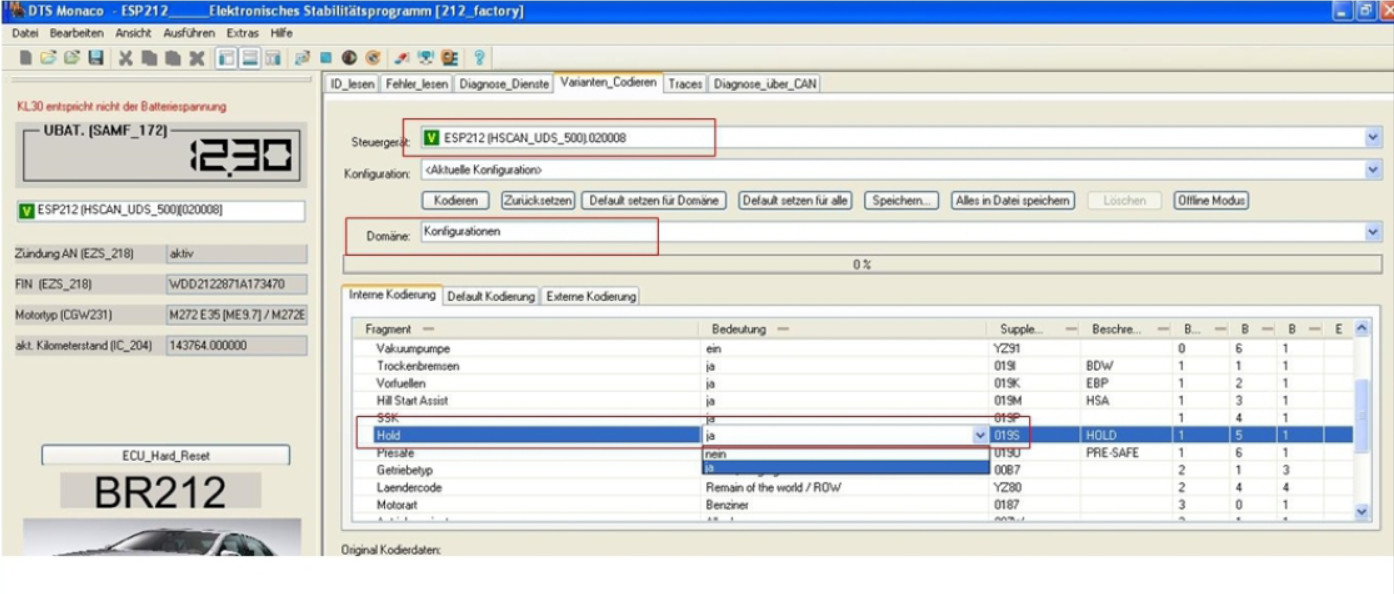 This instruction show you the main procedures on how to use DTS Monaco to code for Mercedes Benz Brake Hold Function,after pushing brake once totally and second time then brake will be hold.
Preparations:
Benz DTS Monaco Software Free Download
How to Install Mercedes Benz DTS Monaco Software
Procedures:
ECU:ESP212
Unlock with DJ_Entriegeln
1.Choose Domane Konfigurationen
2Change hold to "ja".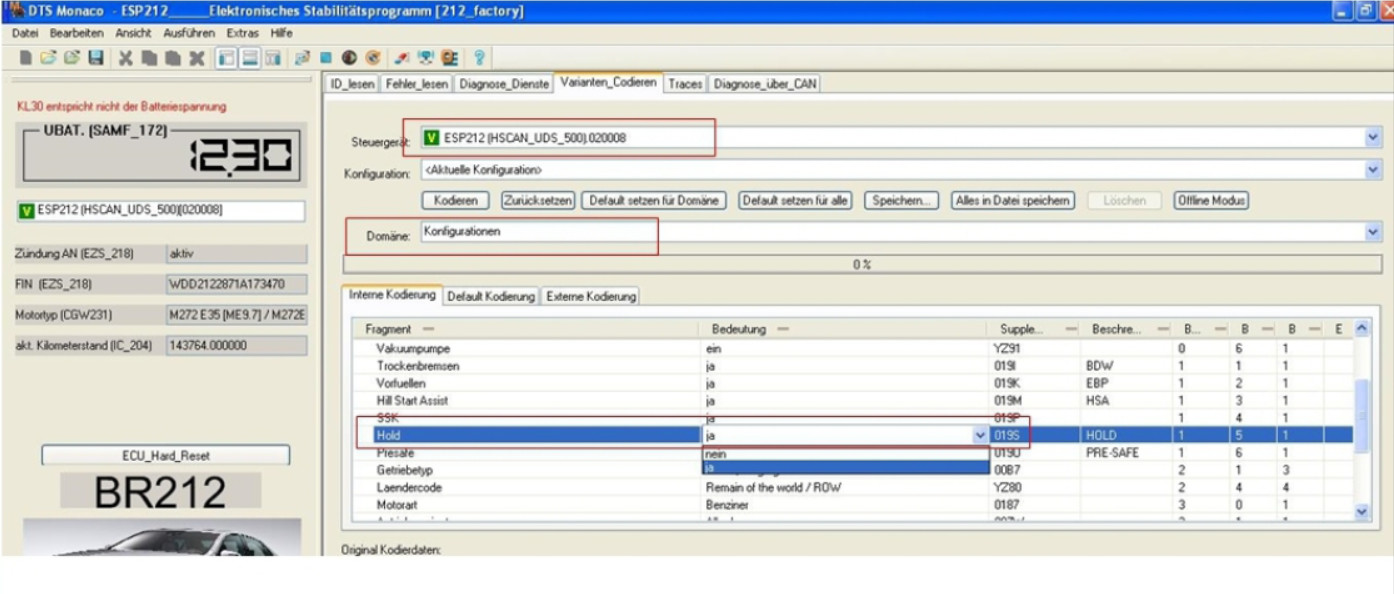 What can DTS Monaco & Vediamo do?
Shard pretty much explained the whole concept of Vediamo.
There is another software does most the same thing, but more powerful and easy to use, its DTS Monaco. I use both DTS Monaco & Vediamo, I can do tons of customizing settings on All MB cars, some of them are hidden by MB but very useful and cool.
For example
1. ALL vehicle which equip with dual multifunction camera, I could enable Traffic Sign Assist if your car does not have this function. Because MB hide it and they could sale the function for money in the future.
2. ALL vehicle which equip with parking radar sensor, I could set Alarm sound frequency related to the distance to the obstacle, instead of stock only make Alarm sound at the red zone( 30cm ). We call it synchronization.
3. ALL vehicle which equip with 360 camera, I could change the disable speed ( Distract screen engage), allow you can have more time or view around at higher speed.
4. Change temp. pressure gauge unit on cluster and Command Online ( C<->F , psi<->bar <->kpa, hp(SAE or DIN), N m <-> lb ft).
5. Disable Distract protection( allow VIDEO IN MOTION, spell input to Navi, Message while moving, and more ) Do not use them when you are driving!
6. Remove E-speed limiter, and also you can enable a menu called Winter Tire Speed Limiter on cluster, and you can choose how fast you dont want to pass, as low you can set 160km/h=100mph).
7. Adding some equipments when the car does not have them installed from factory, even transplant some from other model. ( But you need pay a lot to buy those parts compare to buy options installed by factory when they build the car. And for installation some of them are not easy as plug and play.).
8. Enable Blue Welcome home light for W beginning VIN W205 equip with Dynamic Head Light (IHL) without changing headlight assembly, 55SWF beginning…NVM, also vehicle has SA Code 608( Automatic High Beam Switch) could upgrade to Code 628 (Automatic High Beam Switch Plus) If you has dual multifunction camera.
9. Upgrade all control unit software without online daimler account, also you could downgrade.
10. Too many….
11. In general, all ppl talk about some setting or function they dont like and they want to change, I believe 99% of them can be achieved. 1% is still no solution for Apple Car Play and Android Auto for W205 before MY2018 without swapping Command Online Unit.
I would say, with those two software I could even build a car from every single pieces (IF PARTS FIT ). even the model does not exist( create a new car for MB ).
XENTRY cannot do too much, compare those two software, it's a baby toy.
Update…
Using DTS Monaco, you can make certain changes. Some modules are locked however and should not be tampered with.
– Change the default blinker from 3 to whatever number you one. Merecedes deals with Left blink and right blink
– Change the color of the coming home or welcome lights in your headlamps if you have the ILS equipped
– Enable both seat and steering easy in convenience
– Enable traffic sight assist if you have the dual camera equipped in your windscreen
– Lots of extra menus that seems somewhat useless (hybrid, diesel variants)
– Offload menus which are useless for a non SUV
How can we get DTS Monaco& Vediamo???
Not only software, you need hardware also. You can get them like a package MB SD C4 PLUS or ecom. But I am not recommend you to do any modification on your car by yourself before you fully understand how everything works, you could cause thousands of non fixable damage just by one misclick! ( it happened on me !)
Mercedes W205 coding DTS Monaco Video