In this post, you can read:
1. Xentry Passthru definition
2. Xentry Diagnostics definition
3. Their differences in functions, features, and coverage
4. Xentry Passthru FAQ
5. Xentry Passthru feedback
6. Xentry Diagnostics feedback
1. Xentry Passthru definition
"Xentry Pass Thru" is the Mercedes-Benz brand's diagnostics and repair solutions for the Independent Repairers carrying out servicing and repairs for euro 5 and 6 certified passenger cars and commercial vehicles.
The software is used to process coding, programming and enable dependent control modules for euro 5 and 6 certified passenger cars and commercial vehicles
2. Xentry Diagnostics definition
Xentry Diagnostics is the complete diagnosis system that is used to troubleshoot Mercedes-Benz car problems and is the official Mercedes-Benz dealer software.
3. Xentry Passthru and Xentry Diagnostics are different in functions, features, and coverage
1). Different functions
Xentry Passthru has nearly the complete diagnostic scope:
quick test
basic diagnosis
flashing & coding control units
reading/deleting fault memory
guided and functional diagnosis, DAS4 services
with the exception of technical restrictions due to the Pass Thru devices:
Only single-channel quick test and functional diagnosis (therefore longer runtime)
Basic diagnosis only in XENTRY Diagnostics
Key programming and DAS4 services only in XENTRY Diagnosis
2) Different coverage
A. Xentry Passthru coverage
Xentry Passthru covers all modules. The only difference is it only covers CAN modules and you can use any J2534 device (such as V2018.3 Multi-Di@g Access J2534 Pass-Thru OBD2 Device) with it. So 2006 and up vehicles.
Technically yes, but it is artificially restricted according to the StartKey you are assigned based off of your HWID number given to Daimler, which in the US is restricted to emissions-related control modules before MY 2018.
But if you activate it with developer keys then you have access to all modules and all vehicles.
IMPORTANT: Xentry passthru does not supported this vehicles in DAS:
– Bharat Benz
– Foton
– Fuso
– LKW
– IMO
– Unimog
– PKW using HHT
Also, won't cover special function unless you use full size Stand Alone DAS.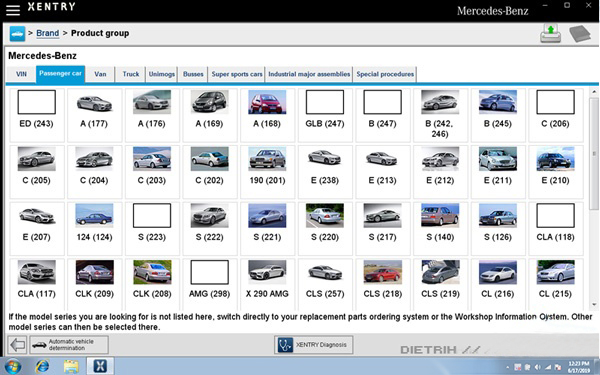 B. XENTRY Diagnostics
Xentry XODS is compatible with Mercedes-Benz Passenger car, van, truck, unimogs, buses, super sports cars, industrial major assembikes.
Images mean a lot: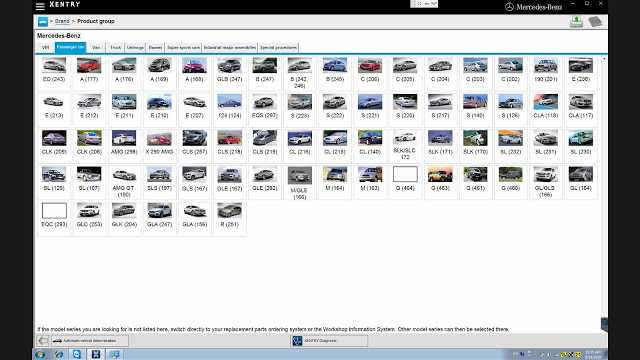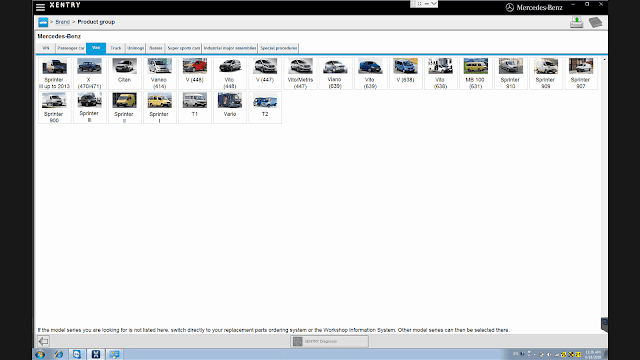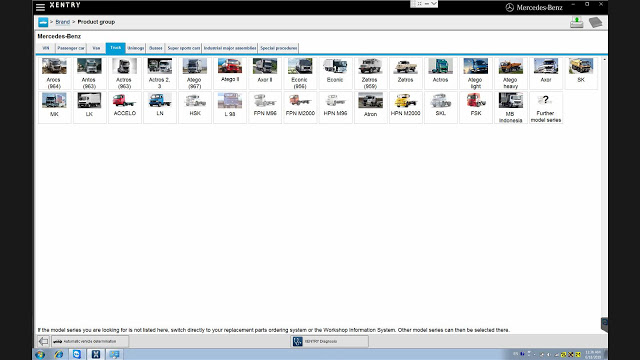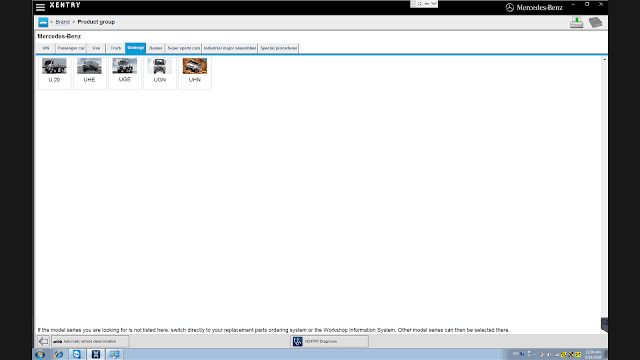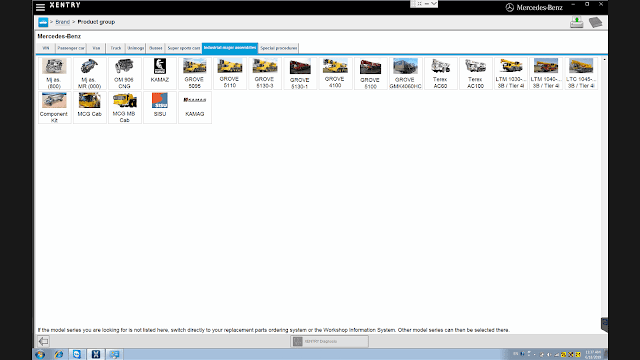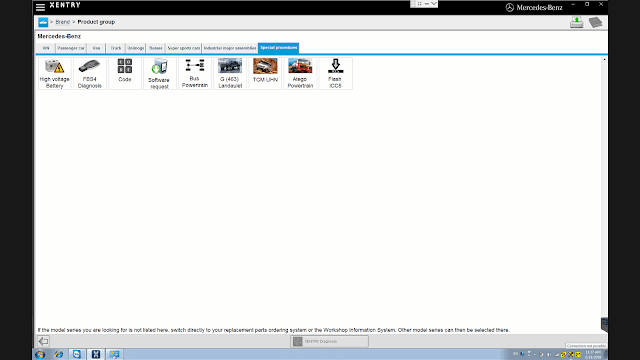 4. Xentry Passthru FAQ
All PassThru versions works as good and as same as SDconnect C4 units?
– for xentry, i check all diag files are identical with open shell.
– for das, it is not as complete as openshell with sd4. see note above.
passthru limited to obd2 vehicles only, pkw,transp, smart.
– passthru device can't be used with vediamo and dts monaco.
What's the meaning of "install block check keys to daimler server"?
from old crack:
Code:
C:\Program Files\Mercedes-Benz\xentry\fusoko\eclipse\plugins\
Rename File
From
com.daimler.xentry.diagservice_1.6.0.201608011018.jar
To
com.daimler.xentry.diagservice_1.6.0.201608011018.jar.DELETE
now its other version number
also block starkey center
host file:
Code:
127.0.0.1       openshell.aftersales.daimler.com
::1             openshell.aftersales.daimler.com
This is pass thru version is there a other version for diagnose for pass thru device???
so 1 dvd diagnose other dvd for programming?
only 1 dvd mate. Sdflash folder for programming is include in it.
the using of xentry passthru version is like the xentry open shell version only it is using passthru devices.
Xentry Internal Error (3.17)-3.175 "no access authorization code" after xentry diagnose while online COPY C:\ProgramData\LicDir\lic_key_2.dat to the desktop, rename it to lic_key_2.x4711, and make this file READ ONLY MOVE it back into the directory C:\ProgramData\LicDir\. make sure the lic_key_2.dat file IS NOT read only while lic_key_2.x4711 file READ ONLY…
DAS license 0 day, how to do?
extract and copy this to das\bin:
DAS license 0 day error fix for passthru.rar
5. Xentry Passthru feedback
1) Compatible with Multi-Di@g Access J2534 Pass-Thru
You need the latest drivers for Actia. I installed them from 43.06 version
link here: https://mega.nz/#!QNskhKqY!q93QYap0xNayDMhO1Y0DRpf_OkpkYJQEgC0vnrPzfOM
XENTRY 12.2018 PASSTHRU FILES:
https://mega.nz/#!kZJSGYZa!q_8C0WgdHfmKLU14EERSEMzb_uteBO9p83-fWKNkwwA
INTERNET OFF! TESTED ON WIN7 X64. WORKS ONLY ON X64.
This is the installation guide for Actia XS 2G (2nd generation).
https://mega.nz/#!FRhwVSgb!oR_bVxYz_nwBoJuWvqVo2MNZc8myclcLv0hoGFqvakA
Final note:
As a personal experience, the 1st generation Actia is quite limited on newer Euro5+ cars, used on a variety of cars.  But for example it was the only one that could adapt pilot injection on a peuget boxer 2.2hdi among genuine delphi, kts, launch; on a BMW F30 328i it had all the functions and parameters as other testers I own. The second generation though it is something else. It connects much faster and you feel safe working with it.
2) Compatible with VAS5054A good.
Details….
Xentry Passthru 12.2017 with VAS5054A is tested working ok without bugs on C203 2003, on k line too.
used VAS 5054a with 2006 Mercedes CLS55 AMG, 2007 R class, 2008 Sprinter, all in DAS. Everything worked except ignition sensing.
used VAS5054A with 2014 C 250 using Xentry, everything works fine, no ignition sense, but Xentry gives you a checkbox to manually select.
It was more easy to make the VAS5054 work on 64bit than change Xentry
software to FULL work on 32bit.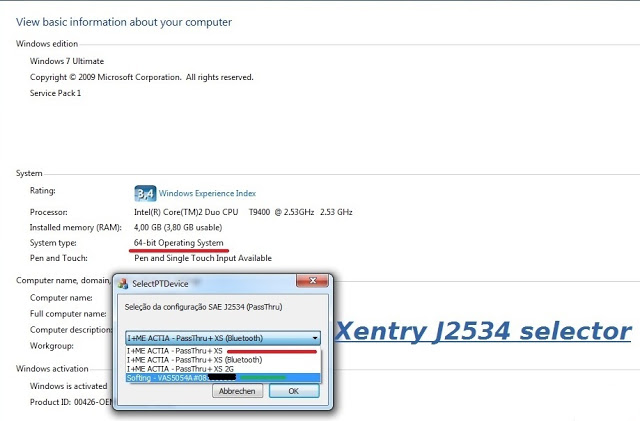 The lower i have test before on 32bit was a W211-006 from 2002,
quick test on all units with VAS5054, and it may work with HHT-win
because it have KK-Line.
6. Xentry Diagnostics feedback
Newest version: XENTRY Diagnostics OpenShell 2019.05 / 2019.07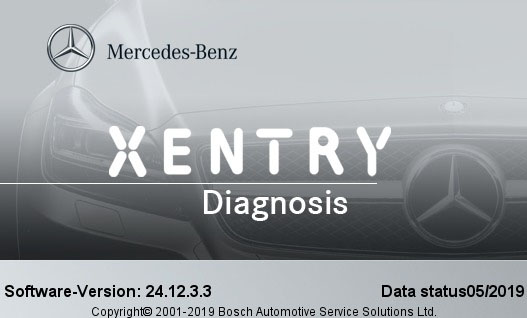 Xentry.OpenShell.XDOS 2019.05 / 2019.07
SSD version…confirmed
HDD version …confirmed
Mercedes Benz diagnosis…confirmed
Mercedes Benz programming…confirmed
Xentry.OpenShell.XDOS 2019.05 is fully ready with MB Star C4 /XENTRY VCI /eCOM, MB SD C5, MB Star C6 DoIP, etc.
Os: Win7 is suggested (Dell/ Lenovo/ Panasonic with I5 4G RAM)
CPU: Intel Core 2 Duo Processor or equivalent, i5 CPU is much better, 2.2GHz or faster core speed
Language available:  
English, Croatian, Czech, Danish, Dutch, Finish, French, German, Greek, Hungarian, Italian, Japanese, Korean, Polish, Portuguese, Romanian, Russian; Spanish, Swedish, Turkish, Chinese
Star Diagnosis Xentry Software coverage:
Works on Mercedes vehicles, included: Cars, Buses, Trucks, Sprints, Smarts, etc. till 2019
Xentry diagnostic complete powerful software: