There are many OBD II (On-Board Diagnostic Level Two) scanning tools on the market today. With so many of them promising to deliver the best user experience, we decided to see whether the most popular models on the market actually live up to the expectations that the manufacturers set out for them. Below is a review of four of the top rated autel scanner that you can buy right now, with a short commentary of how they compare to each other.
Autel Maxisys Elite (Upgraded Version of MS908P Pro)  Diagnostic Scanner with J2534 ECU Programming Extensive Vehicle Coverage
Why buy Autel maxisys elite:
1.Genuine Autel top scanner , 2years free update online,after 2 years,1000USD/year.
2.The top diagnostic techniques, support almost all car brands , workshop Standard diagnostic equipment
3.not only easy to use by own diagnostic software , but also works on OEM software like xentry odis do special setting
Language: only support english and Spanish now
The MaxiSys Elite, the newest addition to the MaxiSys line of highly advanced smart diagnostic tools, is based on the fast and intuitive Android operating system. Powered by NVIDIA's Tegra? 4, the world's fastest mobile processor, its visually stunning 9.7" Retina display offers ultra-high resolutions up to 2048×1536 and an optimized array of sophisticated and powerful applications. The MaxiSys Elite rapidly performs every job from comprehensive vehicle diagnostics & analysis to advanced ECU programming. 2x faster than any comparable device, the MaxiSys Elite provides extended battery life and intelligent power saving. The MaxiSys Elite offers a super-sensitive capacitive screen able to respond to gloved, moistened, and even greasy fingers! The ergonomically angled docking station provides optimum visibility and convenient charging that eliminates power concerns.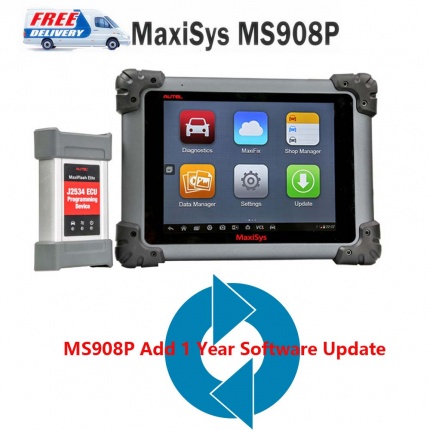 Original Autel MaxiSys Pro MS908P Wifi OBD Full System Diagnostic with MaxiFlash Elite J-2534 programming
Top 4 Reasons to Get Maxisys Pro 908P:
1. Software Version: Every Car Model Software Has A Different Version.
2. Wi-Fi Technology: The VCI connects wirelessly to the main unit with Long-Range Class 1 Bluetooth
3. Update:  2 Year Free Update Online, Contact our sales, you can add 1 more year free update,after 2 years,900USD/year.
4. Shipping by DHL All Around the World, 3-5 Days Delivery
Language: English
The MaxiSys? Diagnostic Platform is an evolutionary smart solution for specialized automotive diagnosis and ECU programming. Designed with the DNA of Autel's diagnostics family, the MaxiSys is built to offer many of the prestigious qualities of the MaxiDAS DS708 with extreme ease of use and powerful diagnostic performance. However the MaxiSys has evolved far beyond the original capabilities. Utilizing an A9 quad-core 1.40GHz processor that offers 50% increase in speed versus competing products, a 9.7" LED screen with a resolution of 1,024 x 768 capacitive touch screen, the revolutionary multitask-capable Android Operating System, combined with the best possible coverage of OE-level diagnostics, the MaxiSys is the perfect diagnostic solution for shops and technicians who demand unrivalled smart technology and smart repairs.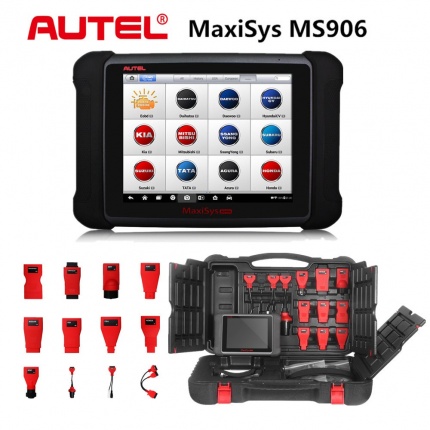 Autel MaxiSys MS906 is based on the Android operating system and is featured with an extensive coverage of OE-level diagnostics at an affordable price. Built with Exynos 5260 6-core processor (1.3 GHz quad-core ARM Cortex-A7 + 1.7 GHz dual-core ARM Cortex-A15), a 32G SSD hard drive and an 8" capacitive HD touch screen, MaxiSys MS906 efficiently provides comprehensive vehicle diagnostics and analysis.
Advantage:
1.Compatiable for diagnosis for part of the original software
2.2 year warranty and 2 year free update online. (After two Years, Update Cost is 550usd per year)
3.Android 4.0 Operating System for fast boot-up and multitasking
4.Can support wifi. It can update online via wifi,but can not connect the diagnose interface via wifi.
5.Language:  English and Spanish
Top 10 reason to get the AUTEL MAXISYS MS906:
1. AUTEL MAXISYS MS906 is next generation of autel maxidas ds708
2. Online Update
3. English language
4. 2 year warranty and 2 year free online update .
5. With Big Screen
6. Run faster than autel maxidas ds708
8. High resolution
9. High hardware configuration
10. AUTEL Authorized Distributor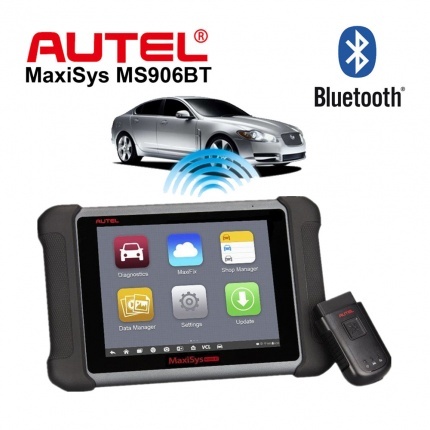 AUTEL MaxiSYS MS906BT Auto Diagnostic Scanner Update Online Free 2 Year
The MS906BT have all the capabilities of the maxisys mini ms905 as far as vehicle coverage and capabilities for codes, live data, actuation tests, adaptations and ECU coding .comparing the new MS906BT to the MS905 and they are similar in size but the MS906BT seems to have improvements such as faster processors, slightly larger screen, twice the battery capacity and better camera
MaxiSys MS906BT is the latest addition to the MaxiSys product line of advanced wireless diagnostic devices. The device is based on the Android operating system featured with the best possible coverage of OE-level diagnostics and ECU coding capability. Utilizing the powerful Exynos 5260 6-core processor (1.3 GHz quad-core ARM Cortex-A7 + 1.7 GHz dual-core ARM Cortex-A15), an 8" capacitive HD touch screen, and long-distance wireless communication, the MaxiSys MS906BT efficiently provides comprehensive vehicle diagnostics and analysis.
Language: English and Spanish
2 year warranty and 2 year free update online,after 2 years,update cost is 550USD/year