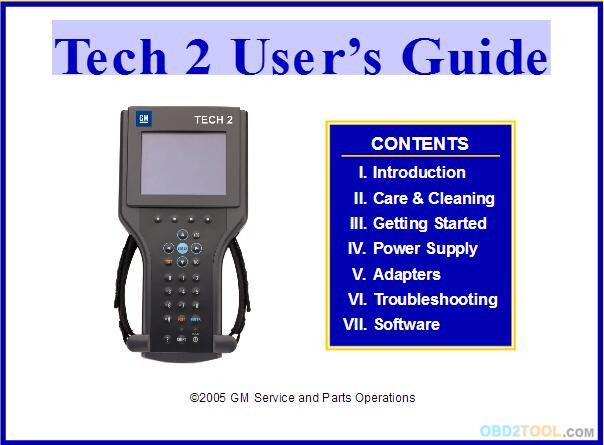 The Tech 2 User's Guide provides a comprehensive overview of the Tech 2 Scanner. Everything contained in this manual is based on the latest product information available at the time of publication. The right is reserved to make changes at any time without notice.
No part of this publication may be reproduced, stored in any retrieval system, or transmitted in any form by any means, including but not limited to electronic, mechanical, photocopying, recording, or otherwise,without the prior written permission of GM Service and Parts Operations. This Professional Diagnostic Tool includes all text, tables,illustrations, and charts.
Using This Manual
To increase their effectiveness with the Tech 2, users should familiarize themselves with the format and information contained in this guide.
Vehicle System Familiarity
While the OBD II Scanner Tech 2 is a powerful tool, it cannot replace knowledge and skill. To obtain maximum benefit from the Tech 2, service technicians must have a complete understanding of vehicle systems. When using the Tech 2 to diagnose a vehicle, it is recommended that service technicians also refer to the service manual and the latest service bulletins.
Disclaimer
The Tech 2 is designed for use by trained service personnel only. It has been developed for the sole purpose of diagnosing and repairing automotive systems with electronic controls and interfaces.Every attempt has been made to provide complete and accurate technical information based on factory service information available at the time of publication. However, the right is reserved to make changes at any time without notice.
Things You Should Know
CAUTION: EXHAUST GAS
When performing any checks with the engine running in an enclosed space such  as a garage, ensure proper ventilation. Never inhale exhaust gases; they contain carbon monoxide—a colorless, odorless, extremely dangerous gas that can cause unconsciousness or death.
CAUTION: PARKING BRAKE
To help avoid personal injury, always set the parking brake securely and block the drive wheels before performing any checks or repairs on the vehicle.
CAUTION: SPARKS
The Tech 2 uses parts that can produce arcs or sparks. When used in a garage environment, the Tech 2 must be located not less than 18 inches (460 mm) above the floor.