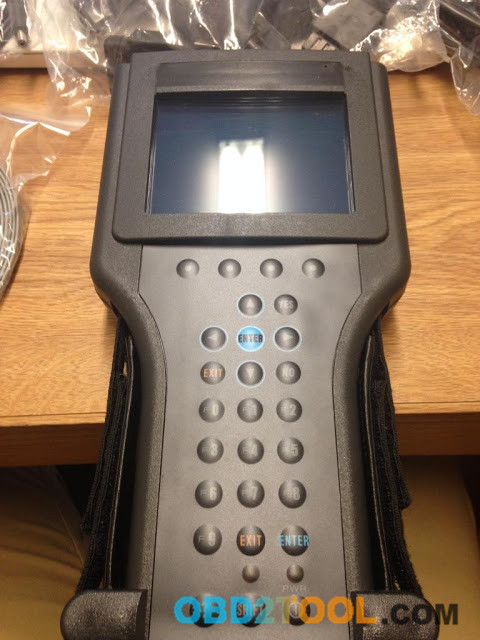 I work for a Gm dealership and was a little skeptical at first about this GM Tech 2. After receiving very quick from seller
I tested it out on every platform, programming, system scans, live plot, remote functions, everything and it has matched everything my shops
factory 2000 dollar Tech 2 has done. Best money I've spent on a tool in a very long time!
This Tech II Scan Tool clone performs exactly the same as dealership scan tool. Everything listed in the sale was there.
This is obviously a knock off of the original tool but you would never know if someone did not tell you. It comes without any labels or stickers on it,
but they were included in a bag ready for you to put them on the tool and accessories. I have used this tool on a 2004 Pontiac grand prix and a 2006 grand
prix to perform diagnostics and set up a new body control module. I went through every screen, tried all the function tests and learn procedures.
No issues with this tool at all. Cables, plugs and accessories are all of quality construction. I could not be happier with this purchase.
I have been very happy with this scanner, the cables can be a bit finicky at times, and I had to remove and reinstall the memory card several times to
get a good connection on it, but have had no issues at all other than that. I have used it on 2004 Pontiac Bonneville, Saab and Chevrolet Suburban all worked well.
I was pretty skeptical when saw these clone at cheap 250$-380$. Most dealers charge a $100+ diagnostic fee just to hook theirs up to your car, what a joke.
I got one English language software version with 32 MB Card, CANDI, TIS2000 and other diagnostic cables. And I hooked it up to test engine, ABS, transmission etc,
stored DTCs, Freeze Frame, live data, all the test results were displayed on the large, easy-to-read backlit screen. Keeping the GM Tech 2 for half a year,
no blue/blank screen or communication issue. Now the device is in good condition.
Got my GM Tech2 from www.obd2tool.com today, it looks and functions well for a clone. The tech2 and CANDI module worked perfect to diagnose my bad HVAC air door actuator.
I have an older HP laptop running win7 and it has a serial port so has no problem to install software. Time will tell how this works out.
The tech2 clone has done everything I have used it for. I have check and cleared codes including freeze frame data. I used it to test injectors on my friends NOVA 5.3 swap.
It allowed me to pulse each injector so we knew they were not clogged.
Still no problems with this GM Tech2 clone. I was able to use SPS programming to update the theft module OS in my Chevrolet TrailBlazer SS.
And I found this tool can be used on OBD1 cars. I tried it to diagnose my friend's 1994 Pontiac Trans Am, it worked!