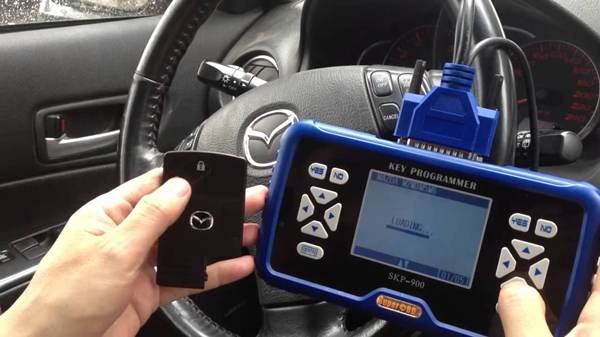 Steps to Program ID46 Nissan Key with SKP900
Step 1 Connect SKP900 Key Programmer to a Nissan OBD?connector via Main Cable, start the car with a remote and wait a few seconds for SKP900 to start.
Step 2 Select Nissan, New Structure and choose Yes to continue.
Step 3 Select Key 1 and choose Yes
Step 4 Select Immobilizer System according to the cars Immo and choose Yes.
Step 5 Wait for a few minutes until SKP900 communicates with the car.
Step 6 Select Function, System Selection then Key Adapt and choose Yes.
Step 7 Choose Yes.
Step 8 According to the instruction on screen, you should insert a new key and turn IGN on. You may see the IMMO indicator light will flash when inserting a key which cannot start engine. Select Yes.
Step 9 Close IGN switch and select Yes.
Step 10 Wait for system adapting and then open IGN switch and select Yes.
After the new Auto Scanner Tools MB SD Connect C5 clone released on Carsets.co.uk in Jul, 2016, recently most users reviews on this Benz SD C5 Mercedes diagnostic tool turns out to work better and even greater than before.
So What can it do with this MB SD Connect C5 in the clients opinions ?
1. "Mercedes Sprinter year 2006 and 2014 works, both the diagnosis All the personal cars also works, this mb sd c5 no problem"
2. "All the trucks including euro6 also works, no problem. Bus Mercedes Tourismo euro5 year 2010-2012 test works. Both sd c4 and sd c5, we have tested both on the same cars, to be sure."
3. SD Connect C5 this one customer has test, works good, in function it no difference with SD C4, but performance it is better. So you can buy Mercedes BENZ C5 if you want buy new MUX. SD C5 use the same software as MB SD Connect C4.