SuperOBD SKP-900 Key Programmer is Hand-held OBD2 key programmer. SKP-900 Key Programmer can support almost all cars in the world, such as Ford, Land Rover, Chrysler, Jeep, Toyota, Nissan, Honda, Mitsubishi, Hyundai, Kia, and so on…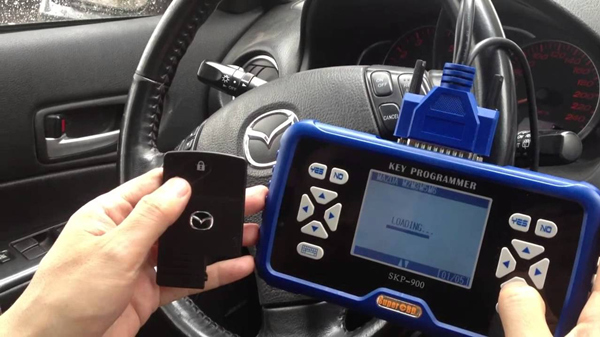 SKP-900 V4.3:
1、MAZDA Axela Smart Key free code program 2007 ~ 2015
2、MAZDA ATENZA Smart Key free code program 2007 ~ 2015
3、MAZDA CX-5 Smart Key free code program 2007 ~ 2015
Free Pin Code
SuperOBD SKP900 key programmer better than handy baby car key copy to program Toyota G chip? Definitely YES! It's verified that Auto key programmer SKP-900  can program new keys and perform key matching together, while JMD handy baby only supports G chip copy. Here is about how to program Toyota G chip using SKP900 auto key programmer.
It is that your tokens not used up,no need to add tokens,then it shows this error.Please add tokens when use up. If the device get the error: "CAN Be Used 0 Times Add It In Main Menu,Add Times Function" it is indicate you that the tokens have been used up, you just need to add new tokens and problem will be solved.
Why to buy Xentry SD C5 kit (C5+Panasonic laptop CF30) is better?
1.Character
? Realizes all the function of official factory BENZ compact 3.
? C3 Multiplexer can connect to factory computer and IBM laptop.
? Complete maintenance data. It could offer full disassembly and assembly circuit diagram, working principle and element place anytime needed. It is the best assistant for maintenance man.
2.Multi-languages (22 Languages)
English/Chinese/Deutsch/French/Italian/Korean/Spanish/Portuguese/Finnish/Danish/Japan/Swedish/Turkish/Finnish/Polish/Hungarian/Korean/Czech/Dutch…
3.1989~up to now Car, Bus, Truck, Sprint, Smart .
MB Star C5 work with W204, W207, W212, 405, 451, 452 and 454.