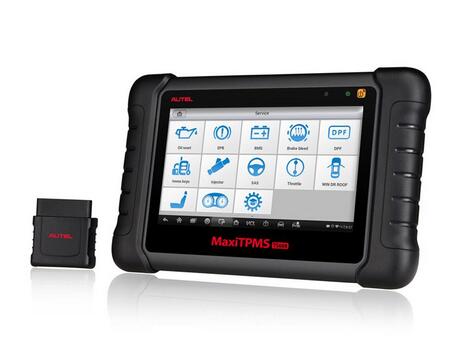 The Autel MaxiTPMS TS608 is diagnostics, service and TPMS tablet with mini Bluetooth Vehicle Communications Interface (VCI) for wireless connectivity. The tool features an embedded antenna for TPMS sensor activation and MX-Sensor programming to replace damaged sensors Compatible with vehicles 1996 and newer, the TS608 can diagnose all system modules, offers an array of system services including ABS, SRS, EPB and OLS maintenance tasks and is a complete TPMS service tool with OBD II relearn capability. The TS608 includes a one-year warranty and a year of free software updates.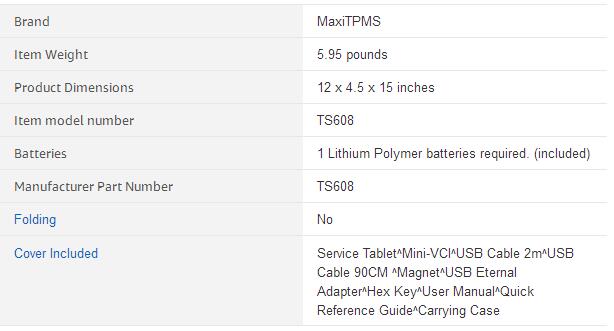 Complete TPMS & all System Service Tablet Tool
As the first comprehensive TPMS & Diagnostic tool in the market, Autel Scan Tool MaxiTPMS TS608 provides you with superior experience in TPMS health check, sensor programming, TPMS relearn, all system diagnostics as well as special service functions. Equipped with a 7-inch touch screen with 1024 * 600P resolution and a VCI mini for wireless communication with the test vehicle, powered by the quad-core Cortex-A9 processor for smooth operation and featured by advanced TPMS & Diagnostic technology, MaxiTPMS TS608 is setting new standards for TPMS service tools.
Autel MAXITPMS Diag/TPMS/Service Tablet MaxiTPMS TS608
● Complete full service projects faster with TPMS and all systems diagnostics in one mobile tool.
● OBDII connection to read & clear codes
● Detect & display TPMS system faults
● Activate & relearn all known sensors
● Read sensor ID info & battery power level
● Sensor position relearn assist procedure
● Status screen
● Single screen to easily view feedback of all sensors and pinpoint TPMS system faults
● Toolkit Features
● Check MX sensor ID
● Unlock REDI 7002A
● Check FOB signal
● Wake-up sensor
● Three tools in one tablet: Complete TPMS diagnostics, advanced service features and all systems diagnostics
● SENSOR PROGRAM OPTIONS:
● Copy by activation
● Copy by manual Input
● Auto create 1-16 Sensors
● Copy by OBD
● Read & clear codes (Generic&Manufacturer, Pending and Stored)
● Control & test ABS; SRS; EPB; DPF Groups
● Diesel particulate Filter Service
● Set Inspection 1 & 2 Service Intervals
● View and Graph Live Freeze Frame Data
● Perform 02 Monitor, On-Board Monitor, I/M Readiness and Component Testing
● Reset Steering Angle Sensors (SAS)
● Read & Clear Codes For All Module Systems Powertrain, Body, Chassis, Communication
● Supports All 10 OBDII Test Modes – Freeze Frame, Enhanced Mode 6, ltM Readiness, Vehicle Information & Component Tests
● Open & Close EPB Pads For Service
● Diagnose EPB/SBC Caliper Functionality
● Oil & Service Resets; Battery Registration
● Hardware Specifications:
● OPERATING SYSTEM: Android● 4.4.2 KitKat OS
● PROCESSOR: 1.5GHz Cortex-A9 Processor
● MEMORY: 1GB RAM DDR3 / 32GB On-board ROM Memory
● DISPLAY: 7-inch LED capacitive touch screen with 1024 x 600 resolution
● CONNECTIVITY:
● Wifi (802.11 a/b/g/n)
● BT V.2.1 + EDR
● SD Card (Support up to 32GB)
● USB: 2.0
● HDMI
● BATTERY: 5000 mAh 3. 7 V lithium-polymer battery/ 7 hour continuous battery life
● POWER: Charging via 5 VDC power supply
● AUDIO INPUT/OUTPUT:
● Microphone
● 4-Band 3.5 mm stereo/standard headset jack
● Dual Speakers
● SENSORS Gravity Accelerometer, Ambient Light Sensor (ALS)
● INPUT VOLTAGE: 5 V (I.SA)
● POWER CONSUMPTION: 600 mA (LCD on with default brightness, Wi-Fi on) @3. 7 V
● OPERATING TEMP: -10 to 60°C (14 to l40°F)
● STORAGE TEMP: -20 to 70°C (-4 to 158°F)
● HOUSING: Strong plastic housing with protective rubber boot
● DIMENSIONS: 270.8 mm (10″) x 176 mm (6.9″) x 36 mm (1.4″)
● NET WEIGHT: 885 g (2.31 lb)
● IS09141-2, IS014230-2, IS015765, KIL-Line, Flashing Code, SAE-J1850 VPW, SAE-J1850PWM,
● PROTOCOLS: ISOl 1898 (Highspeed, Middlespeed, Lowspeed and Single wire CAN, fault-tolerant CAN), SAE-J2610, GM UART, UART Echo Byte Protocol, Honda Diag-H Protocol, TP2.0, TPl.6