No.1 Launch Icarscan
LAUNCH X431 ICARSCAN OBD2 Code Reader Replace X431 iDiag X431 Easydiag plus X431 M-Diag Auto Diagnostic Tool Full Systems with 8 Software free Support for Android and Iphone Update Online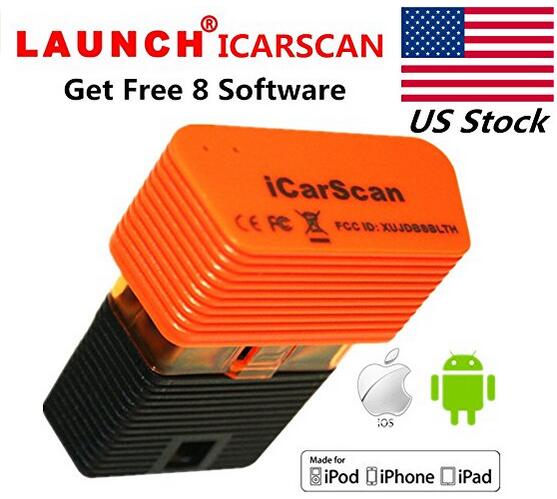 1. LAUNCH ICARSCAN will send from our USA warehouse, You can get it in 3 days ,Multi-Language: English, Chinese, Spanish, French,Russian
2.LAUNCH ICARSCAN OBD2 bluetooth Adapter Build-in bluetooth , easily connects with Android/ios smartphone and tablet
3.8 free brand of software for you select .Five car line choice(fullfunction software),Three specica function software choice.if you need more other softwares, pls buy it from APP store.
4.Full systems and complete function diagnosis for the most extensive coverage of OE-level diagnostics
5.Widest carline software coverage: Support the generic OBD, CAN bus, and proprietary protocols of over70 car manufacturers and2, 500 car models;
Attention: 1.The iCarScan scanner will not come with software in the package, only hardware. After you receive the device, scan the QR code at the back of the package, download and install the APK, then you can free download Demo Smart OBDII diagnostic software and Any 8 softwares(5 kinds Car softwares and 3 kinds specica function software). 2.If you need more car software, please contact us to purchase or buy it from app store directly.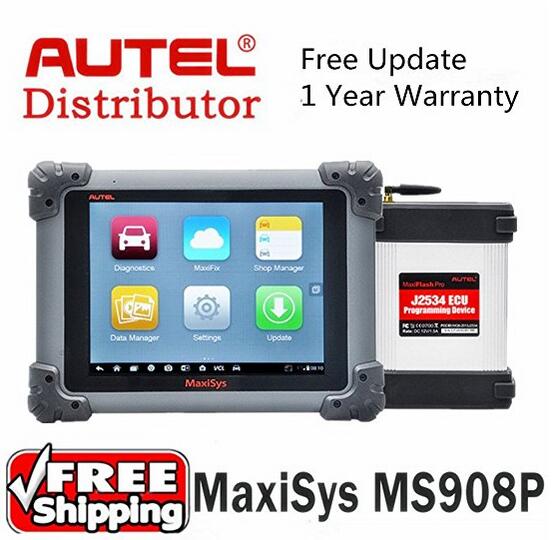 Ship from USA Autel Maxisys Pro MS908P MS908 Pro Auto Diagnostic Scanner With ECU Coding and J2534 Reprogramming Function Diagnostic Tool
1.Update: Online Update With 2 Years Free We will send package from our USA warehouse
2.Complete capabilities for codes, live data, actuation tests, adaptations, coding and ECU programming
3.MS908P Support Language: English and Spanish
4.Wi-Fi technology. The VCI connects wirelessly to the main unit with Long-Range Class 1 Bluetooth
5.Internal reliable and fast 32GB Solid State Drive for better performance.
MaxiSys Pro MS908P Feature:
1. 9.7 inch 1,024×768 LED-backlit glossy widescreen Multi Touch display with IPS technology
2. Extraordinarily powerful Cortex-A9 quad-core processor
3. Built-in rechargeable lithium-ion battery for up to 8 hours of continuous operation
4. Dual-band (2.4 GHz & 5.0 GHz) 802.11n Wi-Fi to access your favorite web resources
5. Built-in 5-megapixel rear camera with autofocus and flashlight
6. Unique shop tough ergonomic design features strong rubber protection and housing;
7. USB, audio and auxiliary ports make it easy to connect accessories
MaxiSys Pro 908P Vehicle List::
For AUDI, For BENZ, For BMW, DACIA, EU FORD, AU Ford, Ford, Holden, LANDROVER, MINI, OPEL, PEUGEOT, RENAULT, SEAT, SKODA, VW, VOLVO, SMART, JAGUAR, BENZ SPRINTER, SAAB, FIAT, ABARTH, LACIA, ALFA ROMEO, VAUXHALL, MAYBACH, BENTLEY, BUGATTI, PORSCHE,GM, CHRYSLER, FORD,SUZUKI, KIA, DAWEOO, ISUZU, TOYOTA, SUBARU, SCION, NISSAN, MITSUBISHI, LEXUS, INFINITI, HYUNDAI, HONDA, ACCURA, MAZDA.
MaxiSys Pro MS908P Software Advantage:
1. Extensive vehicle coverage for more than 80 US, Asian and European vehicle makes
2. Easy and intuitive navigation makes finding what you need simple and fast
3. Open source Android Operating System for fast boot-up and multitasking
4. Displays live data in text, graph, analog and digital gauge for easy data review and analysis
5. Configures display options, sets triggers, records and playbacks results with one touch
6. Configures display options, sets triggers, records and playbacks results with one touch
7. Cloud-based Data Manager saves customer and vehicle records, scanner data and technician notes
LAUNCH CRP129 Premium Scanner Launch CReader Professional CRP129 Pro OBD2 Code Reader Scanner CRP129P ENG/AT/ABS/SRS/EPB Oil Service Light Reset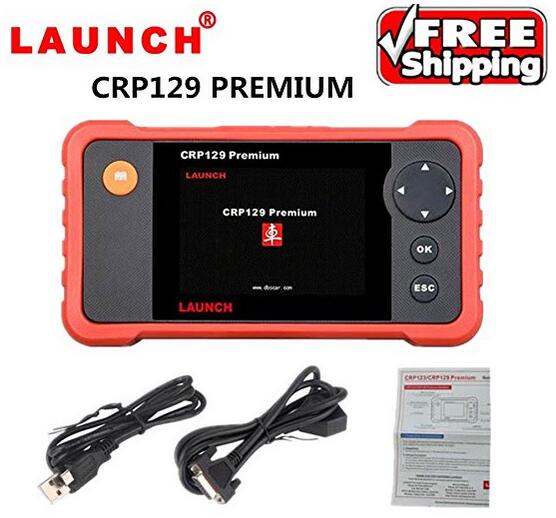 LAUNCH CRP129 Premium at WBTOOLS  supports all of the 10 modes of OBD II test and is able to diagnose the 4 main systems of worldwide main stream models Engine,Transmission ABS and Airbag(SRS), which helps automobile repair professionals dianose and repair vehicles more efficiently,accurately and profitably;
In addition,the CRP129 Premium also supports Electronic Parking Brake (EPB) release,Steering Angle Sensor(SAS) and Oil Servide Light resets etc;
CRP129P Works with all vehicles compliant with EOBD/OBDII most vehicles after 1996 , Multiple car models Over 40 prevalent models from Asia, America & Europe ;
Launch CReader Professional CRP 129 Premium Add more vehicle models as followings: Mahindra, Maruti,Suzuki,Tata,Fiat(Brazil),HOLDEN ;
Languages: English, Spanish, French, German, Italian, Russian and Polski.Free to update online via official website, 100% original LAUNCH X431 Code Reader.
Comparation with previous version CRP129
1.Bigger screen, better views of graphs and more, upgraded from 3.5″ to 4″
2.Bigger memory, faster, better, upgraded from 1GB to 8GB
3.Add more vehicle models as followings: Mahindra, Maruti,Suzuki,Tata,Fiat(Brazil),HOLDEN
Languages: English, Spanish.
Functions:
1.MIL Indicator
2.Multiple car models (Over 40 prevalent models from Asia, America & Europe)
3.Record, save and playback up to 8 hours of live data
4.I/M readiness test
5.Enhanced data stream for ABS,SRS,transmission & engine.
6.Malfunction lamp status
7.Read vehicle information (VIN, CIN and CVN)
8.O2 (Lambda) sensor test
9.Auto-vehicle ID, Auto Module Search & ultra-fast protocol ID
10.EVAP system test
11.View live diagnostic data in graph or data format
12.View multiple data streams at the same time
13.View freeze frame data
14.Read current, pending and permanent DTC's
15.Clear DTC's
16.Support DTCs help, data stream wave display,
17.Internet updateable
18.Enhanced help function
19.Print data via PC
20.RESET BRAKE (EPB)
21.RESET OIL LAMP
22.RESET SAS (Steering Angle Reset)
23.RESET BMS (Battery Management System)
LAUNCH CRP129P Support Vehicle:
Asia car models:Suzuki, Honda, Mitsubishi, Nissan, Toyota, Mazda, Daweoo, Hyundai, Kia, Subaru, Infiniti, Lexus, Accura ,Isuzu, Daihatsu, Mahindra,maruti,Tata,
USA car models:Ford, EU-Ford, GM, Chrysler,Fiat(Brazil)
EUROPEAN car models: Mini, Vauxhall, Dacia, Alfa-Romeo, Lancia, Peugeot, Renault, Citroen, Benz, BMW, VW, Opel, Volvo, Fiat, Landrover, Porsche, Seat, Skoda, Audi, Saab, Sprinter, Jaguar
AUSTFORD, HOLDEN