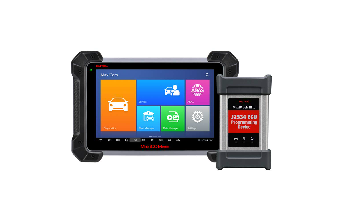 Autel MaxiCOM MK908P is a professional diagnostic tool with a 10.1-inch touch screen and advanced hardware from the Samsung Exynos Hexa-core processor and Android 4.4.2 OS for quick and comfortable car diagnostics. Offering comprehensive OE-level diagnostics, ECU coding and BMW/Benz ECU programming, the MK908P is an ideal automotive diagnostic tool for mechanics to troubleshoot the warning lights and fix the vehicle control modules' issues.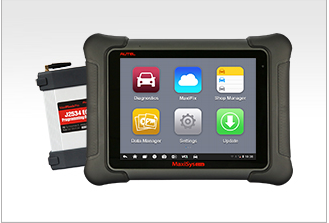 The MaxiSys Elite, the newest addition to the MaxiSys line of highly advanced smart diagnostic tools, is based on the fast and intuitive Android operating system. Powered by NVIDIA's Tegra® 4, the world's fastest mobile processor, its visually stunning 9.7" Retina display offers ultra-high resolutions up to 2048×1536 and an optimized array of sophisticated and powerful applications. The MaxiSys Elite rapidly performs every job from comprehensive vehicle diagnostics & analysis to advanced ECU programming. 2x faster than any comparable device, the MaxiSys Elite provides extended battery life and intelligent power saving. The MaxiSys Elite offers a super-sensitive capacitive screen able to respond to gloved, moistened, and even greasy fingers! The ergonomically angled docking station provides optimum visibility and convenient charging that eliminates power concerns.
Autel MaxiCom MK908P and Maxisys Elite is the same thing?
Answer:
Yes! they share the same functions. both are able to do diagnostic tests and ecu programming
No! they are different in hardware design, like
MaxiCOm MK908P
Maxisys Elite
Processor
Samsung Exynos hexa-core Processor (1.3GHz Quad-core ARM Cortex-A7 + 1.7GHz Dual-core ARM Cortex-A15)
NVIDIA Tegra® 4 (4-PLUS-1 Quad-core Processor) 1.8GHz with ARM Cortex – A15 CPU
Memory
2GB RAM & 64GB On-board Memory
2GB RAM & 32GB Embedded Memory
Display
10.1-inch LED screen with 1920×1200 resolution
9.7-inch Retina display with 2048X1536 resolution & Capacitive touch screen
Connectivity
Wi-Fi (802.11 a/b/g/n/ac)
USB: 2.0
BT v.2.1 + EDR
SD Card (Support up to 32GB)
HDMI
802.11a/b/g/n/ac WIFI
Version 2.1 3Mbs Bluetooth
RJ45 Ethernet Connection
3.0 USB (2.0 Compatible)
HDMI 1.4a
SD Card (Support up to 32GB)
WiFi
2.4GHZ
2.4 & 5GHz
Internal battery
15000mAh 3.8V  lithium-polymer battery
15000mAh  3.7V  lithium-polymer  battery
Power Consumption
6.5 W
Max 20W
Camera (rear)
8.0 Megapixel, AF with Flashlight
Rear: 8.0 Megapixel, Autofocus with Flashlight
Front: 2.0 Megapixel
Dimensions (WxHxD)
312 X 208 X 36 (mm)
309 X 225 X 35 (mm)
Weight
NW: 3.26 lb. (1.48kg)
NW:3.5 Ib. (1.59kg)
Moreover, they are not the same about Operating System.
MaxiCOm MK908P is AndroidTM 4.4.2, KitKat. But Maxisys Elite is Android 4.4.4 KitKat.